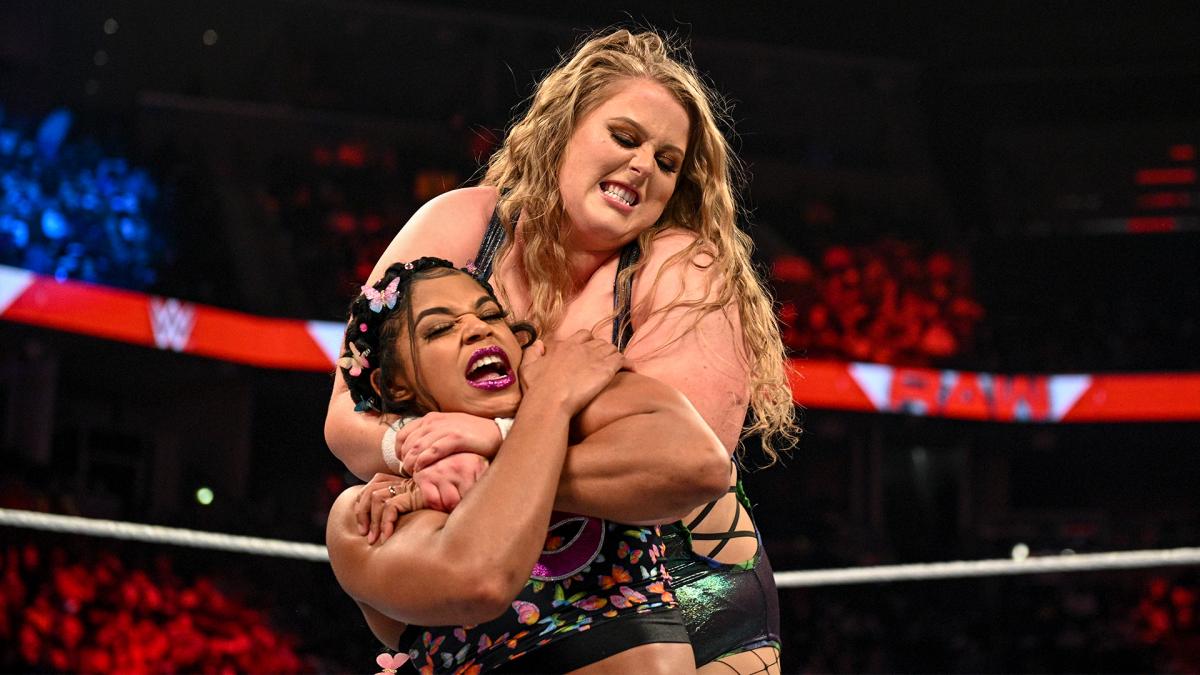 Doudrop has taken to main roster WWE life like a duck to water following her callup in June 2021 as the protege of Eva Marie.
Doudrop recently spoke to Taylor Wilde on Wilde On, where she spoke about getting used to the backstage nature of main roster WWE.  Doudrop said that she has got comfortable with the changing nature of the company.
She said:
"It's great. I'm having the best time, I love it. It gets stressful because it's very manic, everything changes, don't get too comfortable with any one thing because it's going to change six times before the show is on. You just go with the flow, roll with the punches, keep it moving and don't be upset with anything because it's not personal. I think a lot of people get upset with things happening and it's like…it's a TV show. You're a character on a TV show and sometimes characters on TV shows have to be embarrassed. It's not real. If you want to be upset and go outside and have a real fight, we can talk about it, I'm pretty sure you're going to lose. We put on sparkle and pretend fight, don't be so serious. It's supposed to be fun. It is difficult and can be stressful so don't make it more so. You can never get comfortable, but you also have to be comfortable with being uncomfortable. Whatever I get, I make it work to the best of my ability. We're here for a good time, not a long time, so let's make it the best it can be."
Doudrop continued to talk about the changing nature of WWE, when she revealed that one of her recent matches with Bianca Belair was originally set to go five minutes, before it got changed to go three segments just a few hours prior to the show.
She said:
"I knew I was having a match with Bianca and the whole segment was supposed to be five minutes. I was like, 'Okay, I'm going to make it the best five minutes that I can.' I told the universe that this was going to be the best match I've had and I was going to blow Vince's mind and he was going to love it. Get to the venue, things haven't been finished up and things are going on and not truly finalized. Then, it's maybe six o'clock, and it's 'Hey, you know how you had five minutes? Well, it's changed and now you have three segments.' At first I was panicked because we have an hour until the show starts, I'm not even in gear. I saw it as a problem, 'panic, panic, panic.' Then it was, 'You know, I asked for this. This is my opportunity to have a great match and have the best match I can have.' As soon as I changed my mindset, we went out there and had a banger. Bossman (Vince McMahon) was very pleased,"
Doudrop was victorious in the main event of this week's Raw show, and is now set to face Becky Lynch for the Raw Women's Championship at the Royal Rumble.
Doudrop lost all of her matches to Bianca Belair, but she is currently undefeated in the year 2022. For a full list of WWE women's win/loss records for the year so far, click here.
transcription via Fightful
To make sure you stay updated with all the latest wrestling news, add WrestleTalk.com to your Google Discover feed and follow us on Twitter!