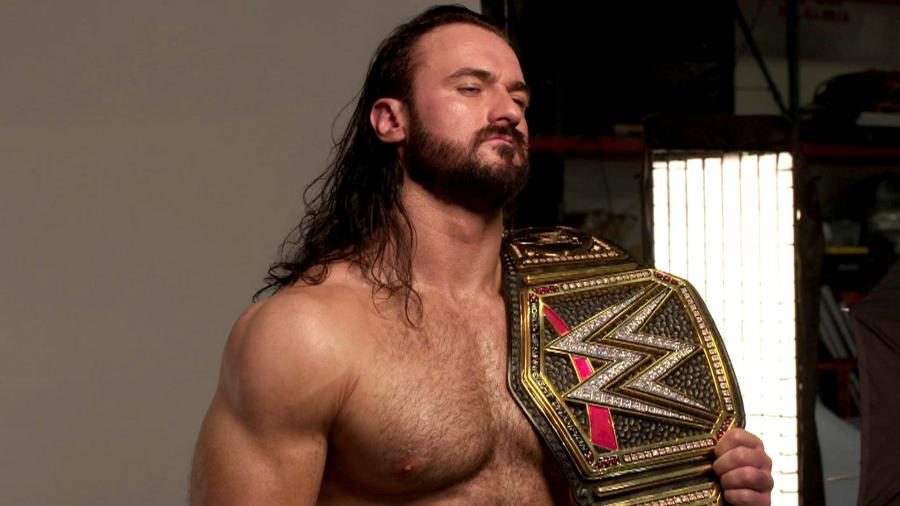 Drew McIntyre won the WWE Championship in one of the more unique ways of recent memory. When was the last time a WWE Championship was won on a pre-taped segment before WrestleMania this past weekend?
Quite possibly, the most infamous taped title win was when Mankind won the title on WWE Raw. Of course, Eric Bischoff gave that one away on WCW Nitro and fans tuned in to see it.
However, there were no fans there to see when Drew finally won the big one. Drew McIntyre wanted to share his victory with the fans, so he revealed to Sports Illustrated that he broke one of WWE's rules to do so:
"One of our rules in WWE is that you don't look down the camera and break the fourth wall, like you wouldn't do in a movie, but I couldn't help myself. In that moment, I just wanted to thank everybody for supporting me, for supporting WWE during this time and choosing WWE to take your mind off these difficult times. I wanted to let everyone know how I felt, and I'm so glad we kept that in the show. I wasn't sure if it would be edited, because I really meant it."
It was a surreal moment. So, I'm sure he went home and celebrated, right? Actually, he did something quite different. He took the championship home and locked it up in his closet.
"Finally, when I had won the title, I saw the emotion and remembered how real it was to me. In that moment, it was real again as I was watching it. I went upstairs, I opened the door and I took the title out, now that it was official. I had another moment with my wife in the house, and with my family on Zoom. I had my whole family on there."
It's probably a good thing that title was in his closet. Vince declared anyone sharing spoilers would get fired. I'm sure Drew wouldn't have wanted to lose his job after just winning the title.