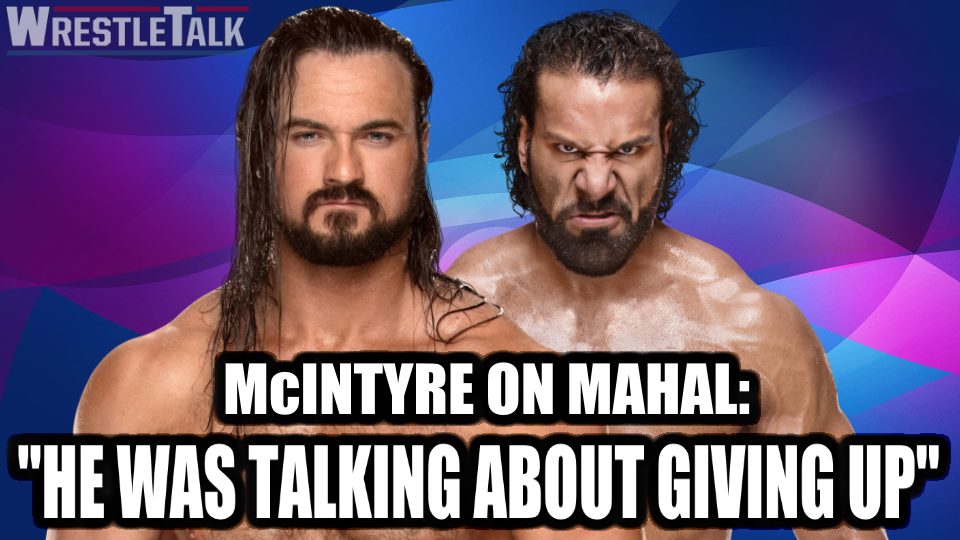 Former NXT Champion Drew McIntyre was a recent guest on Lilian Garcia's Chasing Glory podcast, and the Scot revealed that Jinder Mahal was thinking about hanging up his boots following their 2014 WWE releases.
Both men were released from WWE on June 12, 2014. Prior to that they were members of the group known as 3MB, along with Heath Slater. They found very limited success and were rightfully viewed as 'jobbers'. This ultimately led to McIntyre and Mahal being axed entirely.
Judging by the former 'Chosen One's statements regarding the 'Modern Day Maharaja,' it's safe to say that, in the early stages at least, both men went about things very differently.
McIntyre took the opportunity to reinvent himself, returning to ICW, debuting for EVOLVE, PCW, Impact and more, winning many a championship along the way. This led to his WWE return in April 2017, under a developmental contract as part of NXT.
Here's what the Scotsman said about how Mahal coped with the release:
"I'd been doing all my stuff. I'd really made a name for myself and things were going fantastic. I'd met with Jinder [Mahal] at MacDinton's in Tampa, where we used to go for years with my wife….we were with Jinder and at the time he'd gone up to 260 [pounds] and not necessarily a good 260 [pounds] and he was talking about giving up the wrestling and looking into perhaps a franchise, like a Subway or something. He's very smart. He was gonna do well no matter what he did; but, it was depressing to hear he was gonna give up on the wrestling because it's all he's ever done. After that, I was like, 'Damn, I wish I could get something going for him.' Not long after that he started training, giving himself a kick up the arse, and just started changing his life around, cut out the drinking, and really started getting better in how he looked. Right after that he got a call from WWE."
Mahal himself has actually admitted that this was the case. In May 2017, he was a guest on Chris Jericho's Talk is Jericho podcast, and had this to say:
"When I came back I didn't come back in as good of shape as I am now … So, just to backtrack a little bit, maybe about two months before I came back, like, I had hit rock bottom. I mean, I was drinking all the time, and I was not watching what I eat. I was actually 260 pounds, just like fat, just working the indies and not caring. And then one day I just decided to get in shape. I stopped drinking, and I got the meal prep from Nutrition Solutions, and I just started dieting and training hard. And literally after two months of me doing this, that's when WWE called me."
The hard work and turnaround in attitude did pay off though, as under a year after returning to the WWE he won his first, and to date only, WWE Championship, by defeating Randy Orton at Backlash 2017. He embarked on a 170-day reign before losing the title to AJ Styles last November.
His reign came under a lot of scrutiny, mainly beccause due to his prior booking in WWE, it was almost impossible to see him as a credible champion.
Mahal also won the WWE United States Championship at WrestleMania 34. Yes, he only held it for eight days, but one can't help but agree that Jinder Mahal is living proof that dedication and hard work pays off, no matter how tough times have been in the past.
What do you make of Mahal's change in mindset? Do you now feel he deserved his WWE Title run? Let us know in the comments below or on Twitter here. You can also join us on Discord to chat with Oli, Luke, the magazine team, the website writers and each other here!