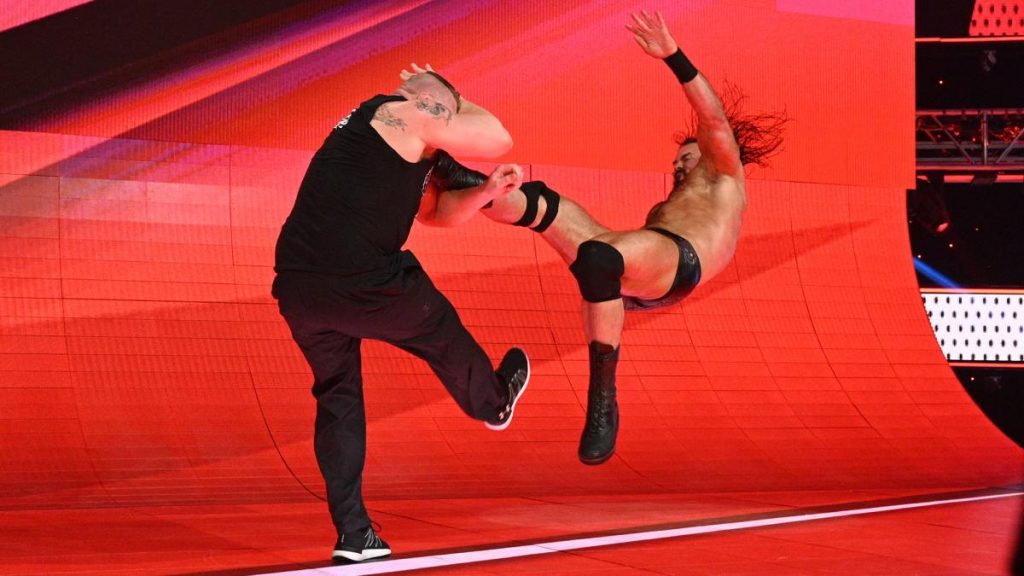 Drew McIntyre sat down with TalkSport and discussed many things including the star-making segment on WWE Raw where McIntyre laid out Lesnar with 3 Claymores.
Apparently, that 3rd kick may not have been planned.  Drew had this to say:
"Then I walked out, looked Brock in the eye and dropped him three times. And, I'm sure you probably noticed, one of those kicks wasn't necessarily planned! He went out of his way – he felt the crowd because that's how good he is and I'm a professional.

"There were no physical cues so we just kept going. And I was like, 'Wow, this guy is unbelievable' and I'm glad I'm at a level where I can read him at the same time. We're working together here and he's more than willing to go overboard to make me look as good as possible and make me."
Drew seems like such a star already for hardcore wrestling fans, but it was that moment that cemented McIntyre as a major force to those that only follow WWE.  That segment made McIntyre look like a superstar and someone who could be the face of the company.
Drew went on to really compliment Brock Lesnar:
"I was so into it! But I didn't forget that, he [Brock] felt that in the moment and said 'do it!' The camera just picked it up, but that's how much he's invested in this. He made that call because he felt the crowd. Nobody one, sells like Brock Lesnar and two, feels a crowd like Brock Lesnar.

"In my experience of anyone I've been in the ring with – and even talking with him backstage – in terms of learning it's like wow… this guy gets it more than anybody I've ever spoken to."
We're not sure where exactly Brock and McIntyre will be on the card, but if, as rumored, match quality plays a major role in determining match order, the Brock and McIntyre could be the main event.
Thanks to TalkSport for the transcriptions of the Interview.