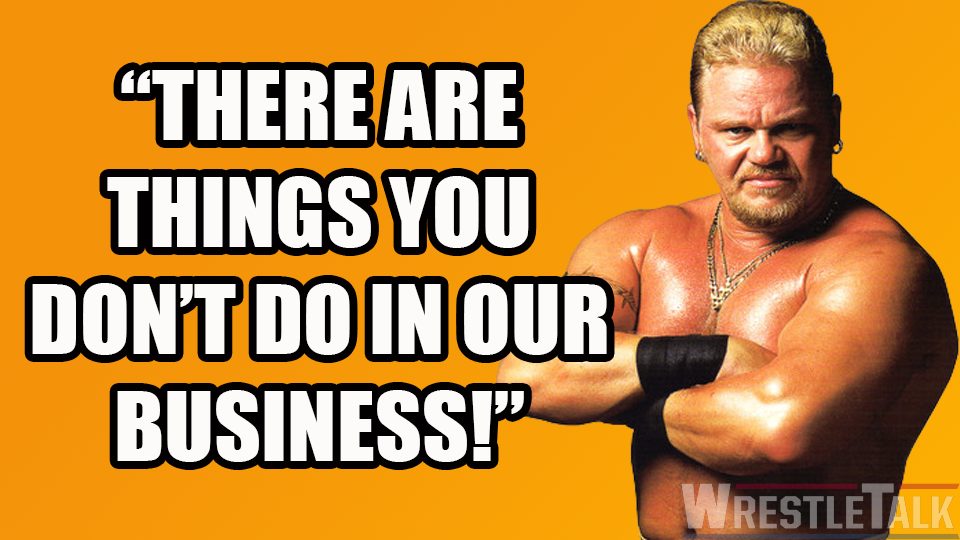 "There are certain things you don't do in our business."
Shane Douglas addressed WWE referencing enhancement talent as the "Triple Threat" on Smackdown Live during his Triple Threat Podcast.  The Franchise felt it was disrespectful to the deceased, former members of the ECW stable.  Douglas used the words 'classless', 'garbage', and 'pathetic' to describe the moment.
"For that company to take a slap at a group where two of the guys have passed and gone WAY to early, just shows the amount of class that company has. Classless.  Maybe we should start calling them the World Classless Federation. It's pathetic….My advice to the fans would be just stop watching.  Stop paying attention to the garbage and maybe then they would get back to what are industry is supposed to be…"
https://www.youtube.com/watch?v=Eqmn8Zchqxc
Douglas, who has known heat with Ric Flair, went on to discuss how even he wouldn't do such a thing to the Four Horsemen.
"The Four Horsemen are written in stone.  You can take a picture and photoshop it all you want, but people remember the Four Horsemen as the symbol of excellence. I still see Arn and Tully holding up the four fingers and you just don't do it because these are things you just don't touch."
Douglas believes Vince is still stuck on him from 20 years ago and feels the company is failing.  He went on to say if he were a company he wouldn't be investing in WWE.
"I'd think twice in wanting to invest in a company that wanted to invoke something from 20 years ago in such a derogatory way and sh*t on so many fans like VKM did last week…"
The Franchise's final words on the matter were:
 "I'm sure Chris Candido's family and I'm sure Bam Bam Bigelow's sons and daughter are very appreciative of that from the 'genius…!'  We've spoken enough about that piece of sh*t, now let's move on."
To listen to the entire podcast or any other episode of the Two Man Power Trip of Wrestling or The Triple Threat, you can click this link.
Related Content:
Dolph Ziggler SHOOTS On His Contract Status!
Former ECW Champion to Debut for MLW
What do you think of WWE using a former stable name for jobbers? Let us know in the comments below or on Twitter here. You can also join us on Discord to chat with Oli, Luke, the magazine team, the website writers and each other here!