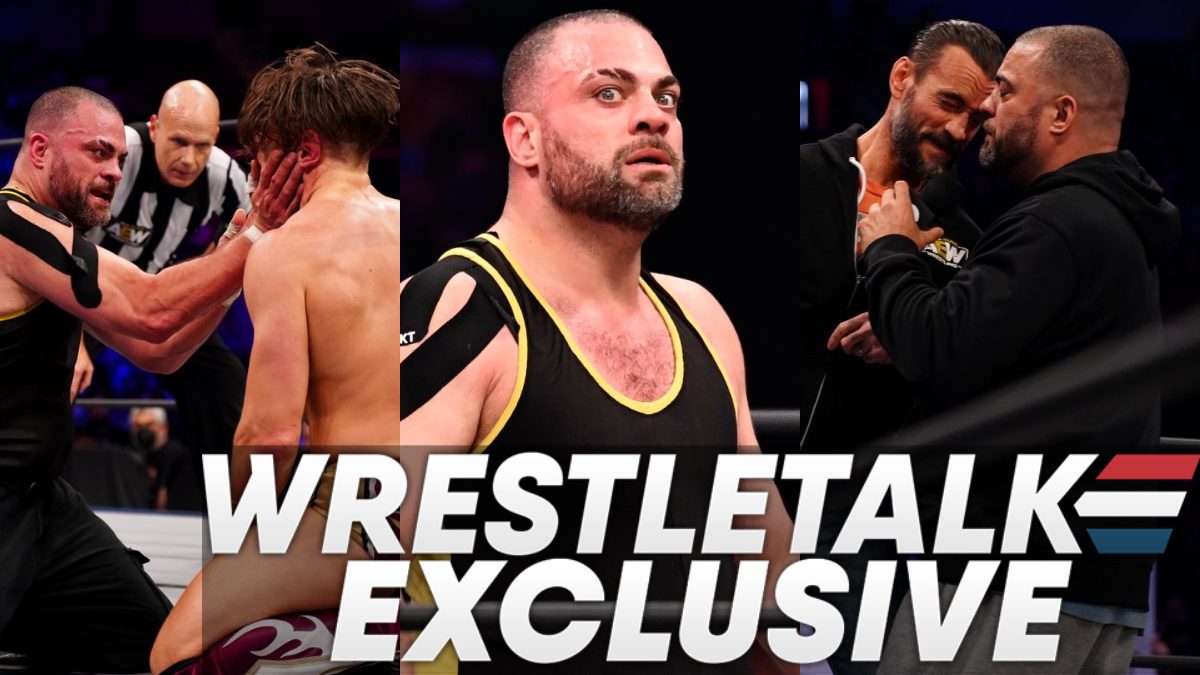 With Tony Khan teasing another addition to the already packed AEW roster on the horizon for tonight's (February 9) episode of Dynamite, Eddie Kingston recently made his feelings known about the rapidly expanding locker room.
In an exclusive interview on the WrestleTalk Podcast, Eddie Kingston chatted with WrestleTalk's own Oli Davis, Luke Owen, and Denise Salcedo about more signings to AEW, saying:
"I don't care who they bring in. I don't care. Because the bottom line is, I've gotta outwork everybody anyway. You bring in Bryan, Bryan's not the World Champion, Hangman is. So I'm trying to outwork the World Champion, so I'm gonna outwork Bryan. You can bring in Punk, he's not the World Champion, I'm gonna outwork Punk. You can bring in anybody, I have to outwork them. And if I don't, then I fail. But I've gotta put everything in, so I don't care.

"To me, when you hear, 'This person's now coming to AEW', I don't see a face, I don't see a name, everything's blank. If you're not the World Champion, if I'm not teaming up with Moxley to go after the Tag (Team Championship), I don't care who you are. If you're not my friends, I don't care. I only learned that because that's the attitude you have to have on the independents, because you're going from show A to show B – different shows, not the same locker room. So you have to outwork different people."
Particularly referencing how he motivates himself in relationship to the new talent added to the roster, Eddie added:
"I also like competition, so come on over. See how you do over here now, where you're not protected by people in corporate. I also like it when Tony invests in other people because I take it personally. It's just me, my mental… this is what drives me. I've never heard Tony say, 'Well my investment in Eddie was bad, let's bring in someone else'. But in my crazy (mentality), to motivate myself, I go, 'Oh, okay, you're bringing him in because you think he's better than me'. So God forbid if I get in the ring with the guy, but until then, I've gotta outwork them."
With speculation running wild about who the signing might be, there are some prevailing fan theories with odds on favorite being Keith Lee with rumblings it may also be Killer Kross (with or without Scarlett Bordeaux) or even non-WWE affiliated talent like Will Ospreay or Kazuchika Okada.
Elsewhere in the exclusive interview, Eddie Kingston talks about his feelings about CM Punk, Chris Jericho and Bryan Danielson and shares a deeply personal story about his relationship with Homicide.
To make sure you stay updated with all the latest wrestling news, add WrestleTalk.com to your Google Discover feed and follow us on Twitter!