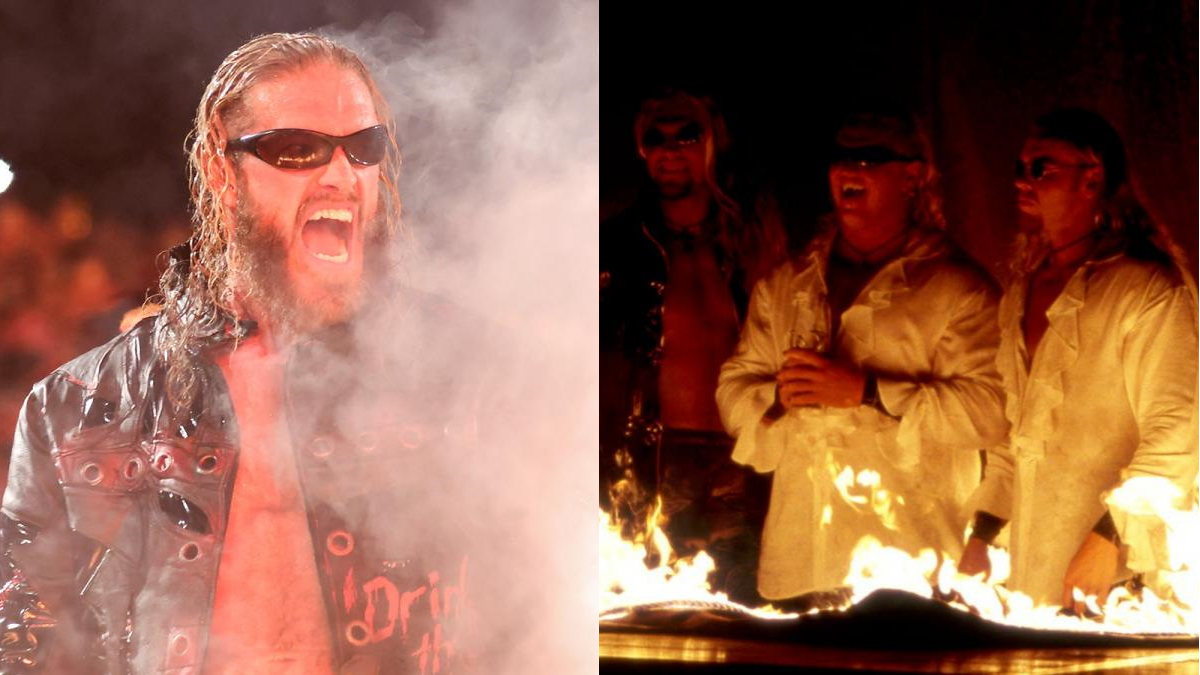 One of the highlights of WWE's SummerSlam pay-per-view on Saturday (August 21) was the highly anticipated match between Seth Rollins and Edge.
Edge ended up scoring the victory, submitting Rollins with the Anti-Venom, but it was arguably the Rated-R Superstar's entrance that got the most attention.
Following a segment the night before on SmackDown, where Edge gave Rollins a bloodbath, Edge made his entrance at SummerSlam by paying tribute to the Brood, his old stable consisting of himself, Christian and Gangrel.
Gangrel himself has spoken about the entrance on his Fangin N Bangin podcast, where he revealed that Edge's SummerSlam entrance actually cancelled plans for him to make an appearance on AEW Dynamite.
Gangrel said:
"I was supposed to be on a plane to Milwaukee. (Monday), I get a return phone call saying, 'Oh man, we're so sorry, we're going in a different direction because WWE media stuff.' That entrance, everything Edge did was f**king great. The reason I wasn't so excited about it is because I knew, I was offered another great opportunity and the timing sucked. AEW contacted me and they wanted me to come in and do Dynamite. They were putting the entrance together, they were going to do the fire, they were putting the music together and getting it all together. The same time I was trending and really happy for Edge on the inside, I was super worried like, 'Please don't let this ruin things.' I called people and they were like, 'I wouldn't worry about it.' When SummerSlam hit, I knew it was the final nail in the coffin. It was cool because I never knew what the Gangrel-Brood entrance would look like in 2021. It was tremendously done. When I got the phone call that they were going to go in a different direction, it's not their fault, it's just timing. I think it was Tony's (Khan) idea to bring me in,"
Gangrel continued on, saying he contacted Edge after the show to congratulate him on the amazing moment, saying:
"Yesterday, I call Adam (Edge). He was like, 'Did you see it? I was so happy and honored to pay tribute. You work so hard and the Brood was a cool time in my life. I hope this helps you get more money out of bookings and move some merch.' He was so happy, I didn't know what to say. I go, 'Yeah, it kinda cost me.' 'What do you mean buddy?' 'That other company over there, AEW, they were getting ready to do a thing.' I was getting ready to do my entrance again, not Edge, me. I didn't tell him that. He got so quiet for what felt like an enternity. He goes, 'Man, I'm so sorry. If you had told me.' I didn't know, I just got booked. It felt like he was gonna cry. I did tell him how pumped I was he was doing the entrance. He felt so bad. He sent me pictures of his daughter with the jacket. I was like, 'It's cool man. It was f**king awesome. I loved seeing you do that.' It was a weird timing thing. He told me he was working on it for two and a a half months. He said, 'You don't know how hard it was to get the blood bath thing because of the PG situation.' He wanted the red and the blood. It really came down to, if it wasn't black, it wasn't happening. It wasn't an idea overnight for him. He planned it. It was a big deal for him,"
Gangrel continued on, saying that he was contacted by AEW for the idea last week, and hopes that he can work with them in the future, before thanking AEW for the opportunity.
transcription via Fightful
To make sure you stay updated with all the latest wrestling news, add WrestleTalk.com to your Google Discover feed and follow us on Twitter!