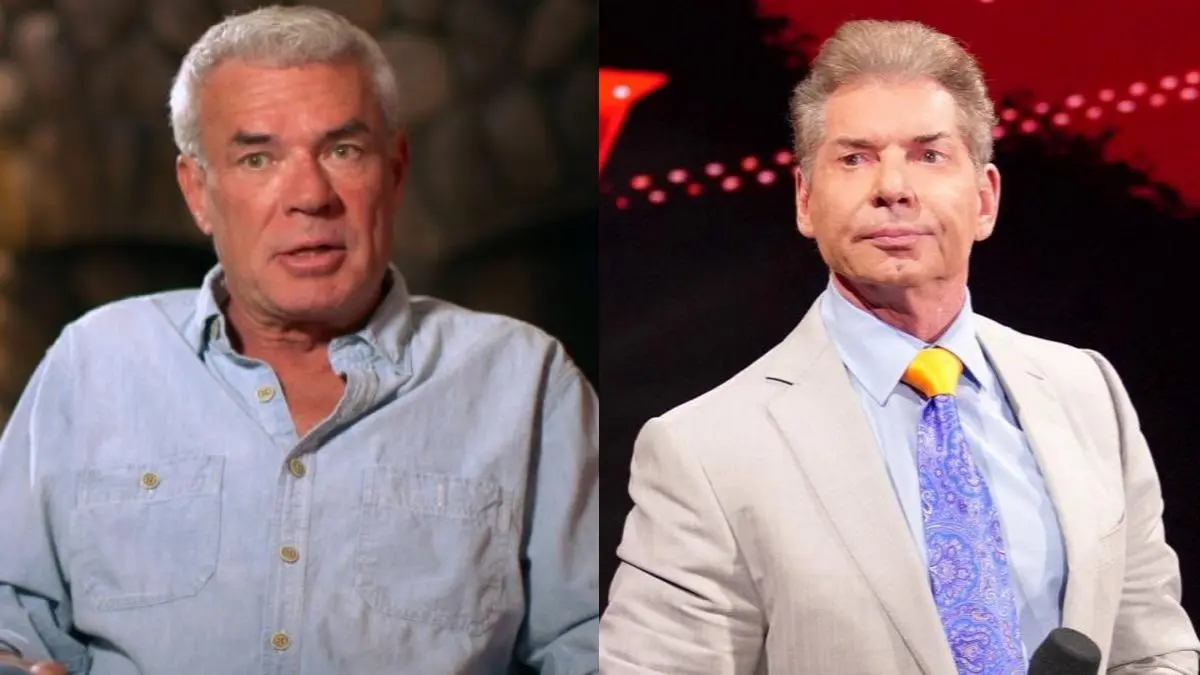 Eric Bischoff has reacted to former WWE Chairman & CEO Vince McMahon's retirement announcement.
McMahon announced his retirement on July 22. Chairwoman Stephanie McMahon and President Nick Khan were named the new co-CEOs of WWE.
On his 83 Weeks podcast, Bischoff noted that he thinks it would feel really weird to turn up at a WWE taping without McMahon in the building.
Explaining how he thinks the WWE creative process will change following McMahon's exit, Bischoff said:
"You ask me what I think is gonna happen going forward, I think the creative process is going to be greatly, greatly enhanced. I think you're going to see some incredibly talented people begin to do what they're capable of doing without an almost unbearable process to do it in.

"Look, Stephanie spent some time as head of creative. How did that work out? Working with Vince is tough, even for Stephanie. Triple H spent some time in that role. How did that work out? Not so much. That's not because he didn't have the talent, but it's because that process, with that guy – he made no concessions for them or anybody else. You had to work his schedule. You had to be available.

"If that phone rang at two o'clock in the morning, you better know your s**t. You better be able to open your eyes and have a coherent conversation about what you may have thought was an obscure detail that didn't matter too much. But if you didn't have a full grasp of your show at two o'clock in the morning, 30 seconds after you open your eyes, that plane ride on Monday morning is gonna suck for you.

"My point is, Stephanie has experienced that, Triple H has experienced that. Because they've experienced that, is it likely they're gonna pick up where Vince left off, or is it more likely there's gonna be a different approach that's gonna make it a whole lot more functional and easier on the creative team that will, within the relative short-term in 60 or 90 days, I think you're gonna start seeing a lot better creative.

"Nothing drastic, or nothing that's gonna make people go 'oh wow, I can't believe they're doing that.' Not that, but I think you're gonna see consistency in story because that's what's lacking right now. I anticipate a much better creative process that will yield a much better product in terms of storytelling and character development."
WWE has now confirmed that Triple H will be heading up the creative team. Bruce Prichard is still with the company, and will be working in creative.
Monday's (July 25) edition of WWE Raw was the first following McMahon's retirement, and the Red Brand's go-home show for SummerSlam on Saturday.
Check out the announced card for SummerSlam right here.
For everything we currently know about Vince McMahon retiring, click here. You can find further updates and follow-ups on Vince McMahon at this link.
Transcription via 411Mania.com.
To make sure you stay updated with all the latest wrestling news, add WrestleTalk.com to your Google Discover feed and follow us on Twitter!