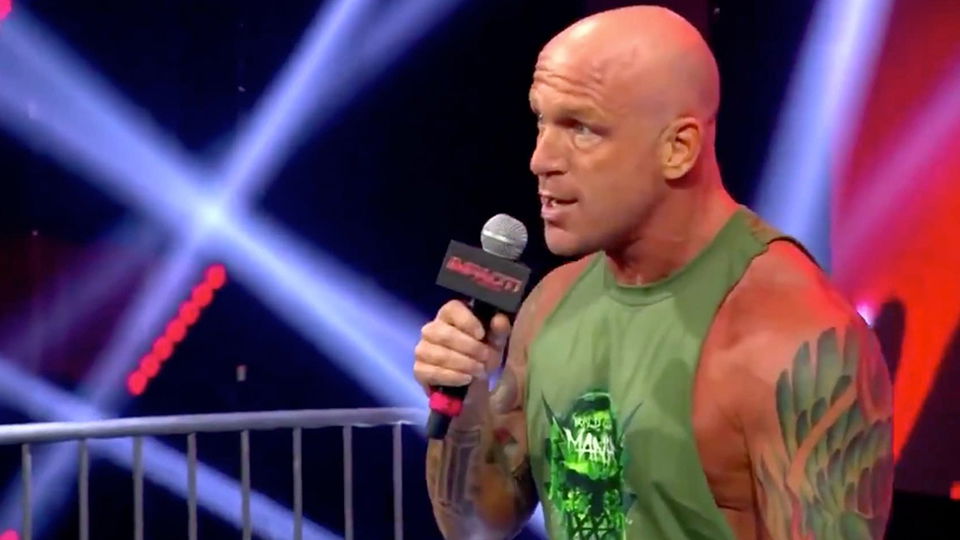 It is safe to say the partnership between AEW and Impact Wrestling came as a surprise. However, it has produced some memorable moments in a very short time. One person who is excited about the partnership is Impact star Eric Young.
Young recently spoke with Inside The Ropes where he expressed his excitement for the possibilities this partnership brings. He also had high praise for AEW World Champion Kenny Omega. Here is the quote:
"Obviously, Kenny [Omega], bell-to-bell, might be the most talented guy in the world right now. If he's not in the top three, he's definitely in the top five. The excitement of having him show up on the show is everywhere as you know – you're a wrestling fan. I'm a wrestling fan, I've always been a wrestling fan – and it's cool, man. It's uncharted waters. We're living history and the thought of him appearing and other guys perhaps coming across and us going over there and, you know, all the fantasy booking – people are losing their minds, and so are we!

It's exciting for me. Even though I've been in IMPACT close to a year now, there's so many guys on the roster that I want to and have yet to work with and vice versa at AEW. There's a long list of guys that I would love to get in the ring with and Kenny being near the top of the list. And unfortunately, we lost Brodie [Lee], a very close friend of mine, and I would have loved to share a ring with him again, we worked several times over the years and the list goes on and on of possible things that could happen. Nobody knows at this point what's going to happen, how long this relationship will last.

You know, it is wrestling and everything changes day-to-day but, man, it's so exciting to be in a locker room where we have a working relationship with another company, it's how it should be and unfortunately, it's not – with money, ego, politics, things like that ruin things like this and that doesn't seem to be getting in the way. That's so exciting, man. I'm not directly involved but, I mean, I'm right on the fringe of being involved and part of a company that is involved in this. It's exciting to be part of that.
Eric Young returned to Impact last year after being released by WWE on Black Wednesday. Young had been a focal point of Impact before signing with WWE in 2016.
What are your thoughts on the above story? Let us know in the comments on Twitter or Facebook.