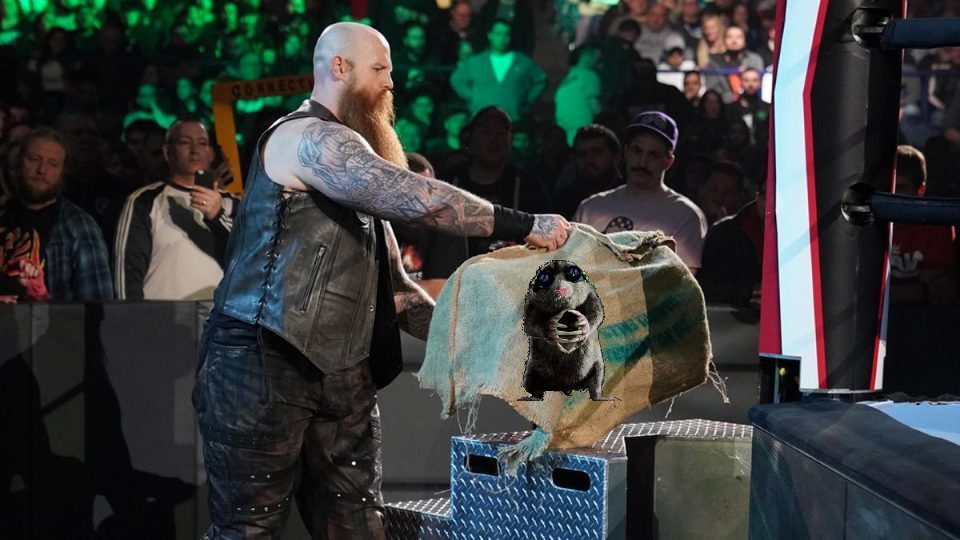 Former WWE Superstar, Erick Rowan was released as part of the massive amount of releases related to the COVID-19 Pandemic. However, before he left he used to carry around a cage that scared everyone who peeked in.
So, what were they staring at? Was it always a robot spider?
Rowan reveals that it wasn't. Here is what he said was in the cage on the Lewis Nicholls Show:
"I put stuff in there, just in case somebody peeked through. You never know if something is going to fall out. Nobody told me to do it, but I put stuff in there just in case. One time, I made a stuffed animal. Just stupid things so if someone looked through, there was a shape. I didn't know what was going to be in there."
I am wondering how you ask someone to act like they love the thing that is in there and convey certain emotions without actually knowing what the reveal is. Of course, if you had told him it was going to be a mechanical spider, he probably would have been really upset.
Was he upset about the angle and the ultimate reveal?
"I was always figured in somehow, so I couldn't really be upset. I had the cage thing, whatever that was, but it kept me on television. Good or bad it kept me on. That's what I always say to people; good or bad, you try to make the best you can with it. Sometimes, you can make good out of it, but sometimes, the writing is the writing. I don't know what happened."
In this case, the writing was bad. Rowan is one of those guys that you have to feel sorry for. He had some really peculiar storylines. Remember when he stared at his evil, somehow slightly older twin when he ran over Roman Reigns.
That push was derailed when he went to Raw. That's when he got stuck with the cage. What's next for him? You can hear him address this in the rest of the interview.
Thanks to Fightful for the transcriptions of the quotes.