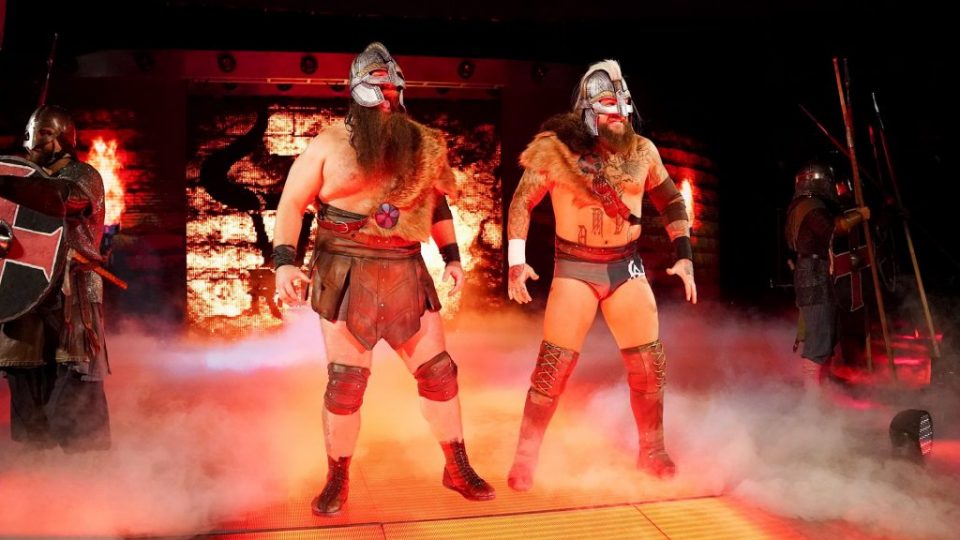 The day after WrestleMania 35, wrestling fans were somewhat shocked when the then NXT Tag Team Champions War Raiders appeared on Monday Night Raw.
Rather than being excited about the debut, fans were left scratching their heads as the War Raiders had been laughably renamed to The Viking Experience.
The following week, The Viking Experience were renamed again to The Viking Raiders, and it seems like this name will be sticking around for the foreseeable future.
Speaking to Corey Graves on the After The Bell podcast, Erik (formerly Rowe in NXT), explained how Vince McMahon needed to be convinced to ditch the Viking Experience name:
"Then we're ringside, Ivar comes out, a graphic comes on the screen and there's a cartoon Viking guy and it says Viking Experience. At first it said Berzerkers, then we were War Raiders and then Viking Experience, we watched the screen change to this and we looked at Hunter [Triple H] and said 'are they messing with us?' He just shook his head and told us to 'go see Vince'. We went and spoke to Vince, at this point because it's so late in the day we weren't even going to approach the subject of Ivar and Erik – we needed to tackle the Viking Experience name."

"We knew at this point we weren't going to be Hanson and Rowe. The primary focus was The Viking Experience. We caught Vince as he was going somewhere else and we pleaded our case about the name. It sounded like a Disney name and there were 10 names we gave him. The last one we gave him was Viking Raiders and he kind of paused on that one. He said they would introduce us as Viking Experience and if they didn't feel it they would rename us to something else."

"But he also put over how much he loves the TV show Vikings and he loves Vikings in general and mentioning our wrestling gear, our armor and Viking details from history. So we felt confident that he liked us and our work – we were happy to hopefully in the weeks to come to get that tag team name changed."
While many fans still weren't happy with the Viking Raiders name, it seems like this is the name that Erik and Ivar actually pitched when they joined NXT.
"I wonder what would have happened if we landed on time and maybe we could have had more input. Thank god the next week came and we were The Viking Raiders. The Viking Raiders is the original name we pitched when we were coming into NXT, funny enough."