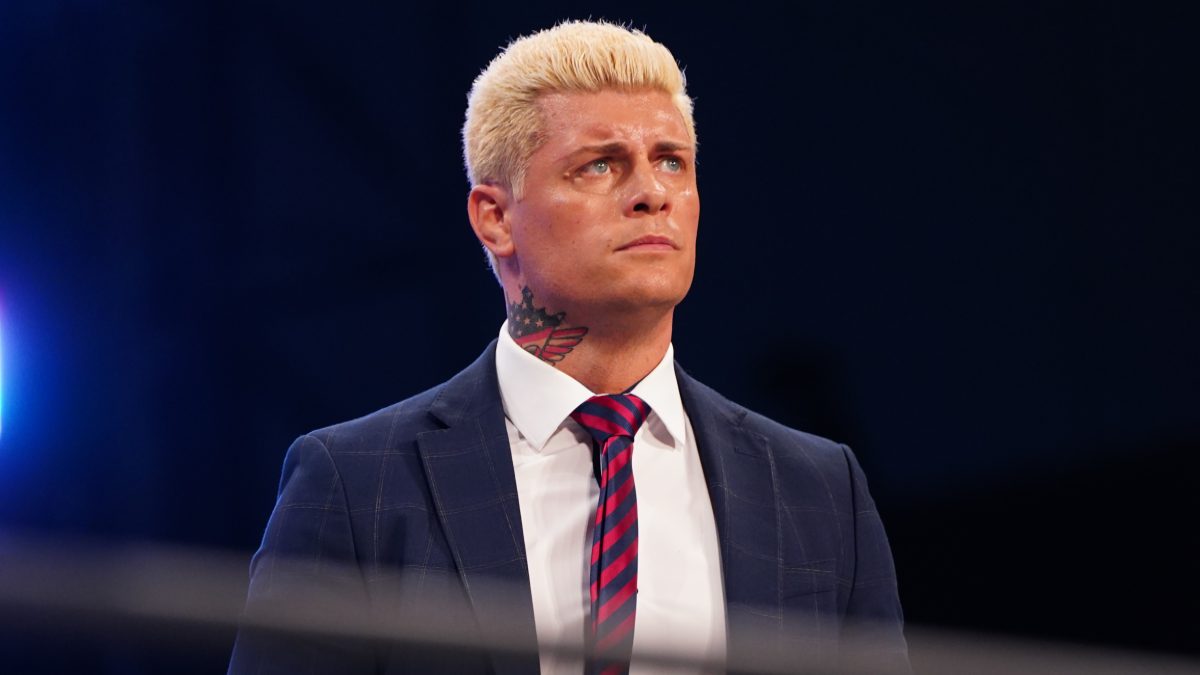 Well, it's been a busy couple of days. There haven't been any audio updates because I've been too busy trying to keep on top of everything, but it seems like a good idea to take a little bit of time right now to recap everything we currently know about the Cody Rhodes situation.
I'm Liam Winnard for WrestleTalk.com, and this is our audio news bulletin for February 18, 2022.
Listen to today's round-up here:
Cody Rhodes & Brandi Rhodes Leaving AEW
There's a lot of stuff going around from various sources with various levels of credibility and various degrees of certainty or just speculation, so we're going to try to focus on what we know to be factual information at this point, rather than the stuff that's just gossip.
Cody and Brandi Rhodes' contracts actually expired at the very end of last year, despite them both having appeared on TV earlier this year.
AEW then announced on Tuesday that they would officially be leaving the company, which was followed by statements from Cody and Brandi themselves.
This was almost immediately followed by reports that Cody had been in talks with WWE about a potential return, which we'll get into a bit more later.
But the first question is, why would Cody leave AEW, and the answer seems to be – a number of reasons. One of those reasons is a "financial dispute", in that, to put it simply, Rhodes wanted more money than Tony Khan was willing to give him.
However, that's not the only thing. A report from Sports Illustrated pointed to Cody wanting to honor his father Dusty Rhodes and his legacy as a booker. When AEW started the EVPs especially had quite a bit of control, but Tony Khan changed that in 2020 and basically took full control for himself.
With Khan unwilling to give Cody said booking power, this was another thing that swayed him away from wanting to stay.
A lot of people have said, 'Yeah but, if he wants booking power, he's not going to get that in WWE'.
Well, let me put it this way: He has the choice between one company where he won't have booking power, and another company where he won't have booking power, but will give him more money than the other company where he won't have booking power.
There were also said to have been potential other issues and falling outs between Rhodes and Khan, but don't expect him to spill any tea, because Dave Meltzer mentioned that Rhodes and Khan agreed not to talk about anything else publicly beyond their initial statements.
The other major thing is the rumors of Rhodes having tension with the other EVPs which of course go way back. The consensus is that yes they had professional disagreements, but they were on good terms towards the end of Rhodes' run.
There are also a lot of rumors about people disliking Cody and especially Brandi backstage.
Just because five people come out on Twitter and say they like Cody and/or Brandi doesn't mean those reports about most people not liking them are false. But it does prove that not everyone didn't like them.
As can be applied to any human in any job in any walk of life, there are going to be people that like you and people that dislike you. The ratio of those differs from person to person, but remember to use your common sense when you see stories and gossip like this.
Don't see a story saying people disliked them and think "oh that means EVERYONE disliked them", but also don't see a tweet from someone saying they liked them and think "oh that means EVERYONE liked them".
There's people I've worked with that I didn't like. There's people who've worked with me – and probably people that still work with me – that don't like me. And think about the number of people I work with compared to the number of people Cody and Brandi have worked with in AEW.
So, just remember that when you see these 'stories', bits of gossip, coming out.
Now, when it comes to WWE, Andrew Zarian reported that people in the company were "waving their flags in victory" despite a deal not even being in place at that time, and it was actually shocking how positively they reacted to the news. They saw it as a huge win.
A later report from Fightful Select also stated that several top stars in the company are already ready to welcome Cody back in with open arms, and with quite a few of them having come up with him in the business years ago, they're excited about the prospect of having him back.
Sports Illustrated had reported that Rhodes could start filming content at the WWE Performance Center as soon as this weekend, but as of Thursday, there was no confirmation that he'd actually signed yet.
If there's anyone still wondering, Cody can legally show up in WWE at any point, and could have ever since his contract expired.
For those of you wondering about Brandi, Sports Illustrated reported that she is not expected to be joining Cody in WWE. Fightful Select later reported that she's looking to shop out her Shot Of Brandi series, which had previously been held on the AEW YouTube channel.
Speaking of series, there is no confirmation that plans for a second season of Rhodes To The Top on TNT have been cancelled, but that is what is expected.
Both SI and Select also pointed towards Brandi wanting to continue to pursue an in-ring career, with Select even saying she was at the Nightmare Factory this week. Speaking of which, the belief is that Cody will continue his role at his and QT Marshall's training facility.
By this week's Dynamite, Cody had been removed from the poster for the upcoming Revolution pay-per-view, having been replaced by new signing Keith Lee, the AEW production trucks, and the opening video for Dynamite.
Fightful Select reported that when it came to the atmosphere at the show itself, it was "business as usual", and there was nothing out of the ordinary that went down.
When it comes to other AEW stars of note – Dustin Rhodes, Cody's brother, clarified that he won't be leaving the company, and it was reported that Kenny Omega's deal runs until February 2023, and Chris Jericho's runs until 2024.
Jim Ross said his contract is up soon, and while he's not looking to leave AEW, he said he does need to start being realistic about his commitments at his age.
For now, that's pretty much what we know. Of course WrestleTalk.com will have constant updates as they come to light, so make sure you're keeping an eye out, and the audio bulletins should be back to normal next week.
Other Stuff
To cover some of the big stories from this week that we missed…
It's believed that Stone Cold Steve Austin vs Kevin Owens is indeed on the card for WrestleMania 38.
It was also reported by Dave Meltzer that WWE has another "Austin-level" surprise planned for WrestleMania.
NXT Stand and Deliver will take place and air at 11am local time on April 2, which is the day of the first night of WrestleMania.
AEW announced the second Battle of the Belts special for Friday, April 15, although it's likely to air the next day.
Lita said she's only expecting to work one match as part of her current run, which seems to spoil the result of her match with Becky Lynch at Elimination Chamber, even though it was pretty obvious anyway.
WWE confirmed the transition from 205 Live to NXT Level Up, which will debut tonight after SmackDown.
Karrion Kross, Keith Lee, Lana, Isaiah Scott and Nia Jax were all shown in new WWE 2K22 footage, so it looks like they'll probably be in the game even though they're no longer with WWE.
Buddy Matthews, formerly Murphy, is likely heading to AEW according to Fightful Select, and then Dave Meltzer also mentioned that there have been talks that he'll be a third member of the House of Black.
The injury Jake Atlas suffered on Rampage on January 5 was actually a torn ACL, which he's since undergone surgery for, but he's likely to be out for a number of months at least.
Former NXT referee Stephon Smith, who was one of the several million releases, has debuted in AEW and refereed matches on this week's Dark and Dynamite.
Speaking of releases, WWE let go long-serving Spanish announcer Carlos Cabrera.
A new reality series starring Corey Graves and Carmella – very creatively named 'Corey and Carmella' – will premiere on WWE's YouTube channel on February 28.
And EC3 and Adam Scherr, formerly Braun Strowman, announced they're launching a new televised wrestling promotion, CYN, standing for Control Your Narrative. The March 31 'Awakening' show will now be televised. Other names set to work for the promotion include Killer Kross, Matt Cardona, Moose, Matt Sydal, Marina Shafir and more.
Be sure to stay tuned to WrestleTalk.com throughout the day and the weekend to keep up with all the news from the world of pro-wrestling, and I'll see you Monday morning for another round-up.