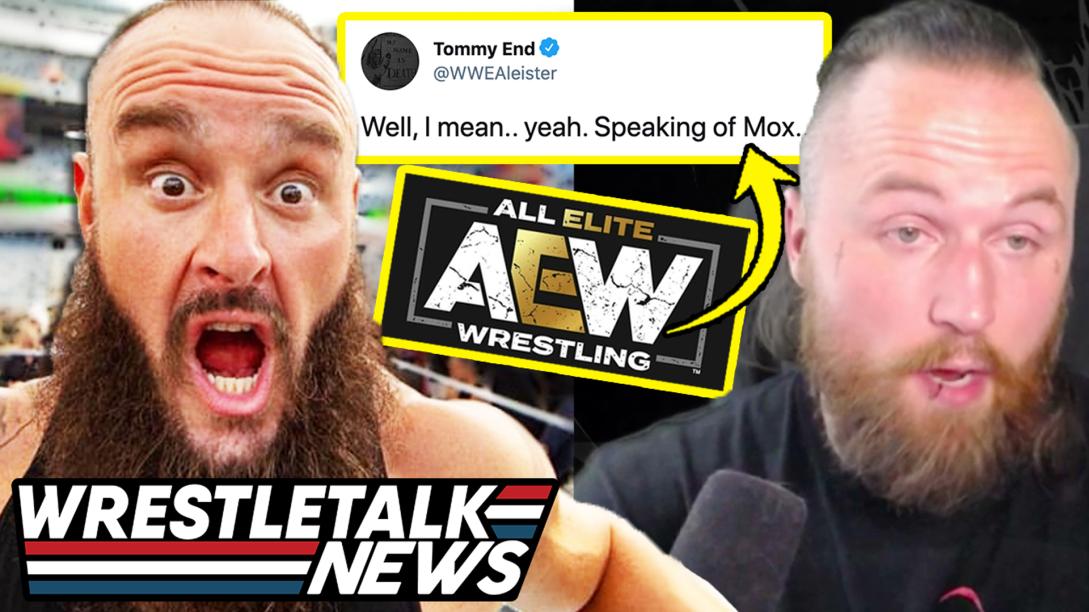 We all thought WWE's worst pay-per-view Major Cuts was going to be an annual thing, happening on the exact same date following WrestleMania, April 15th, in both 2020 and 2021. But now it turns out, just like anything else WWE gets a taste for – like distraction roll-ups, supernatural puppets or using the name WrestleMania – they're going to do it more often than Shelton Benjamin vs Cedric Alexander on Raw.
Because following April's main roster cuts that saw names like Samoa Joe and the IIconics get released, which was followed by a number of NXT and corporate staff firings last month, Wednesday 2nd June saw one of the most surprising round of releases WWE has ever done: announcing the company:
"has come to terms on the releases of Braun Strowman, Aleister Black, Lana, Murphy, Ruby Riott and Santana Garrett. WWE wishes them the best in all of their future endeavors."
Even though Fightful Select had broken earlier in the day that major names were expected to be cut, I don't think anyone ever thought Strowman's name would be among them. WWE has never really seemed to see anything in the other released main roster stars, with Black and Murphy missing large parts of the last year because of creative not having anything for them, and Riott and Lana bumped around from tag team to tag team. But Strowman, he was a legit main eventer that WWE have spent years investing time and effort in, including last month's WrestleMania Backlash pay-per-view where he fought for the WWE Championship, and he's really, really tall.
Fightful Select added after WWE confirmed the cuts that "a few select people" in the company knew about the releases Tuesday afternoon, and the talent were told about it over the phone on Wednesday morning. A lot of the site's backstage sources were said to be very surprised by the cuts, and speculated on what the possible reason could be – with the main favourite idea being WWE is trimming down its expenses to be sold. Although Fightful notes they haven't heard anything about that from WWE officials.
Andrew Zarian of the Mat Men podcast, who's had a very good track record as of late – being the first person to break news of NXT moving to Tuesday nights – has tweeted:
"Some of these names are people who were looking to get released. WWE has taken a very different approach when it comes to this."
Zarian is referring to WWE's pre-pandemic strategy of aggressively re-signing talent to very expensive, multi-year deals to stop them going to AEW or New Japan – even if they themselves had no plans to use them. This included not granting wrestlers their releases. This tactic now appears to have changed, with WWE both firing those who do and don't want to leave the company, but we still don't know why this strategy has changed.
While Sean Ross Sapp has tweeted that he hasn't heard of any more releases set to come, Zarian has noted "I was just told that it's expected more releases will be coming."
Rather scarily adding "more to come…"
Zarian reported: "Not sure if today's the day but I was told a few weeks back that NXT UK is expected to have cuts coming." 
Outside of releases made due to last July's SpeakingOut allegations, the NXT UK roster hasn't had anyone cut despite arguably having a much larger roster than required. A huge number of European-based wrestlers were signed to WWE's first overseas brand, largely thought as a way to kill off the country's thriving indie scene, but because of the government's furlough scheme that pays a high portion of the wrestler's salaries, there's been no reason to release them yet. Although the furlough scheme is set to wind up soon, which is when we might see a similar spate of mass releases to NXT UK.
But what about the people who were released now…
By the way, please do give us a subscribe and superkick the thumbs up button. If you're watching us for the first time, we do wrestling news every day so also enable notifications to always on to get that right into your phone.  
Reason Behind Braun Strowman Release
Braun Strowman has posted on Instagram: "What a chapter in life.  Thank you!!!!!"
Accompanied with an incredibly fun looking and very topless picture on a tour bus, with Samoa Joe, Bray Wyatt, Braun, PAC, Curtis Axel, Bo Dallas, Curt Hawkins, Doc Gallows and Karl Anderson. Rather soberingly, of all those people, only Bray is still currently with WWE.
While Strowman's name was probably the biggest surprise to all of us, though, it appears it wasn't that big a shock to people backstage. The contract Braun signed in 2019 was described as a "monster deal" worth more than $1 million per year taking him up to 2023, freeing up more money to enhance the deep end of Vince McMahon's Scrooge McDuck coin-filled swimming pool.
Braun's release is also rather steeped in irony. At the start of the pandemic last year, Strowman made a much-criticised Instagram post where he shot on indie wrestlers starting GoFundMes and Patreons while they couldn't work, explaining that they should work harder and be more accountable for their actions.
And while his WWE contract would've made him seven figures up until now, Mick Foley has tweeted:
"I know Braun has spoken of never working for another company – but unless he's set for life at age 37, he might want to explore his options."
Where do you think Strowman would work best? Let me know in the comments down below, where I'll be replying to as many people as I can for the first 30 minutes after this video goes live.
A similar reason might be behind Lana's release, as she had signed a multi-million dollar deal with WWE in November 2019 that was set to take her through until 2024. This was around the same time her real-life husband Rusev, now Miro, wouldn't re-sign with the company.
Lana tweeted upon her release:
"I will never forget the fans, and the love they showed me. Whether it was a tank, power-suits, flags, CRUSH, Rusev, 900 partners, weddings or tables: I tried to always entertain you, and you definitely elevated me. Thank you."
While Miro has posted, potentially in reference to his wife's firing: 
"You can't soar with the eagles if you're hanging with the turkeys."
Do you want to see Lana reteam with Miro in AEW? Let me know in the comments.
Murphy & Ruby Riott Shock Releases
People behind-the-scenes were said to be shocked, however, by Ruby Riott and Murphy's releases. Fightful Select wrote Ruby was universally popular backstage and praised for her hard work often, where she leaves behind the only still-contracted member of the Riott Squad, her former tag partner Liv Morgan – who's tweeted:
"Whoever is lucky enough to get Heidi Lovelace on their roster, you win."
Murphy, meanwhile, was described as being easy to work with and receptive to creative. Apparently before Wesley Blake's release back in April, there were pitches for them to reunite their NXT tag team, but the idea was shot down.
Despite being a former Cruiserweight, Raw and NXT Tag team champion, and being part of the high-profile Seth Rollins vs Mysterio family storyline last year, he's barely been used in 2021 when his Aaliyah relationship was just dropped. 
Murphy might be one of those who had requested his release, however, as he seemed immediately excited for what's next in his statement on social media:
"So Today ends my 8 years with WWE! What a crazy ride! Highest of Highs, Lowest of Lows, but weather I had 3 minutes or 20 minutes I put all my effort into my performances! Nothing is harder when all you want to do is wrestle but you can't! In my opinion I haven't even hit my peak
"yet and I'm excited to see what the next adventure holds. I was lucky enough to work with some of the best talent in the world and learnt a tremendous amount. But trust me… the whole world will know what I meant by "Best Kept Secret" Thank you all! Folded hands" – with a photo of him disintegrating Infinity War style.
Murphy said earlier this year that his dream opponent outside WWE would be Kenny Omega, which Kenny himself said would be "cool". Murphy first joined WWE in 2013, meaning there are a lot of first-time dream matches out there for him.
Showing just how last-minute some of the decisions were, though, PWInsider is reporting NXT's Santana Garrett, who was amongst the cuts, was scheduled to make her main roster debut on Friday's episode of SmackDown. 
Apparently she actually was called up behind the scenes back after her Women's Royal Rumble spot in January, but she just hadn't been worked into storylines yet.
Garrett tweeted a simply thank you to WWE, "Peace, love and headband power."
There are undoubtedly a lot of Talk is Jericho shoot podcasts set to come. But one of the released wrestlers wasn't going to wait around to tell his side of the story.
Aleister Black Shoot Stream
Aleister Black first tweeted about his release:
"Im gathering my thoughts as this was a complete left field for me as obviously we just started the dark father character but this was it, thank you so much WWE universe for allowing me to create and give you small bits of myself."
Before following it up with a longer statement on Instagram:
"All I know is this business. And I am glad that I do. Never in 21 years of being around did I want anything else no matter how much it made me hate it sometimes. Today, despite all of it, I am happy. Happy that I got a wonderful opportunity 5 years ago that allowed me to meet you all, through a tv screen every week, and sometimes in your own town, or at a table asking me for an autograph. I enjoyed talking to you, meeting you, meeting your families and seeing smiles and shy hands asking me to sign autographs cards, pictures and sometimes shirts. There is a lot I could say, and maybe someday I will, but right now I am focusing on sitting home with my wife who I also have met through WWE, and taking it all in. Taking all my good experiences in and feeling fulfilled. I have poured everything into this, and even what you didn't see, I still created, and maybe I'll show it to you one day. But I think I'd rather show all of this to you somewhere else. Perhaps closer to your home, perhaps through social media, perhaps through a different screen. For now WWE Universe I am happy to have met you. Till we, maybe, one day meet again. Rest in peace Aleister Black, long live Tommy End."
And it turned out that 'maybe someday' where he'd talk more… was about half hour later.
Aleister Black – who I'll now refer to as his non-WWE name Tommy End, which means his End is also a new beginning, which is super cool – began streaming on his wife Zelina Vega's Twitch account, answering fan questions and reacting to the emotions of losing his job in real time. It was quite clear that he wasn't one of the ones who asked for his release.
He revealed that he was told his release was down to 'budget cuts' – which seems to be the reason all the released talent this year have been given. But he was still very grateful to WWE for his time there and said he had a good relationship with Vince – where McMahon stopped a planned US title win for him last year so he could win his first championship in front of live fans – but he did hint McMahon never quite got his character.
But End certainly did know his character, as he explained how much creativity he brought to his role:
-using tarot cards to inspire his gear
-using his opponents colours in the background of his Room promos, and also specifically choosing colours to reflect his character's emotions in a feud.
-awesomely describing his Aleister Black character as "basically the devil with memory loss"
But, ultimately, those were just details or easter eggs. He described WWE as "having shackles on," but asked fans "don't get mad at our creative" – citing both Bruce Prichard and Paul Heyman as going to bat for him. End added on Twitter afterwards:
"Before I forget, a special mention goes to @HeymanHustle for always having my back, and to this day acts like a mentor to me. Since day one Paul was in my corner."
Nevertheless, he described his last two years in WWE as "a slow death", adding "what murdered me was the 7 months at home." At this point, he shot on wrestling journalists, saying "they don't have insiders, they get told warped stories" – and that plans subject to change is just an excuse, seemingly calling out Sean Ross Sapp for breaking the Zelina Vega returning to the Performance Center story on Patreon recently, and mentioning another story last year about how his idea to go to NXT was shot down, which he claims he was actually praised for backstage.
It's also important to note, though, that what End was told by WWE management might have also been a massaged version of the truth. There are numerous stories about how Vince will tell wrestlers one thing, while intending to something completely different. And it's hard to dismiss 'plans subject to change', as End had just returned to SmackDown, starting a feud with Big E, he just had a new t-shirt put up on WWE Shop for pre-order and Dave Meltzer revealed:
"They literally just shot the Aleister Black vs Big E angle, so that tells you at least in his case this was not thought about for any length of time."
It certainly seems like plans definitely did change.
Fightful adds that the creative team booking SmackDown did not know End was being cut, but they had recently been told to stop making pitches for his character, but not told why. There was, subsequently, never a long-term endgame for the Black vs Big E feud.
So what could End do next? On his Twitch stream he pointed at how creative he's been with loads of restraints. Imagine what he can do when he's offered more freedom. One fan tweeted him:
"calling it here and now, you're gonna go the mox route and wrestle literally whoever you want."
While End replied: "Well, I mean.. yeah. Speaking of Mox.."
Main roster releases are typically subject to a 90 day non-compete clause, meaning they'll be able to wrestle elsewhere from September. Just a few days before AEW's next big pay-per-view All Out.
All of WWE to AEW confirmed.
What are your thoughts on the above story? Let us know in the comments on Twitter or Facebook.