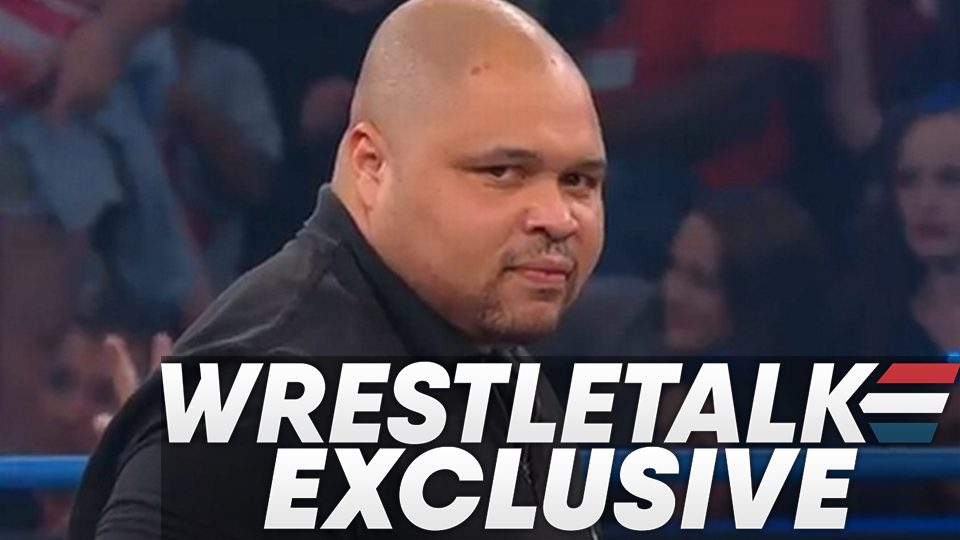 Thanks to our friends at Impact Wrestling, I had the chance to chat with current Impact producer and former wrestler D'Lo Brown.
Brown came up in the Attitude Era and offered a unique perspective on where Impact is currently and where he hopes the promotion will be in the coming years. It was a great talk and we hope you enjoy it.
Brian: Thank you for taking the time to speak with us, it means a lot.

D'Lo: No problem, I appreciate it. Thank you.

Brian: First of all, we gotta talk about this. You have gained a level of Twitter fame in recent years due to the swagger that you displayed in your old entrances. Are you able to look back on stuff like that and laugh about now or what is your thought process about it?

D'Lo: I laugh and enjoy it. Who knew that my walk to the ring would end up being a meme and a gif later on in life and if I had a penny for every time one of my friends forwarded me one of those gifs Bill Gates would have nothing on my bank account. You know, it's funny and it's entertaining but at the same time, I'm appreciative that I'm still in the consciousness of the wrestling fans that help create stuff like that. So I find it amazing.

Brian: Jumping over to stuff in the UK, it is known that you are a big fan of Liverpool. So I gotta ask, how does a man from New Jersey decide on a team from the UK like that?

D'Lo: It was just spending time over in the UK and then getting to see the passion that surrounded the Premier League, again with all teams. But spending a lot of Summers in the UK kind of drew me to Liverpool and then, you know if you follow me you know they are very similar to my other team, the Chicago Bears where they were- if you follow the story, they were both once great or once founding members of the league but then they fell on hard times and then they had to fight their way back to prominence. So, its a very similar story to my other team so Liverpool is like my heart. I love them very much and I know thats going to piss off a lot of people in the UK. So to anyone outside of Liverpool, sorry.

Brian: So sticking with the UK theme, Impact has always had a very strong following in the UK with guys like Brutus Magnus who is now Nick Aldis and Doug Williams. How important do you think it is to really stay in a prominent position with Fight Network and make sure Impact is visible in the UK?

D'Lo: I think it's important as hell because I've said 100 times that some of the most loyal and incredibly intelligent wrestling fans are in the UK. They understand wrestling and they understand good wrestling compared to bad wrestling and I said earlier that if you're good at what you do they let you know and if you're bad at what you do they let you know. So, you gotta cultivate that and look, for example, there's great wrestling talent in the UK, there's a great fanbase in the UK and you'd be a fool as a company not to capitalize on that.

Brian: Is there anybody in the UK scene that you've seen that you'd like to see on a bigger stage such as Impact?

D'Lo: Well I can't specifically say but yes there are some people over there that I pay attention to a lot right now. So yeah I can't say names because that would be violations and all that gaga.

Brian: Fair enough. You've been with Impact on and off for a long time now. You've been through a number of different stints, both on-air and behind the scenes. What is the biggest difference you've noticed from your Impact tenures compared to years ago and now?

D'Lo: They're two different companies from top to bottom, from leadership down to ring crew. It's two different companies. I can say about this incarnation of Impact is about producing the best wrestling content it can. It's about engaging with the fans and it's about just trying to find our niche in this world of wrestling while giving the best wrestling we can. So it's just a completely different company in all the good ways.

Brian: Sticking with your role as a producer, you've been labeled as a "wrestler-friendly" producer by a number of people. Can you talk a little bit about what that means to you and how that has changed in recent years with wrestling kind of leaning more towards a more free style of letting wrestlers do what they want?

D'Lo: I like being branded as a "wrestling-friendly" producer because I like collaborating with the talent I work with. I don't want them to go out there and wrestle as me. They're not me, but I want to help them become the best version of themselves and help them create the best match they can. So, it is putting our ideas together and building off that and that's what's fun is that collaboration process of watching ideas grow from 'hey what about this' to 'hey we should do this'. And it is such a fun ride to be on and it is enjoyable to be on that ride with the talent because it is the best seat in the house that I get to put it together with them and then I get to sit back and watch on the monitor play out for the world. When they nail it, the feeling is almost like I'm out there doing it myself. So, I enjoy being branded as a "wrestler-friendly" agent because deep down inside I'm always going to be that wrestler. So, it's cool to be that.

Brian: Who that you've worked with has really stepped up the most and impressed you since you've been back with Impact?

D'Lo: To say one person is to insult others but if I were to give you some names I could tell you people like Tessa Blanchard, Eddie Edwards, Michael Elgin, Sami Callihan, and The North are just a few. Rich Swann, Willie Mack, I mean people like that- every time I'm involved with helping them, to watch their wrestling intellect play out in front of me, to watch their in-ring skill on camera, it impresses me every time.

Brian: Along those same lines, is there anyone on the roster right now that has been kind of overlooked by fans and you think deserves a little bit more credit for how great they are?

D'Lo: Oof. I'm partial to Rohit Raju. I love that kid. He's a hell of a talker, he just got the opportunity to talk on Impact the other day and I think he could be somebody who could break out. I think somebody like Trey Miguel could be one of the breakout stars of what Impact could be in the next couple of years. I mean hell, any of the Rascalz could be that. So, these are guys who are underlooked but not underappreciated when given the opportunity, I know they will knock it out of the park.

Brian: Not having to include one of those guys specifically, but is there one match since you've been back where you've been able to stand back maybe as a fan or something that you've worked on and gone 'wow that was really incredible'?

D'Lo: Watching Tessa win the World Title from Sami Callihan was amazing to be part of. Just sitting there watching the moment, listening to the crowd, feeling the energy. Those are the moments that you brand in your mind where you remember you were there because they become important in future years and future generations. So that's one match that I'm very proud to have been part of and very proud to have seen.

Brian: I would have said that exact same answer had I been posed the question. Impact has a bunch of events coming up like Lockdown, Against All Odds, Rebellion, etc. What should fans be looking forward to the most with these upcoming shows?

D'Lo: The entertainment and wrestling value that we continue to put out there. I would put our roster up against any roster in the world in terms of wrestling content and great matches and the ability to captivate an audience. So, with these upcoming events just come along and enjoy what you're watching because each show will get better and better and better. I say that based on the last year where every TV, every pay per view, every special has gotten better and better and better from a content standpoint. So, I think Impact is on a big push and a big roll right now and it's a great ride to be on and it's very enjoyable.

Brian: Like you've said, Impact has changed a lot from how it was 10-15 years ago, where would you personally like to see the company be in another five years or ten years?

D'Lo: I would like to see Impact in the next five-to-ten years being the best version of Impact it can be. I know that's probably a very standard answer but I just want us to find our niche in this business and find our fanbase and cultivate it and grow it and give them the best product consistently we can. So I just want Impact to keep growing and elevating up like it is.

Brian: Is there anything else later on this year or in the near future that fans should really be looking forward to that maybe you could let us in on?

D'Lo: Well I can't give away ALL the secrets but you know, just stand back and watch. We have a lot of big things planned and we've got some stars here that you're seeing on TV now. We've got some stars that you're gonna learn and love in the future. So, there's big things ahead for Impact, there's big things ahead for Impact fans.

Brian: That's very exciting to hear. The emphasis in wrestling has been put on really great matches and what do you think you guys are doing to separate yourselves from the pack and differentiate yourselves as a brand?

D'Lo: I think it's a combination of great matches plus compelling storylines. Now, when you put those together you have a product that people will pay attention to and I think that's what we are right now. As good as our wrestling is, we have storylines that make sense, that draw the fans in, and gives the payoff when it needs to be. So that's what I see us doing to differentiate ourselves from other companies.

Brian: You came up in a time in the Attitude Era where there were tons of great talkers. You had The Rock, Steve Austin, Mick Foley, the list goes on and on and you've got a ton of great talkers in Impact right now. I just want to get your thoughts on the whole debate between a scripted promo format versus letting guys be themselves and speak from the heart and put out their own promo with some guidelines but more or less their own message.

D'Lo: To me, I think it's more authentic when it comes from the heart. When you give certain parameters and say 'hey, colour between these lines and go have fun' you can still have authenticity in the promo. There's a real person there. There's real emotion and feeling because it's coming from that person's soul. When, to me, if someone writes a promo in a room and goes 'here recite these lines' it comes off sometimes canned and you may not connect with the words, they might not be the words you as a person would say. So I'm a big fan of 'here's bullet points A, B, C, D, and E. Go.' And go sink or swim. Go. And that's how I came up in the Attitude Era where you were given bullet points and you went out there and you talked. That's how guys like The Rock and Steve Austin, great talkers, got themselves connected to the people. So I think there's more authenticity that comes from promos that come from the heart.

Brian: Excellent, thank you very much D'Lo we appreciate your time.

D'Lo: I appreciate it, my friend. Thank you.
Impact Wrestling currently airs in the UK on Fight Network UK. Their current World Champion Tessa Blanchard recently defended her title against Taya Valkyrie in the first all-female Impact World Championship match.
The company has come a long way from the Jeff Jarrett and Dixie Carter years. Given the amount of talent they have on their roster and the amount of experience they have behind the scenes, Impact should be a promotion to look out for in the near future.
What are your memories of D'Lo Brown? Let us know on Twitter!