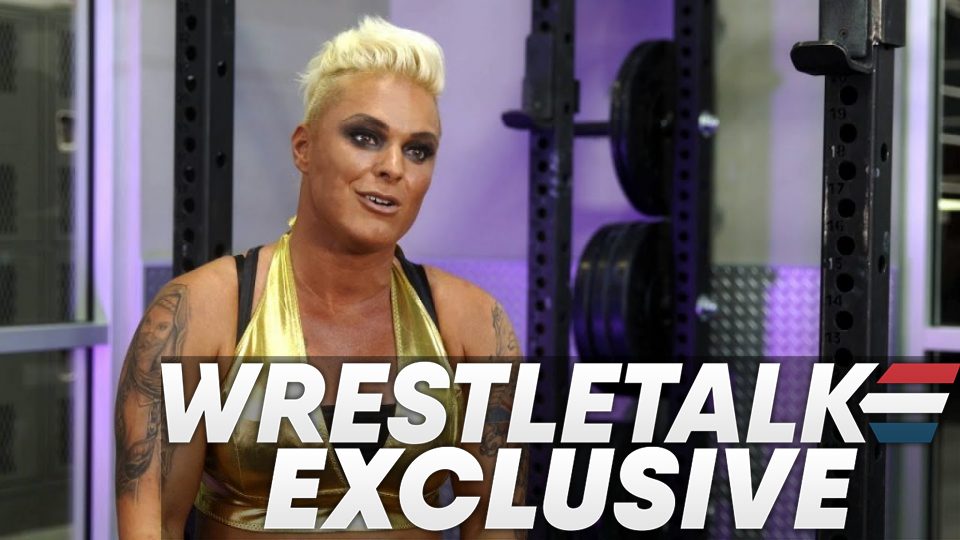 Last week, NXT UK star Jazzy Gabert, also known as the Alpha Female, announced she had left the company and was now a free agent.
Gabert didn't give any specific reasons for her departure, but speaking in an exclusive interview with WrestleTalk's Andy Datson, the Alpha Female explained why she felt it was time for a change.
"I'm grateful for the opportunity that WWE gave me. I was immensely privileged to train with legends like William Regal, Johnny Saint, Robbie Brookside, Shawn Michaels and others who came to the performance centre in London.
"I was blessed to make my debut at Blackpool and witness how the NXT UK superstars performed on a high level with so much passion. I was also really happy that I got TV time almost every week; of course some could say it was not a good storyline I was placed in, but I honestly was just happy to be out there at all and I tried to make the best of it."
Gabert explained that due to the relatively light schedule that NXT UK has, she was able to focus on projects outside of wrestling as well.
"As we had only TV tapings about every 4 to 6 weeks I was able to do a lot projects outside of wrestling and I found the world of entertainment in Germany. I was on dating shows, game shows, talk shows and got to do lots of fun things in TV.

"In the summer I was really lucky and got an offer to tour with a German rockstar, Udo Lindenberg, and we went on tour for 3 months, 28 shows, every time in front of 15,000+ fans. In between all of this I had the NXT UK tapings."
Jazzy explained that it was on this tour that she decided that perhaps it was time to move on from NXT, as she felt there were things in life she would not be able to experience while still with WWE.
"On tour I realised that I want more for my life and I got the confidence that I'm able to do more, and for 202o Udo Lindenberg asked me if I can come on tour again and a reality tv show offer came also in.

"Unfortunately, these projects would cross the schedule from NXT UK and I had to make a decision, because working all of these projects at once wouldn't work.

"As I couldn't see myself moving on or up in terms of storylines, I had to ask for my release. So it was completely my decision and I'm happy about it. I always wanted to work for WWE and I'm happy that I can tick that box. Of course, would I have loved to be a champion, for sure, but my heart tells me it's time to move on."
2020 looks like it will be a very big year for Gabert, who revealed she will be starting her very own show in Germany in April.
"2020 will be interesting. I can announce that I will promote my very own show on April 19 in Germany. It's not a typical wrestling show, it's sports entertainment and inspired by the musical, Rocky. Its called SIRIUS Sports Entertainment.  On April 19 there will be a press conference on Facebook and Instagram where I present to you the heavyweight championship made by Top Rope Belts.

"In May, June and July I will go on Europe tour with Udo Lindenberg, representing our beloved wrestling world.

"I'm still getting a few independent bookings, but they will be limited as I simply want a change. I want colourful hair, lose some of my body weight and just be me, Jazzy, not Alpha Female. But that again can change anytime if the offer is just right."
Lastly she made sure to thank her fans for supporting her, and hopes everyone will continue to do so now that she's decided to make a change.
"All I want to say to my fans is thank you for following me and my journey, I'm happy and I believe that I made the right decision!"
If you use any quotes please give a H/T to WrestleTalk.