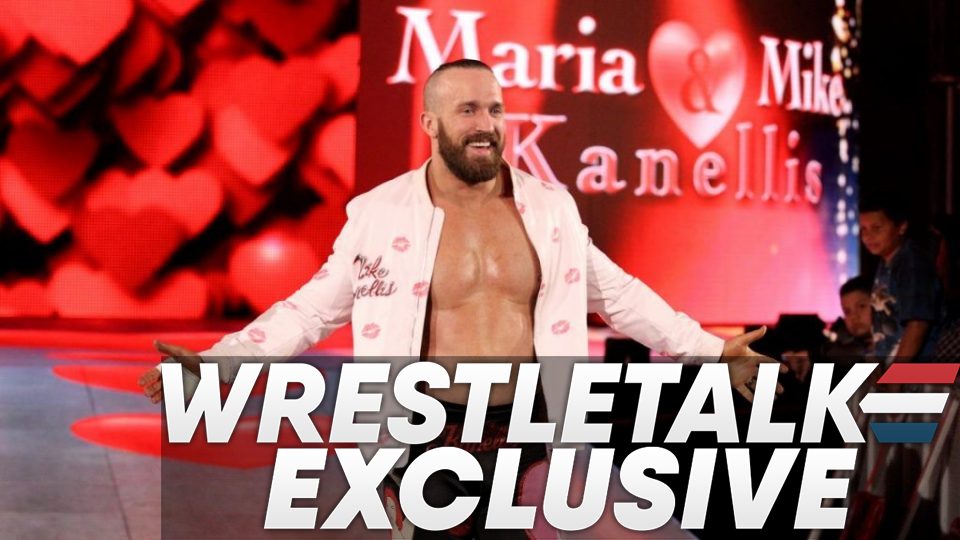 Mike Kanellis joined WWE in 2017 along with his wife Maria. However, Mike's debut with the company certainly made an emphatic statement.
While Mike may not have been pushed as a main eventer during his run with WWE, he was sent straight to SmackDown instead of NXT. To this day, only Mike and AJ Styles have skipped NXT when joining the company.
When asked if skipping NXT was a request Mike and Maria made to WWE when negotiating with the company, Kanellis denied the speculation and said the decision was WWE's:
"I didn't ask to go right to the main roster, that was their call. I negotiated with them at the same time my contract with TNA was coming up. We were going to stay with TNA, they had offered us a good amount of money and we were going to sign a one year contract with TNA. This is was right when Jeff Jarrett was taking over and Anthem had stepped in and we were going to stay with them. I hadn't really reached out with WWE because of my experiences in the past, I did like a tryout with WWE and they told me no and I was like I don't think they are going to want me now so I'm going to stick with TNA because there was more I wanted to do in TNA. I had gotten Triple H's email and I was like I'm going to reach out to them and see if there was any interest and I did and there was. He had William Regal call me and I talked back-and-forth with Regal and they eventually were like there is no spot for you but we want you to come to NXT and go through the ranks that way but the money was less than TNA. As like a businessman I was like I cannot do it. They understood and they were great. William Regal is a great person, I loved talking with him, he was very open and honest with me. He was like let me talk to Triple H and tell them what you said and a couple days later he got back to me and was like 'we can bring you up to the main roster right away and we can increase your pay'. I was like 'oh s**t of course, let's try it'. I was willing to go to NXT, I just couldn't take less money, it didn't make sense to me… It was never like a demand, I was never like 'I have to go to the main roster or I'm not doing this' I would have gone to NXT, it just didn't make sense to move my entire live to Florida when TNA was just flying me in from Rhode Island. I was proud of that. Even though it didn't go the way I would have liked it, not a lot of guys get to do that."
Mike noted that he and Maria were considering re-signing with TNA in 2017 before joining WWE. When asked if he now regrets that decision, Mike had the following to say:
"It's an interesting question. As a performer, I probably would have taken the TNA deal, but as a person, I wouldn't have changed a single thing that happened over the last three years. It changed me as a human. The company, working there, what I went through in the three years, what I am now, who I am now. It sounds corny and cliche but in the last three years I changed as a human, as a man, as a father, as a husband. I'm in a good place mentally and I wasn't in a good place mentally three years ago. In that sense, I don't think I would change a thing because it got me to where I am today and the person I am today I like a lot more than the person I was three years ago."
https://www.youtube.com/watch?v=SvMQ4KRQNh8&feature=emb_title
You can watch the full interview above, or you can check out the key quotes by clicking here.