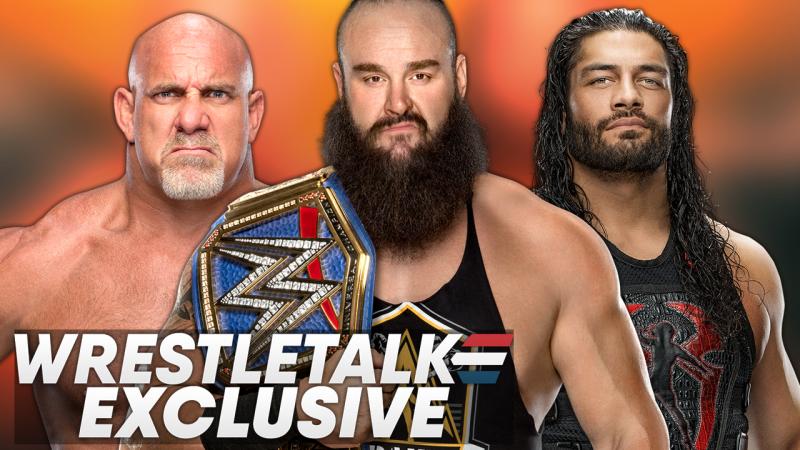 WWE continued to promote Roman Reigns vs. Goldberg for the Universal Championship until 24 hours before WrestleMania. This is despite the fact that WWE knew Roman would not be competing on the show.
Roman was replaced on the go-home episode of SmackDown by Braun Strowman. Based on the fact that the Goldberg and Strowman match had no build, a Braun Universal Championship win seemed rather unlikely.
However, in the penultimate match on the Saturday portion of the show, Braun defeated Goldberg to capture the Universal Championship. The match lasted just over two minutes and featured four Spears and four Running Powerslams.
WrestleTalk's Louis Dangoor can exclusively reveal that WWE's initial plan when they figured Roman wouldn't be on the show was to have Goldberg retain. WWE wanted Goldberg to put over Roman Reigns, with this being the only reason he defeated The Fiend for the Universal Championship at Super ShowDown.
As such, we have learned that tentative plans were put in place for Roman to defeat Goldberg at SummerSlam, with WWE hoping the coronavirus situation will have died down by then.
However, our sources have told us that reason WWE opted to have Braun win the title on Saturday night is because Goldberg's final WWE appearance and match of 2020 was set to be at WrestleMania, and the Hall of Famer had no intention of adding more dates to his current deal.
The decision to have Stromwan in the match instead of Reigns was made when it was clear whoever replaced Roman would be winning the title. There were reportedly talks of giving Jeff Hardy the role, but WWE ultimately went with the "Monster Among Men".
Speaking of Roman Reigns pulling out of the show, it has been speculated that WWE higher-ups are unhappy with Roman for not wrestling on the show. Speculation was intensified when Roman wasn't mentioned at all across either WrestleMania show.
However, Louis Dangoor can also reveal that WWE higher-ups, including Vince McMahon himself, was very accepting of Roman Reigns' decision to miss the show, especially given his history with leukemia.
As is common knowledge at this point, WWE had their doctors closely monitoring Reigns' situation in the build-up to WrestleMania, with Braun Strowman being kept out of any feuds in case the former WWE Champion decided against working the show.