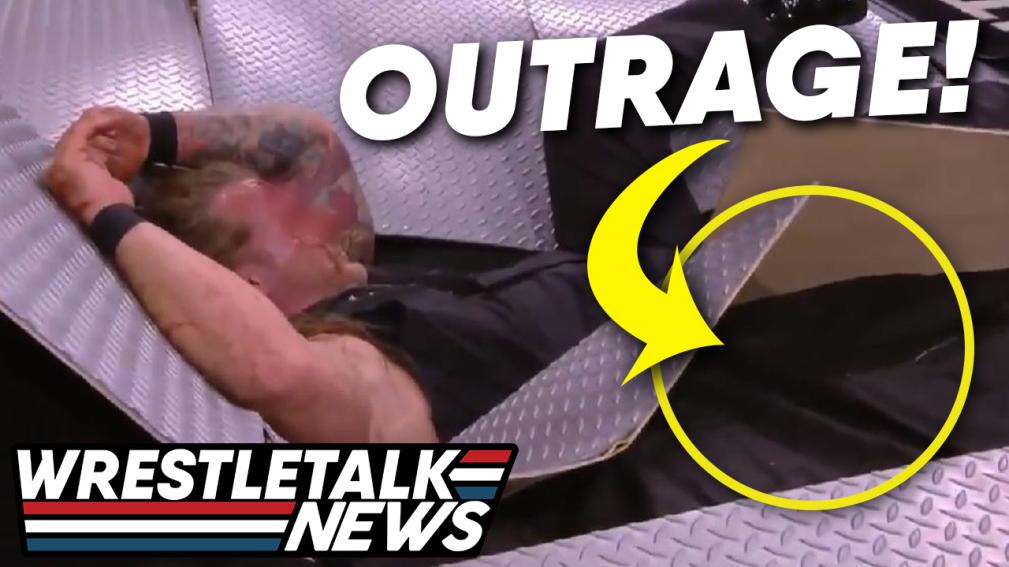 Last night, after a year since they cancelled the first one, AEW presented Blood & Guts: their version of the WCW classic War Games. Cody wanting to do something his Dad invented? I am shocked. However, despite a nearly 40 minute epic match featuring plenty of one half of the blood and guts title, the finish of the match seems to have upset a large portion of the viewers. Our livestream reactions we did to the show on WrestleTalk Podcast were majority negative, with many calling it a botch, and comparable to the disastrous ending of AEW's Revolution in February.
I'll be covering the match in detail in the review, but the finish saw MJF threaten to throw Chris Jericho off the roof of the cage, and Sammy Guverara of Inner Circle surrendering on behalf of his team to save Jericho's life. This gave Pinnacle the win, and MJF being the dastardly heel he is, threw Jericho anyway for him to safely land on a visible crash mat.
AEW's crew seemed to enjoy it, with Taz tweeting: "Holy s**t. #AEWDynamite #BLOODandGUTS – all 10 men BUSTED THEIR ASSES in that insane fight! Bravo." And Dustin Rhodes tweeted out: "Incredible! Just incredible."
The finish was divisive though – with many people feeling the "surrender" concept lacked dramatic flair. Especially since NXT's War Games matches have established themselves to a new audience as crazy stunt shows that end in pinfalls. But it was Jericho bump that really seemed to anger some fans who felt that it wasn't spectacular enough. One fan tweeted: "What did booker t say again, right, aew comes across as an indie show", and they weren't the only one as more and more replies to AEW's recap of the bump flooded in, with this fan asking us to image a world where the Horseman would surrender in a War Games match. Oof, I hope he doesn't plan to watch Fall Brawl '97 anytime soon.
Even NXT's Shotzi Blackheart got in on the action, immediately tweeting after the match a gif of someone enjoying a soft landing onto a cushiony bed.
What's amazing about this reaction, however, is that less than a year ago fans were very upset at AEW over the Matt Hardy/Sammy Guevera incident at All Out, but now wish that Jericho took a much nastier bump. As Adam Pacitti brilliantly put it: "I get that Jericho landing on a clearly padded stage wasn't the most impressive bump we've ever seen but I'll never understand wrestling fans who seem to want to see wrestlers take legitimately nasty falls and inevitably end up hurting themselves. Dude is 50."
Daniel Bryan to AEW?
As a quick follow up to yesterday's story about Daniel Bryan's contract ending with WWE, QuizzleMania Champion Sean Ross Sapp is reporting over on Fightful Select that those in AEW aren't expecting him to jump ship and will most likely re-sign with WWE. However, those in WWE had reportedly heard Bryan would not be staying with the company.
Daniel Bryan to AEW confirmed.
We've got more news coverage over on WrestleTalk.com, including a story about the plans for RKBro, which you can check out by clicking the link in the video description.
AEW Review
But let's get into it, because it's Thursday and you know what that means. It's time to review AEW Dynamite: Blood & Guts… in about 5 minutes.
The show opened with the tag match between Jon Moxley and Eddie Kingston vs. Michael Nakazawa and AEW Champion Kenny Omega. Like opening The Crossroads episode of Dynamite with the Shaquille O'Neal tag match back in March, it was a smart call here by AEW to use some of their biggest stars in the first match on what is likely going to be one of their most watched episodes to date. Kingston and Moxley won after Omega bailed on Nakazawa, and after the match, The Young Bucks and Good Brothers laid out Moxley and Kingston to stand tall. Omega hit the One Winged Angel on Eddie for Nick to count three to pretend they won all along. It was a good post-match beatdown, and presumably sets up Mox and Kingston vs. The Bucks for the tag titles at Double or Nothing which should be a great match.
Cody Rhodes vs. QT Marshall had the usual Cody action, with its confusing decision on what counts as a DQ and what doesn't. At the start of the match, the ref stopped Cody from using his weight belt as a weapon, only for QT to use his instead – in front of the ref. So why wasn't that a DQ? And at one point, Arn Anderson attacked QT, which wasn't a DQ. The nearfalls at the end were decent, though, with QT kicking out of CrossRhodes, but tapped out to the Figure Four. Anthony Ogogo punched Cody in the ribs after the match to seemingly set up a singles match at Double or Nothing.
Alex Marvez interviewed Scorpio Sky and Ethan Page, with the former getting in a line from Batman Forever which I very much appreciated. Darby Allin attacked them both, leading to a brutal bump where Darby got thrown down some concrete stairs. In hindsight, this bump only furthered the anger some fans had towards the Jericho bump at the end of the show.
SCU won a four-way tag match which had decent action, pinning Brian Pillman Jr on the week where he was honouring his father. Couldn't you have pinned Griff Garrison? He's right there!
We then found out that next week, number one ranked Orange Cassidy will take on number two ranked Pac to determine who will face Kenny Omega at Double or Nothing. It was a match announcement that seemed bizarre and out of nowhere at first, but then you sit back and realise that Death Triangle and Best Friends have been feuding for a few weeks now because Pac has beaten up Orange Cassidy a lot since Revolution last year, and both men have been racking up singles wins; including last week when Cassidy pinned Penta. We all thought AEW was going in one direction, and then it turns out we were playing checkers and they were playing chess.
And it would seem that Cassidy is likely to win next week, as Kenny Omega cut a great promo on him after the announcement. Miro also announced that he'll be facing Darby Allin next week for the TNT Championship, which I expect him to win on what is a stacked card.
And then we got Blood and Guts.
AEW were in a tough spot with Blood and Guts. While old school fans are used to WCW's classic format – which Trevor Dame on Twitter brilliantly compared to a series of hot tags and a sprint to the finish – while the NXT version has focused on the action and big spots that people will remember and talk about the next day. So AEW tried to appease both sides of the fence with mixed results. 
To put the match over, it felt like a war. This felt like two teams that legitimately hated each other and they wanted to hurt each other as brually as they could. A lot of men bled with Cash Wheeler in particular getting cut deep, but I saw no guts so false advertising there, Tony. The first portion of the match was just brutal beatdown after brutal beatdown. It wasn't always clean, but that only added to the frantic war-like nature of it. War isn't pretty. The match also made Wardlow look like an absolute star. He got in and immediately beat up Santana, Ortiz and Sammy on his own despite them having a huge advantage – and his throw on Sammy into the cage was nuts. 
Once MJF and Jericho were both in, the match officially began – and kicked off with a Civil War style stare off and charging clash which I absolutely adored. FTR tore up the ring canvas, only to get Spike Piledrivered onto the boards for their troubles, Sammy did a coast to coast, Santana cut MJF open even further by using a fork. This delivered on what it set out to do.
Eventually, Tully got the keys from a referee to allow MJF to escape. Jericho followed and the two exchanged submissions. MJF then threatened the rest of Inner Circle that he would throw Jericho off the roof, and Sammy surrendered to save him. MJF did it anyway to end the show.
Personally, I thought it was a great match that totally delivered on what it set out to do. It felt like a war, and no one in the ring felt like they would walk out the same as when they walked in. All the spots had stakes, all the spots had meaning, and the execution of the finish with Sammy surrendering was sublime.
The problem, though, was this aired on TV so it had commercial breaks. Jake Koehler timed it out in our YouTube comments from last night's live stream that nearly 7 minutes of commercials aired in the 34 minute match. Luckily I was watching it on FITE so I didn't get those interruptions, but even then you could feel that the guys were stalling as they waited for their cue to come back live for TV. And the response we got from people watching along with us that the commercials ruined the flow of the match, particularly as it went into its final moments. It's a real shame, and was a concern I shared on the WrestleTalk Podcast a few weeks back when asking why this wasn't on PPV. In hindsight, I think this should have been on PPV.
And while I agree that the Jericho bump didn't have the best production values or camera angles to catch it – as it exposed just how safe the landing was – I'm not going to demonise a wrestling company for protecting its wrestlers taking huge risks.
Overall, I really enjoyed the match. I loved it, in fact. And I really enjoyed the show from top to bottom. But with the expectations set, and some of the fan fallout, I would struggle to give this the full 5 out of 5. Particularly as the commercial breaks stalled the Blood & Guts action. So I'm going to say 4, but believe me it's a high four.
What are your thoughts on the above story? Let us know in the comments on Twitter or Facebook.