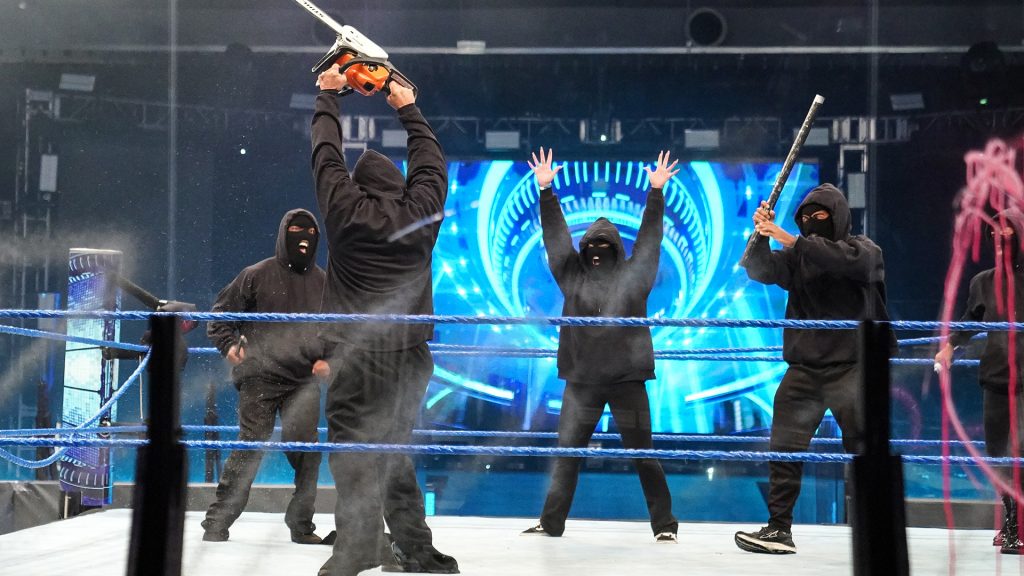 Just before Raw, WWE announced that a brand new faction would be debuting on the show. During the broadcast, we saw the hooded group throw Molotov Cocktails over the Performance Center generator.
It was until last night's SmackDown that we actually saw the new faction inside the ring, where they decided to attack the Performance Center recruits, vandalise the venue with spraypaint, and even take a chainsaw to the ring ropes.
WrestleTalk exclusively reported several weeks ago that Dominik Dijakovic was heading up to the main roster. As such, many speculated that he could be part of the RETRIBUTION faction.
However, when we saw the group in the ring last night, fans and journalist took to social media to say that no one in the faction looked tall enough to be Dominik Dijakovic, who is billed at 6ft 7".
It seems like a former WWE star, backstage producer and Cruiserweight Champion has shared in the sentiment that the members of the debuting faction are on the smaller side.
Taking to Twitter, recently released WWE producer, Shane "The Hurricane" Helms poked fun at the size of the members of the new faction, questioning why they looked like 15-year-olds.
Why do they all look like they're 15? https://t.co/tKoTXz5hEN

— Hurricane Helms (@ShaneHelmsCom) August 8, 2020
The sentiment was seemingly shared by fellow former WWE backstage producer Lance Storm, who added that the members of the faction all seemed to be on the shorter side:
https://twitter.com/LanceStorm/status/1291958260627464192
From last night's segment, it seems like the group is going to be made up of three men and two women. For the latest news on the faction, stay tuned to WrestleTalk.com.