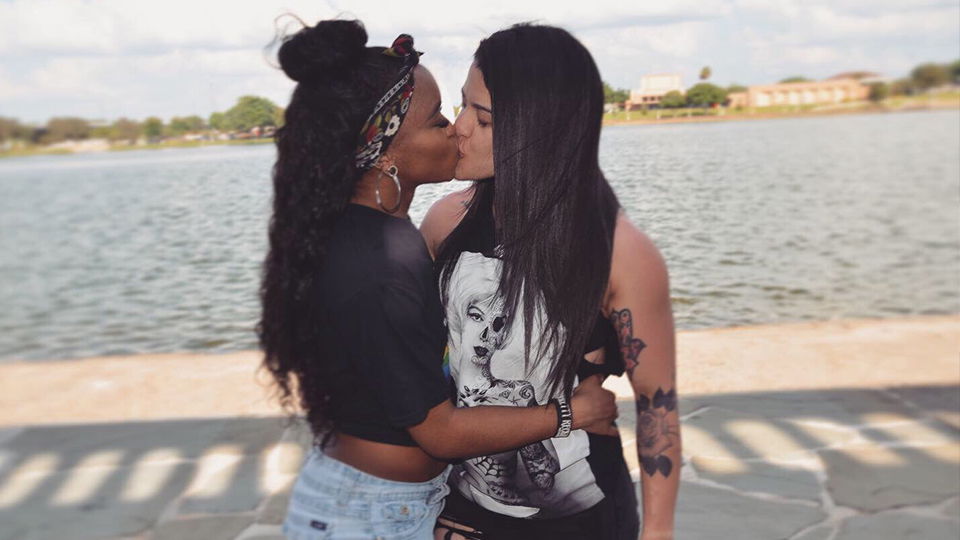 Congratulations are in order for former Impact Wrestling and future WOW Women of Wrestling colleagues Kiera Hogan and Diamante, who have publicly confirmed that they are in a relationship.
On June 30, the final day of Pride Month, Impact Wrestling Knockout Kiera Hogan came out publicly via Instagram. Hogan had posted several updates supporting Pride Month and LGBTQ Wrestling prior to that.
Several days ago, Hogan and her former Impact Wrestling colleague Diamante revealed that they are in a relationship, via a series of social media posts.
Pure Happiness. ❤️??? pic.twitter.com/GEitbIzQXI

— Kiera Hogan (@HoganKnowsBest3) July 20, 2019
The beautifully worded message, posted by Hogan, reads:
"When I'm with you, I act different. In a good way. I smile more and I laugh more. I don't have to pretend everything is ok when it's really not. With you, I can drop the fake smile and put on a real one. I don't feel hurt and alone when I'm with you.

You're easy to talk to, you listen to me, you understand me. I don't have to worry about holding back with you. I don't feel self conscious. I don't ever feel insecure or sad, you show me that you really do care. With you it's not just an act. You bring out my best self and I really appreciate your company.

With you I'm different. With you I'm happy. What I have with you, I don't want that with anyone else"
Diamante had not publicly come out prior to the acknowledgement of their relationship.
The wrestling world was quick to rally behind the happy couple, with the likes of Konnan, Tessa Blanchard, Jordynne Grace, Nyla Rose, Isiah Swerve Scott (Shane Strickland), Thunder Rosa and countless fans publicly tweeting their support.
Last night Hogan tweeted out a message thanking people for supporting their relationship:
Thank you everyone for the support! You have no idea how much it means to us! ❤️????? https://t.co/TXqQONiMsU

— Kiera Hogan (@HoganKnowsBest3) July 23, 2019
Although no longer with Hogan in Impact Wrestling, the couple will be together again on the next season of WOW Women Of Wrestling, an all-female show created by David McClane, the man behind GLOW.
Hogan wrestles as Fire on the show and Diamante will join the roster as Adrenaline.
Congratulations again to the happy couple!