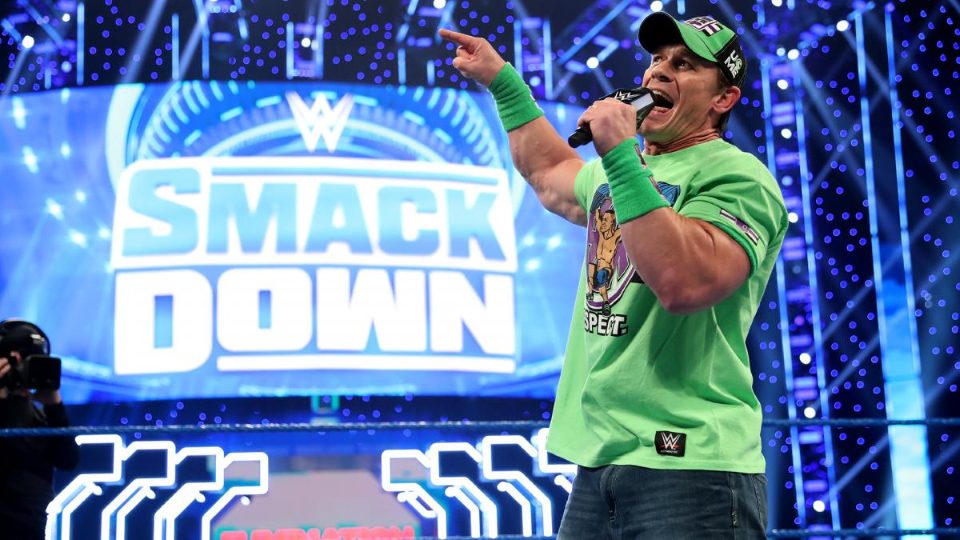 20-years after his professional wrestling debut for WWE, Kurt Angle decided to wrap up his wrestling career with a match in April 2019 at WrestleMania 35 against Baron Corbin.
Many fans were disappointed, as they hoped we'd see Angle's last match be against John Cena, which would have been poetic considering Cena's first match for WWE in 2002 was against Angle.
It seems like the fans won't the only ones disappointed that we didn't get to see Angle vs. Cena at 'Mania 35, as Kurt has revealed that he actually wanted to face the 16-time World Champion in his final match.
During an interview with Instinct Culture's Denise Salcedo, Angle opened up about talking to Vince McMahon about his final match, where he also revealed that he was gunning for a match with Cena:
"Basically I wanted to come back and have a good way to retire. Vince McMahon told me that I had a program with Baron Corbin, and I told him that I wanted to retire at Wrestlemania, and he said 'Well, you're going to wrestle Baron Corbin because you had a program with him for the last seven months.' I said, 'Vince, I want to retire, Baron is a great talent but he's an upcoming talent, how about John Cena?' He said, 'If you want John Cena, next year you got him, but this year you get Baron' I said, 'Vince, I am not going next year. I am done. This is it.' He said, 'Well, you're stuck with this.' So I respect it, I understood why because they had spent a lot of time building up Baron Corbin and we had to have a match… if I wanted to continue for another year I could have got Cena, but I didn't want to go a whole other year. I knew I was done.

"There's nothing I can do, I believe WWE played it safe with me, and I don't blame them. I think I would have done the same. But when I came to WWE I was ready to wrestle, I was in great shape, my technique was great, my body was great. But that year and a half/two years sitting out; it's just when you turn 50 years old, your body is not the same as it was 20 years prior. So, I had to deal with that and I knew my career was coming to an end quickly, so I did what I had to do."
Another interesting note to come out of Kurt's interview with Denise, was that he wanted a final run with the WWE Championship when he returned to the company in 2017. Read more about that by clicking here.
Make sure you check out Denise's full interview with the former Olympic athlete where they speak about Kurt's time with WWE, some funny moments, his final match, and much more.
.