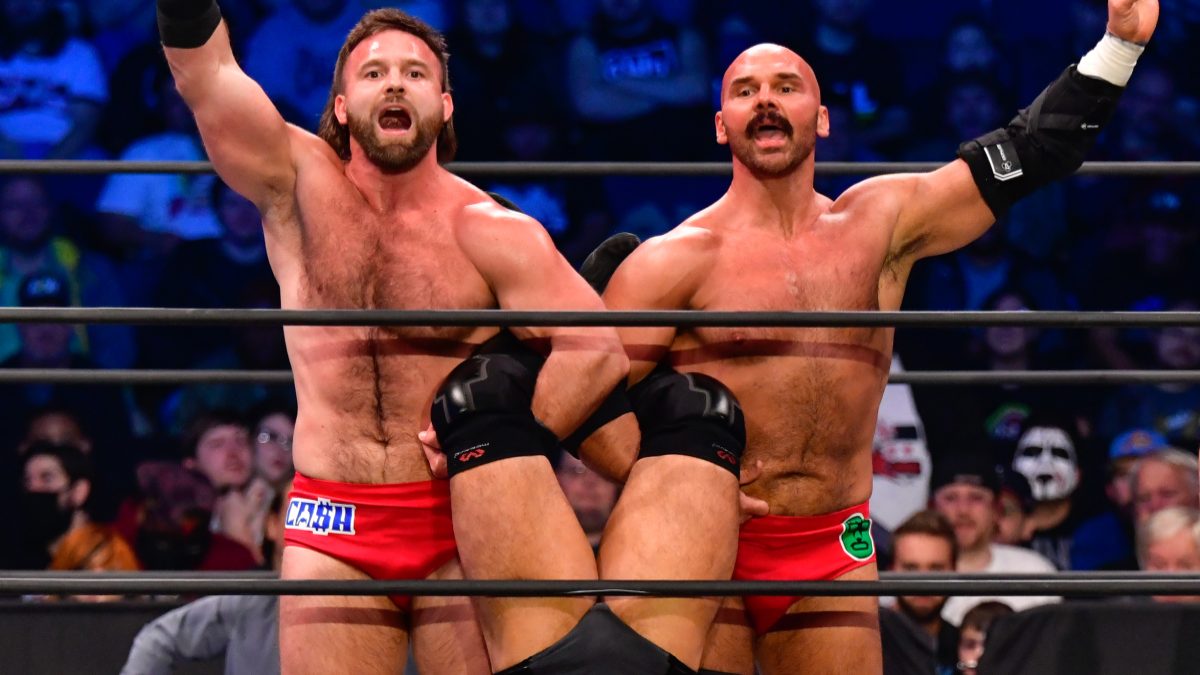 FTR, then known as The Revival, had to go through a lot before WWE would grant their release from the company back in early 2020.
Dax Harwood and Cash Wheeler wanted out of their contract due to their booking and not being happy with the company's overall view of tag team wrestling.
Appearing on The Sessions with Renee Paquette, Harwood discussed the entire process with WWE finally granting their release after trying to negotiate new contracts for the pair.
Dax said:
"Money is incredible, but I talked to my grandma and I was telling her about my issues, I was like, 'I'm just unhappy but money is great, blah blah blah', and her exact words to me were, 'How much money do you really need?'. I was like, 'Oh my god'. That was such an eye-opening experience for me. I'm college educated, two degrees, and stuff like that, so I was like 'Yeah you're exactly right'.

"We just… it sounds like I'm bitter but I'm not at all, we just weren't happy. Not just us but they weren't giving any other tag teams the opportunities we thought that they deserved. And we knew we would be stuck at a certain position if we stayed there. For years and years and years and years, since I can remember, I have trained every single day to be a professional wrestler, and I take it very very seriously, and knowing that they weren't gonna give us the opportunities that we thought we deserved, I knew that we just had to get out of there and make a name for ourselves."

If you use this transcription or any portion of it please credit WrestleTalk.com and link to this page
Harwood continued on and admitted that FTR gave up over $10,000 to $20,000 in trademarks to WWE in exchange for an early release:
"So we talked about it, and they kept throwing more money at us, more and more money, I called my wife and I told her, I said, 'Hey, this is the amount of money they offered us, I don't think we're gonna take it'. And she said, 'No money is worth your happiness, do what you want'. I said, 'Oh my gosh, okay'. So we went back and told them no.

"And my wife was having health problems, so I told them, 'Not only do I not wanna stay, I wanna be home more with my wife – this is obviously before the pandemic. And then the pandemic hit, they called us, and they said, 'Look, we know you want out, your contracts are up in two months or whatever, but Dave (Dax) we're going to extend your contract because of your injury until August. But the out is, all these trademarks you have, if you sign them over to us, we will let you have your release, no 90 days, and we'll give it to you today. We had spent like $10,000-$20,000 on trademarks. Like 'FTR', 'Shatter Machine', 'No Flips Just Fists', all this stuff. Stuff that we came up with, not them.

"But we were like, you know what, we want out so bad, we're just unhappy, just let them have it. It's just money. We called back and said, 'You can have all the trademarks, just please give us our release', and they did."

If you use this transcription or any portion of it please credit WrestleTalk.com and link to this page
Dax Harwood is currently enjoying his time in All Elite Wrestling along with Cash Wheeler as FTR. The two men are former AEW World Tag Team Champions and members of MJF's Pinnacle stable.
Harwood and Wheeler will compete in the Tag Team Battle Royale on this Wednesday's AEW Dynamite to determine the first challengers for Jungle Boy and Luchasaurus for the AEW World Tag Team Championships at Revolution on March 6.
You can view the full AEW roster, which FTR became a part of after their WWE departure, at this link.
To make sure you stay updated with all the latest wrestling news, add WrestleTalk.com to your Google Discover feed and follow us on Twitter!