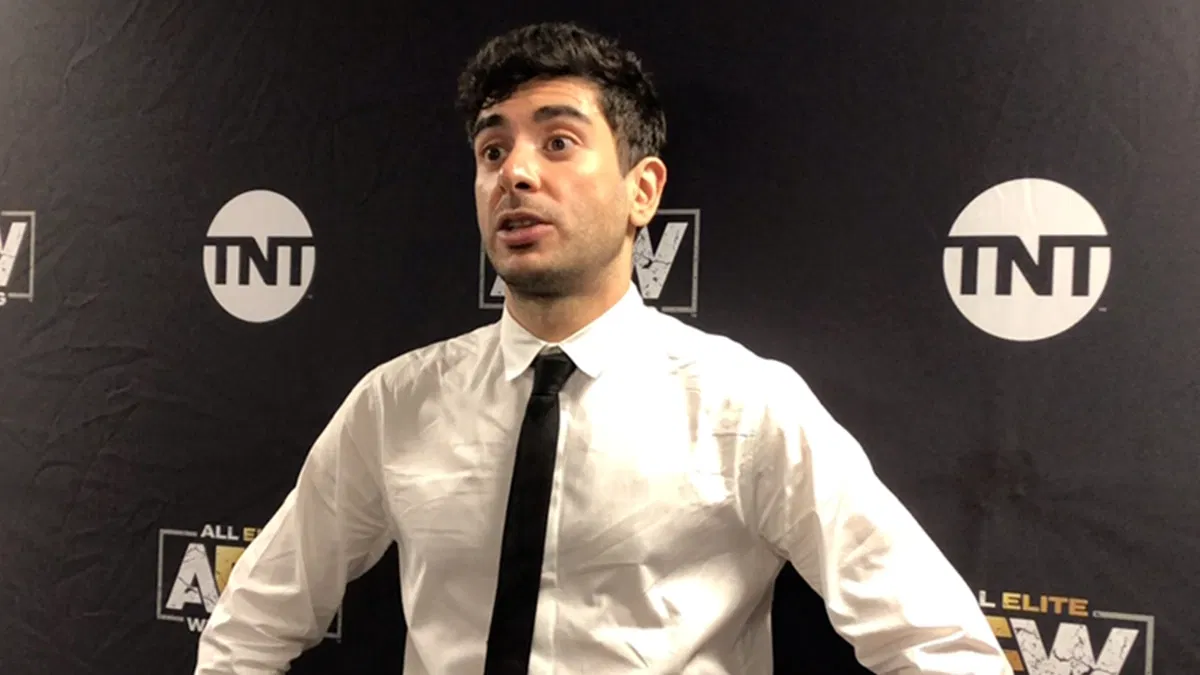 Hello and welcome to our live updates for the media call with Tony Khan ahead of Sunday's Forbidden Door pay-per-view!
Refresh this page to keep track of all of Khan's comments on today's call, which starts at 1pm ET.
12:55 – Call to begin in five minutes
1:08 – Khan says he was introduced to NJPW with WCW on TNT, and he hopes new fans will be introduced to the new stars of NJPW in that same way
1:10 – When asked how hard it's been to book the card with all the injuries, Khan praised the three final matches at Double Or Nothing (Anarchy in the Arena, three-way tag, and Page vs Punk). He talks about some of the stars being limited in NJPW thanks to their schedule, but he was able to use Tanahashi and Ospreay. Tony pushed hard for Ospreay to come in early before Dominion. But he couldn't use Jay White until 2 weeks out and Okada until the week before
1:12 – He wanted to do Punk vs Tanahashi, but due to the injury, it couldn't happen. He talks about the Moxley vs Tanahashi match and how Mox really wanted the match even cutting promos on Tana ahead of All Out 2021 when he was facing Kojima
1:13 – TK also says it would have been CM Punk with FTR against United Empire (during the build) instead of Trent if not for his injury
1:16 – He also says Tanahashi would have been on TV with Punk if not for the injury. But Ospreay was still going to go against Orange Cassidy
1:17 – He talks about Moxley's journey. TK says no-one has been through more than Jon. He says the person he came back to be has been so much better. He calls the injuries to Punk and Danielson the one-two punch of hits to him. Two of the greatest wrestlers in the world
1:18 – On Bryan Danielson's injury: he didn't want to take any chances with his injury from Anarchy In The Arena. He says the stars have aligned for him to bring in a mystery opponent. He says there will be a lot of great moments on the show, but the one he guarantees will be a great moment is the reveal of Zack Sabre Jr's mystery opponent
1:19 – TK is glad that he has Moxley and it's fitting that he gets Tanahashi and the mystery opponent will be a great moment and a great match with ZSJ
1:20 – Tonight on Rampage, we will hear from Eddie Kingston and Chris Jericho being one of the hosts. Tonight on Rampage, we will hear from Eddie Kingston and Chris Jericho being one of the hosts
1:21 – Asked about the possibility of Forbidden Door 2, hopefully with less injuries, TK said: "Yes of course". He's been happy with the success with ticket sales. He says a sequel should be something expected. "There's so many stars in Pro Wrestling right now between both promotions." He says WWE had a great idea with two nights of WrestleMania and NJPW does it with WrestleKingdom. He suggests AEW doing a two night event with as many stars as they have now when everyone is healthy
1:22 – TK says he hopes to do many Forbidden Door events to come in the future
1:23 – TK says there will be more matches announced for the Forbidden Door Buy-In on tonight's Rampage. He will talk to NJPW about involving them in some Buy In matches
1:25 – Talking about cities he'd like to hold shows in in Canada, TK talks about Montreal, Calgary and other cities in Quebec to bring AEW to. He also praises working with the Hart Family for the Owen Hart Cup. He brings up Bret Hart since he brought up Calgary. Credits him as the first man to hold the AEW World Title and being one of the best to ever lace up his boots.
1:28 – TK talks about Chris Jericho and Kenny Omega being two of the AEW World Champions and two of the great Canadian stars. They would love to go to Canada to bring AEW there. Talks about writing for AEW since like 2011. He used to fantasy book Dynamite in Canada. Brings up Edmonton as a potential city to bring AEW to
1:31 – TK says it was a honor to meet Okada. He's admired Okada for many many years. Praises him for his talent and says it will be great to see him compete and try to take the IWGP Title from Jay White. He would have loved to have him come on AEW sooner, but it was a perfect time for him to come with all the injuries. Talks about Bryan Danielson saying he's out and then Okada coming in to confirm he's on this show
1:32 – TK calls Okada one of the best wrestlers in the world. He doesn't think the story should be about everyone who's out, but rather all the great wrestlers who are on this show and it's just the start including the mystery opponent
1:33 – TK laughs about Okada telling him that he's a Manchester City fan like 100 times. He brings up always wanting to Fulham to succeed, but now he actually has reason to have bragging rights against Okada
1:34 – TK is asked whether he would do a global press conference for everyone? He says he would love to do it, but loves talking to all of us. He wouldn't want to give a 20 min answer like he gave at the start though
1:37 – TK praises working with Gedo and Rocky Romero of NJPW. He's enjoyed working with them for a year now since Yuji Nagata came in on Dynamite last year. He reunited Roppongi Vice with Rocky & Trent. Talks about everything it took to lead to this show.
1:38 – TK says Forbidden Door has gained 7 figures in revenue so far
1:40 – TK brings up the politics with AAA and NJPW and how they don't work together. And having to put Fenix vs Andrade on Rampage tonight. He promises Fenix/Andrade will tear down the house to start the show and a great way to close the show on tonight's Rampage
1:42 – TK is asked about Double Or Nothing and Forbidden Door only being a month apart and whether this is kind of a test to see how that goes. TK says no he doesn't see it as a test. It was about making a date that worked for both sides. It was challenging to get all of NJPW's stars on AEW TV due to their schedule.
1:45 – He says he met Ospreay and Zack Sabre Jr years ago in the UK. TK hypes Ospreay vs Orange Cassidy. Calls OC one of the biggest stars in AEW.
1:46 – TK said the date worked for NJPW and thought it was far enough out from Double Or Nothing that it just worked for everyone
1:47 – He brings up the PPV number growing and the streak of the PPV business growing year over year. TK calls the show a big milestone and being the first new event they have introduced in years
1:48 – TK is asked about his mindset when deciding to crown an Interim AEW World Champion, rather than having Punk relinquish the title. TK says they have found success with naming an Interim Champion and having a unification match so thought it was the right way to go here. He brings up sports doing the same and brings up the dream match of Moxley and Tanahashi leading to a match with Punk is something the fans will like
1:49 – Tony Khan is asked about introducing a wellness policy after what happened with Jeff Hardy. TK says AEW does have a wellness policy, but with drinking, that's different. He says most talent has drank responsibly. TK believes that it's two different things with wellness policy and drinking.
1:51 – TK praises Jon Moxley for identifying he had a problem and dealing with it. With Jeff, it's totally different. TK says that's why they handled the two totally differently
1:52 – They were about to move on and TK cut off the moderator to bring up Jeff Hardy again. TK says Jeff is doing fine and doesn't like what he did. But he really doesn't like comparing the two (comparing Jeff with Moxley). He doesn't like comparing the two at all. TK says Jeff has to go to treatment to come back, but it's two totally different situations
1:57 – TK is asked how well Forbidden Door has tracked compared to other big shows. He says it's tracked well and compared Forbidden Door to Starrcast 95. TK thinks there's a huge market for these crossover shows here in the US and in Japan
1:58 – He says fans have to be adaptable to accept the new stars from Japan. Credits Bill Watts and Eric Bischoff for working with NJPW back in the 90s. He says the show is tracking like an AEW PPV 48 hours out. TK says the ticket sales are through the roof for the show and he can't wait to see how it turns out
2:00 – TK is asked to elaborate on AEW's wellness policy. TK says they are here to help anyone that needs it. He says that they are here for anyone who needs help. TK hopes he showed that by how they reacted differently to Jeff's situation than Mox's. He stresses they are here to offer help and hopes that people come to them for help and not get in trouble.
2:10 – That's a wrap! We'll have full audio posted on the site later today.
To make sure you stay updated with all the latest wrestling news, add WrestleTalk.com to your Google Discover feed and follow us on Twitter!