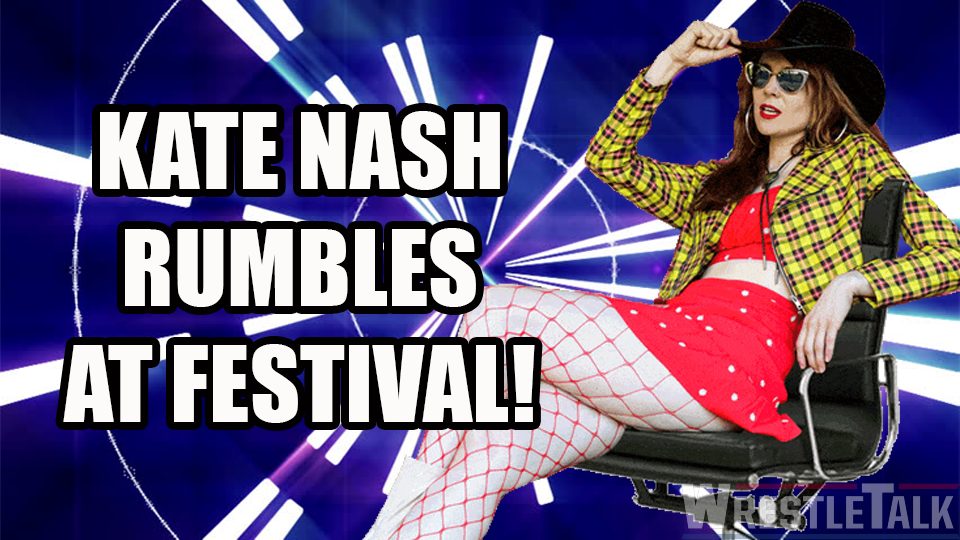 British singing star Kate Nash is one of the stars of the popular GLOW wrestling comedy drama on Netflix playing the role of Rhonda Richardson.
And now the Brit Award-winner has showed off her new-found wrestling skills in the most unlikely of settings.
The Londoner stunned the crowd with a body slamming performance to open her gig at the Reading Festival – one of the UK's biggest live music gatherings – when wrestlers from top UK all-female promotion Pro Wrestling EVE invaded the stage!
An on-stage spat between EVE stars Erin Angel and Jetta ended when Nash delivered a body slam to the latter in front of a delighted crowd of thousands!
Kate, who had previously appeared in an angle with Jetta on an EVE show in 2017, was headliner on the Festival Republic stage on Saturday.
Her band had already begun to play when Jetta stormed onto stage, grabbed a microphone and ordered them to cut the music. The Midlands star then screamed that she is a real wrestler, unlike Kate Nash in GLOW, and began attempting to sing Kate's biggest hit 'Foundations' to huge boos from the massive festival crowd.
Her EVE rival Erin then appeared on top of the set and delivered a flying bodypress to 'Coventry's Loudest'!
The crowd erupted as Angel slapped the heel and Nash delivered the body slam, before the singer yelled: "WHO'S THE F_____G WRESTLER NOW!" to a roar of appreciation from the fans.
https://twitter.com/ProWrestlingEVE/status/1033479824738795520
Their invasion of a music festival wasn't the last time that Erin Angel and Jetta would make a splash in UK pop culture over the bank holiday weekend.
The EVE grapplers joined fellow UK wrestling star and two-time champion Rhia O'Reilly on the sofa of hit UK ITV1 daytime show Lorraine on Monday to talk about their wrestling careers.
If you're awake at 8:30am tomorrow you can catch me, Erin Angel and Jetta representing Pro Wrestling EVE on Lorraine on ITV! Do it!!! pic.twitter.com/AcNUnOurGN

— Rhia O'Reilly (@rdpixie) August 26, 2018
Their interview ended with Jetta putting presenter Rochelle Humes in a headlock.
This quickly made the host, wife of former JLS singer Marvin Humes, tap out!
The incident earned further mainstream media attention for the EVE stars in the UK from The Daily Express, The Daily Star and more.
Could this be the start of a wrestling career for @RochelleHumes? Brave Rochelle stays strong up against a scary wrestling move? ? pic.twitter.com/OcwTBxKvoS

— Lorraine (@lorraine) August 27, 2018
It was quite a weekend for British wrestlers appearing on the telly, aside from the weekly WOS Wrestling show on ITV1 on Saturday at 5pm, of course.
WOS star Crater – performing as his alter-ego Cyanide – made a cameo on Friday night's comedy quiz show 8 Out of 10 Cats Does Countdown.
The behemoth got into a scrap with host Jimmy Carr and then appeared to hiptoss Carr across the studio! But as the comedian then got up, unhurt, we assume a stuntman was used…
Related Content
Netflix's GLOW Renewed For Third Season
GLOW Renewed for Second Season
What do you think of GLOW and are you a fan of Kate Nash and Pro Wrestling EVE? Let us know. You can contact us on Twitter and Discord today.