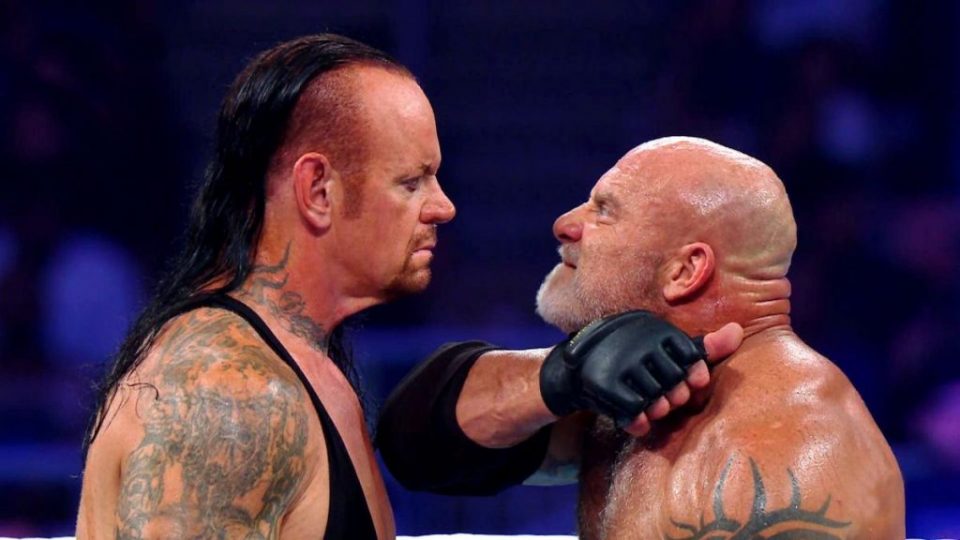 The main event of last night's WWE Super ShowDown event saw WWE Hall of Famer Goldberg take on The Undertaker for the first time ever.
This matchup is one that fans were dying to see in 1999, but less so in 2019. The match was frankly hard to watch, with both legendary wrestlers clearly past their primes.
Eagle-eyed fans noticed that Goldberg had a small cut on his head before the match even started, likely from banging his head on a locker door as he has done before every bout he has had.
However, towards the end of the match, Goldberg was bleeding significantly more after colliding with the ring post. He was also dropped right on his head from an Undertaker Tombstone Piledriver.
TAKER SHOULD HAVE RETIRED AGAINST REIGNS AT WRESTLEMANIA.

GOLDBERG SHOULD HAVE RETIRED AGAINST LESNAR AT WRESTLEMANIA.

BOTH MEN NEARLY HAD THEIR NECKS BROKEN TONIGHT.

DON'T FLOG THE OLD STARS TO DEATH, BUILD NEW STARS. #WWESSD pic.twitter.com/VHKAsmBoXV

— Scottish Smarks Podcast (@ScottishSmarks) June 7, 2019
The former Universal Champion took to Twitter after the match to apologise to fans, and explained that he actually knocked himself out at some stage during the bout. The WCW icon said he felt as if he let down his supporters.
Knocked myself out and thought I could finish…. love my fans…..but let u down. Everyone else that found "pleasure" ….. hope ur happy

— Bill Goldberg (@Goldberg) June 7, 2019
The botched Tombstone Piledriver was not the only scary spot in the match, with Goldberg failing to deliver a safe Jackhammer to Undertaker, nearly dropping the "Deadman" on his head.
The ending to the match also seemed rushed, as Undertaker failed to reverse a Tombstone attempt by Goldberg, instead finishing off his opponent with a Chokeslam.
Goldberg debuted a new finisher today dubbed the BrainHammer. pic.twitter.com/1Rl5yB1Omw

— Smark to Death (@smarktodeath) June 7, 2019
If this match has proved anything, it is that both Undertaker and Goldberg are past it now and need to hang up their boots. However, with Saudi Arabia's Crown Prince such a big fan of wrestling from the 1990s and early 2000s, expect Undertaker to main event WWE's next show in the country in November against another ageing wrestling legend.