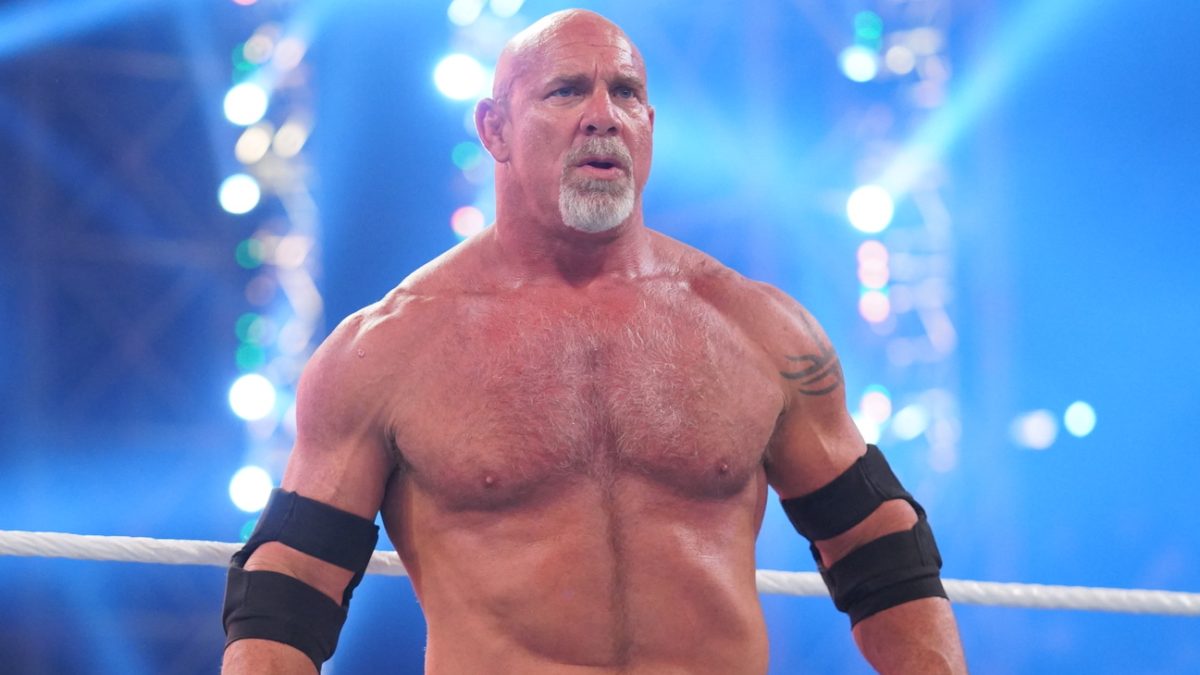 Plans for an imminent Goldberg WWE return have been revealed, backstage morale is said to be at an "all-time low", an update on Mustafa Ali, and more.
It's Friday, and what better way to start the best day of the week than getting caught up on all the latest wrestling news – I'm Liam Winnard for WrestleTalk.com, and this is our audio news bulletin for February 4, 2022.
Listen to this morning's round-up here:
Goldberg Returning To WWE Imminently
We last saw Goldberg in a WWE ring at Crown Jewel in Saudi Arabia last October where he beat Bobby Lashley in a Falls Count Anywhere No Holds Barred Match, and, well, WWE has another Saudi show coming up in a couple of weeks, and guess who's going to be there.
No, not Veer Mahaan, but you were close with that guess – Goldberg is indeed scheduled to be in action at Elimination Chamber. His opponent? By the sounds of it, none other than Universal Champion, Roman Reigns.
This was first reported by Fightful Select, which did mention that Goldberg vs Reigns was the last working plan they'd heard of, but with the way things have been going in WWE recently, don't be surprised if plans change, pal.
Nonetheless, this does presumably mean we'll be seeing Goldberg on tonight's SmackDown or at the very least next week's to announce and promote the match.
Another thing to make mention of here is that this will be Goldberg's final match on his current WWE contract.
WWE has obviously yet to announce the match or Goldberg's return, but the official lineup for the February 19 event so far is:
Bobby Lashley defending the WWE Championship in an Elimination Chamber match against AJ Styles, Austin Theory, Brock Lesnar, Riddle and Seth Rollins
Becky Lynch defending the Raw Women's Championship against Lita
The Usos defending the SmackDown Tag Team Championship against the Viking Raiders
WWE Backstage Morale At 'All-Time' Low
The biggest story coming out of the Royal Rumble was the backstage chaos that ensued throughout the event, with complaints largely centered around the conduct of Shane McMahon, who was then sent home by his dad Vince and taken out of all upcoming plans.
Well, things may be even worse than they first sounded.
Fightful reports that it heard from talent up and down the card in WWE who are frustrated with the direction the company is going.
A lot of this stemmed from the Rumble, specifically because of most talent not getting the chance to showcase themselves, the lack of big moments, and the fact there were a lot of storylines that had been playing out on TV that weren't capitalised on during the match.
One veteran said that it feels like nothing actually matters outside of maybe four people, and several people complained about a lack of continuity.
Another major concern is the difficulty talent is having in communicating these issues. Talent feel like they don't have a voice and have to resort to making pleas on social media to make themselves heard.
One talent said they've never felt "less heard" within the company than they do right now, and attempts to speak with Vince McMahon are often ignored or met with spiteful reactions.
One wrestler said: "If you see a complaint with merit and in good faith about something that lacks sense, logic or continuity, I almost guarantee we have complained too, it just never changes anything".
The belief among several talents is that WWE will eventually be sold, because that's the only reason they can think of to fathom some of the decision making and the direction things are going.
Mustafa Ali WWE Update
Someone who has publicly made it known he isn't happy in WWE is Mustafa Ali, who requested his release a couple of weeks ago, with WWE not granting said request.
Fightful has provided an update on Ali's status, saying that his current contract with the company still runs for "well over a year, at least".
Despite WWE apparently wanting to keep Ali around because of his "value", and definitely not for any other reason, there are currently no plans to bring him back, and little to no contact between both sides.
It was also mentioned that an Ali return in the Royal Rumble had been pitched, with one member of the roster specifically pitching to be eliminated by Ali. However, Ali posted on Twitter recently that he wasn't interested in being in the Rumble – he just wants his release.
Other Stuff
In other little bits of news…
Morale in WWE might be on the decline, but money isn't. The company reported its 2021 Q4 and full-year financials yesterday, boasting over $1 billion in revenue last year for the first time ever.
Santino Marella confirmed that his daughter Bianca Carelli has signed with WWE and will be reporting to the Performance Center in a couple of weeks.
Jon Moxley's New Japan return has been announced, as he'll be at the Windy City Riot show in Chicago on April 16.
Cesaro had an interview with Sports Illustrated where he said he was disappointed not to be in the Royal Rumble and wishes he had more mic time to connect with the audience.
According to Fightful, TJ Wilson (Tyson Kidd) is still officially with WWE as a producer despite having not been backstage for a number of weeks. Fightful had heard from someone saying Wilson had become frustrated and was no longer there, but upon following up, were told he is still there. It had previously been reported that Wilson is loved backstage and some women who were asked to be in the Royal Rumble said no purely because he wasn't producing it.
And a couple of notes about IMPACT – Matt Cardona won the Digital Media Championship from Jordynne Grace on last night's show – a show that also featured WWE footage being used as the promotion showed highlights from Mickie James' outing in the Royal Rumble.
Be sure to stay tuned to WrestleTalk.com throughout the day to keep up with all the news from the world of pro-wrestling, and I'll see you Monday morning for another round-up.