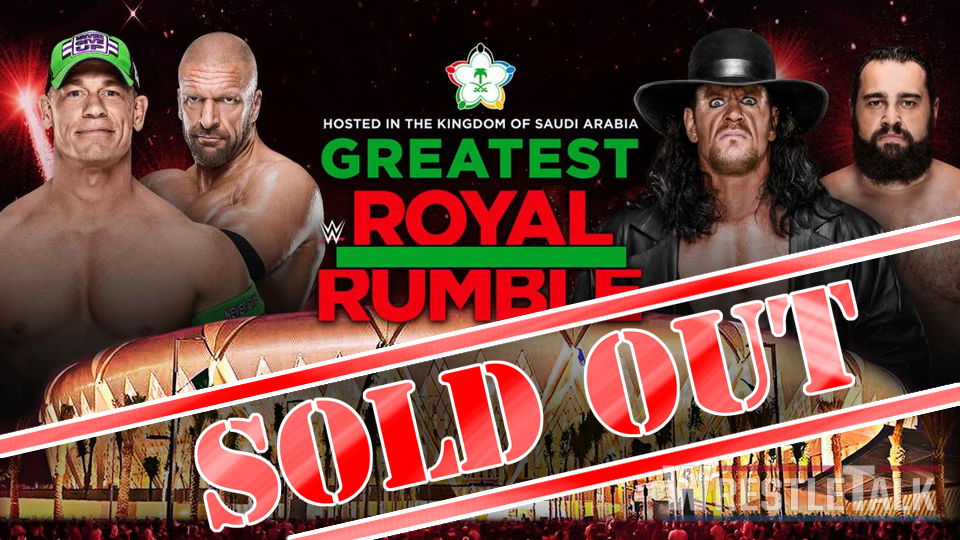 WWE.com issued a press release today announcing that the Greatest Royal Rumble has sold out!
The event, including the historic 50-Man Greatest Royal Rumble match, takes place at the King Abdullah Sports City Stadium in Jeddah, Saudi Arabia this Friday, April 27th, at 7p.m. AST. While exact numbers have yet to be released the record attendance for the stadium is 62,241 set on May 1, 2014 for the final of the 2014 King's Cup tournament.
For those not in attendance the Greatest Royal Rumble will stream live on WWE Network and be available on pay-per-view outside of the Middle East on Friday at 12 p.m. ET/9 a.m. PT/5 p.m. BST. If those start times don't already mess with your sleep, work, or hang gliding schedule there is also a special one-hour Greatest Royal Rumble Kickoff at 11 a.m. ET/8 a.m. PT/ 4 p.m. BST to enjoy. Set those alarms early west coast stateside viewers!
The event is presented by Saudi General Sports Authority in partnership with WWE. It is the first event of a long-term, multi-platform, partnership between WWE and the Kingdom of Saudi Arabia in support of Saudi Arabia's social and economic reform program known as Saudi Vision 2030.
The scheduled card for The Greatest Royal Rumble includes the first-ever 50-Man Greatest Royal Rumble Match; John Cena vs. Triple H; The Undertaker vs. Rusev in a Casket Match; Brock Lesnar vs. Roman Reigns in a Universal Championship Steel Cage Match; a WWE Championship Match between AJ Styles vs. Shinsuke Nakamura; an Intercontinental Championship Ladder Match featuring Seth Rollins vs. The Miz vs. Samoa Joe vs. Finn Bálor; Jeff Hardy defending the United States Championship against Jinder Mahal with Sunil Singh; "Woken" Matt Hardy & Bray Wyatt vs. Sheamus & Cesaro for the vacant Raw Tag Team Championship; a SmackDown Tag Team Championship Match between The Bludgeon Brothers vs. The Usos; and a Cruiserweight Championship Match.
Judging by the long term plans and the sold-out crowd for the Greatest Royal Rumble we can look forward to similar events in the future.
Are you looking forward to the Greatest Royal Rumble? What do you think is next for this unique venture? The Even Greatest Royal Rumble? The Most Extreme Elimination Chamber Challenge? Ginormous Balls of Fire? Break out your thesaurus and sling some superlatives our way in the comments below!