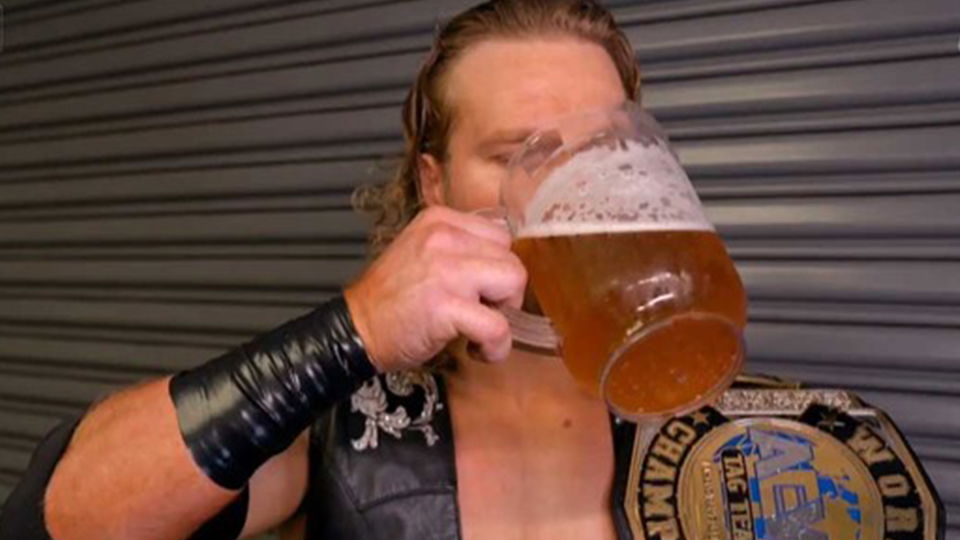 The coronavirus has hit wrestling hard but now another tragic announcement has been made. Hangman Page revealed today he will no longer be drinking beer provided by fans.
His statement listed a number of things he will cease doing while he also urged people to follow hygienic practices.
— HANGMAN PAGE (@theAdamPage) March 13, 2020
"Amid the current, rapidly-evolving COVID-19 situation, "Hangman" Adam Page wishes to inform you that he will be taking necessary precaustions to ensure his continued health and safety, as well as the health and safety of his fans across the globe. In addition to the suggestions and mandates from health organizations and government officials, "Hangman" Adam Page has committed to the following actions:

"Hangman" Adam Page will, for the time being, no longer be able to accept beer from any fans should they be in atendance of events. Adam will now be traveling with his own beverages to consume and looks forward to instances of conveniently-appearing unopened beverages.
"Hangman" Adam Page will now exclusively be drinking whiskey in hopes that the higher alcohol content will help stave off potential infection.
In future wrestling exhibitions, "Hangman" Adam Page will be avoiding applying and wrestling holds that create close contact with opponents faces. This includes maneuvers like the belly to belly suplex, the mandible claw, and the thing he did that time where Frankie Kazarian spit on him and then he licked it up and spit it back on him in an act of defiance.

In addition to these necessary actions, "Hangman" Adam Page would like to further encourage his fans to follow these proper precautions and practices:

Wash your hands often with soap and water for at least 20 seconds, especially after you have been in a public place.
Avoide touching your eyes, nose, and mouth with unwashed hands.
Avoid public gatherings when possible.
Buy a six-pack of Corona beer. Honestly, they have nothing to do with this and did nothing wrong.
Apply your turn signal before turning or changing lanes.
Consider the benefits of a Medicare for All system in which US citizens could get care rapidly and without considerable cost to them should they begin to display symptoms of the coronavirus, or any other malady, possibly preventing its effect and spread.
Try ordering pineapple as a topping on your next pizza. Honestly, I've changed my mind on it. It's badass. Make sure you put that in there.
Page is currently one half of the AEW World Tag Team Champions alongside Kenny Omega. He has gained immense popularity as of late as someone who drinks beer with the fans. At least for the time being, it seems his days of chugging beers are over.
The coronavirus has affected the next two episodes of AEW Dynamite. Next week's show has been moved from Rochester, New York to Jacksonville, Florida, while the March 25 episode is also being moved.
What do you think of the advice from Hangman Page? Let us know on Twitter!