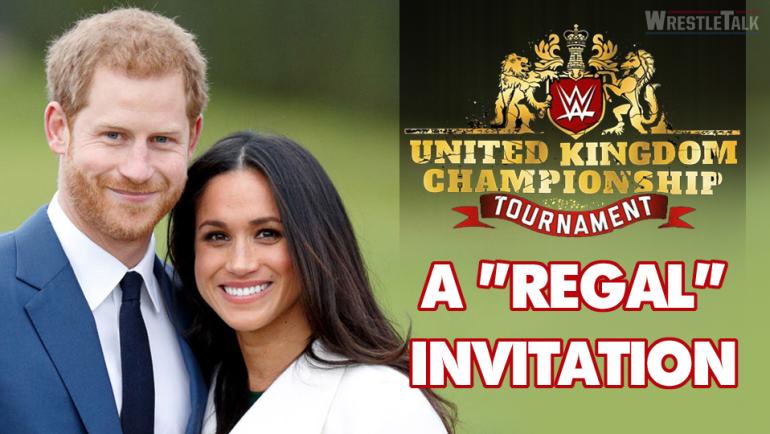 If there's one thing Vince McMahon loves more than money, baby oil and topless pictures of Jinder Mahal, it's mainstream publicity.
Mere days after the royal wedding of Prince Harry and Meghan Markle, WWE has already jumped on the royal hype train by inviting the newlywed couple to their upcoming United Kingdom Championship Tournament.
In a statement aimed at the new Duke and Duchess of Sussex, NXT General Manager and 591st in line to the British throne, William Regal, suggested that the royal couple pay WWE a visit when they take over the Royal Albert Hall next month.
"On behalf of WWE, I invite you to enjoy your first date night as a married couple at the Royal Albert Hall to see the WWE United Kingdom Championship Tournament on June 18 and 19.

"It's our way of saying congratulations on your wedding, with a Regal invitation to a regal venue for the UK's newest regal couple. You might even witness the crowning of a new United Kingdom champion."
Yes, William, because if I'd just gotten married to a beautiful woman in one of the most lavish wedding ceremonies of the 21st century, the first thing I'd want to do is go see Dave Mastiff vs. Tucker too.
Whether Harry and Meghan do show up to the tournament is currently up in the air, but WWE fans do now know which top British (and Irish, New Zealand and American, for some reason) wrestlers they will see in action on June 18 and 19.
Fans attending the show on Day One (such as yours truly) will also get to witness a six-man tag team match between The Undisputed Era – Adam Cole (Bay Bay), Kyle O'Reilly and Roderick Strong – and British Strong Style – Trent Seven, Tyler Bate and current UK Champion, Pete Dunne. Excuse me whilst I scream like a little girl.
Dunne, who recently celebrated 365 days as UK Champion, will defend his title in the main event of Day Two against the winner of the tournament.
The WWE United Kingdom Championship Tournament promises to be two truly special nights of wrestling and who knows, maybe Meghan and Harry will show up, only for Meghan to slap Harry and align herself with The Undisputed Era. After all, weddings and wrestling never mix together well.
Are you going to be at either of the Royal Albert Hall shows in June? Do you think we'll see an appearance from the new royal couple? Who else wants to see Prince Harry shockingly enter himself into the tournament and win the whole thing? Let us know in the comments below or on Twitter here.