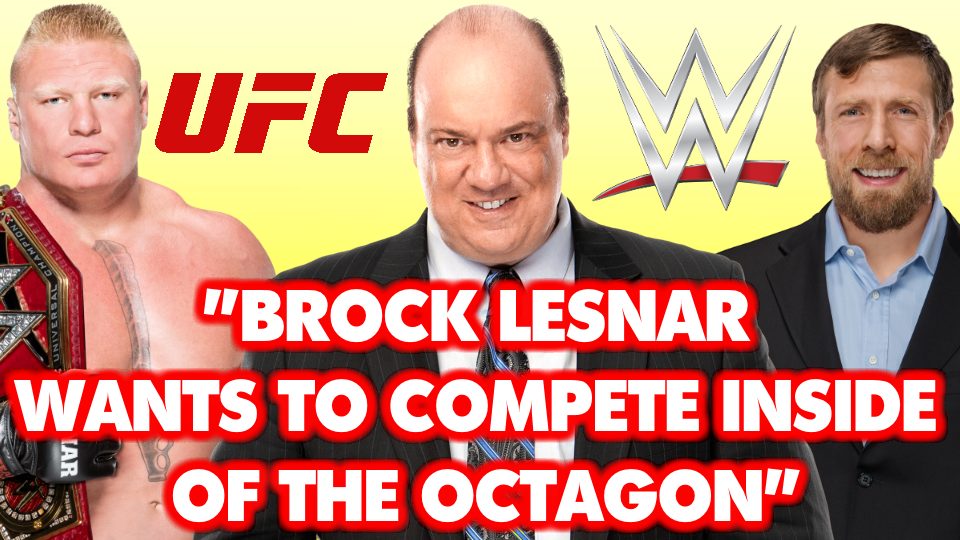 In a recent interview with Newsweek, Paul Heyman discussed many topics to promote WrestleMania 34, but the ones that stood out most were his comments on Brock Lesnar's and Daniel Bryan's respective futures.
Heyman plays the role of the advocate for reigning WWE Universal Champion Brock Lesnar and has a very close relationship with the 'Beast Incarnate' away from the squared circle, so it's expected that he has more of an insight into Lesnar's thoughts than most.
As the following Instagram post from UFC owner Dana White shows, Lesnar still has a good relationship with White, and with his WWE contract coming to an end just after WrestleMania 34 on April 8, there have been many reports that Lesnar plans to leave WWE in favor of getting back in the octagon.
https://www.instagram.com/p/BfpAfwjnc-u/?taken-by=danawhite
Here is Heyman's response as to what Brock Lesnar would do if he were to lose the WWE Universal Championship to challenger Roman Reigns on the 'Grandest Stage of Them All':
"I don't think it's any secret that Brock is looking to get back into the octagon. He is obviously eyeballing another fight in UFC. There's no secret. He's posing for pictures with Dana White wearing a UFC shirt in the UFC offices in Las Vegas. That's not a negotiating tactic, Brock Lesnar wants to compete inside of the octagon. There's no leveraging that; it's a fact."
Heyman also goes on to mention that, even if Lesnar retains, he could still pursue other projects other than WWE:
"We both have a number of projects we have been interested in pursuing that will start to kick off after WrestleMania. That doesn't mean Brock Lesnar can't retain the title and we do those other projects simultaneously in a continued run as [WWE] Universal Champion. The proof I offer to you is Brock Lesnar fought Mark Hunt at UFC 200 and, six weeks later, main evented SummerSlam against Randy Orton."
With Heyman quite clearly not shying away from the fact that Lesnar does indeed plan on leaving WWE, the obvious next issue to pose is when exactly his UFC return will take place:
"I don't know, and I don't even know if the timetable has been discussed. The question posed is "are you willing to get into the octagon?" and fight and I would suggest Brock's answer to that is "yes, I am." Now, when will it take place, against who and where? These are just details. The big question has always been "are you willing to do this?" And it's pretty apparent that Brock Lesnar is."
During the interview, Heyman also discussed the recent announcement of Daniel Bryan's clearance to return to in-ring competition:
"That's all he wants to do. It's what he dreams about, what he envisions, it's what he wakes up wanting to do and thinks about when he's going to sleep. So ever since that moment the doctors told him "sorry we're going to have to advise that you retire" the only dream Daniel Bryan has had, the fantasy in his life, is to be cleared and to exploit the opportunity of stepping back into the ring. And now he has that chance."
A Brock Lesnar vs. Daniel Bryan encounter is undoubtedly a dream match, one of the few remaining that we are yet to see, and like most wrestling fans, Heyman is pretty hot on the idea of a bout between the two somewhere down the line:
"I have wanted to see Brock Lesnar vs. Daniel Bryan even before Lesnar debuted on the main roster when Bryan was known as the 'American Dragon'. I loved his matches even in the early part of his career and found him to be one of the most compelling, riveting performers in the history of this industry."
If Brock does indeed plan to leave WWE in pursuit of a UFC return after WrestleMania, we might have to wait a little longer for that mesmerising battle, as at the 'Show of Shows' Lesnar will defend his WWE Universal Championship against Roman Reigns, whereas Daniel Bryan is set to team with Shane McMahon to take on Kevin Owens and Sami Zayn in tag team action, in Bryan's first match since 2016; though the latter is now in doubt due to an illness sustained by Shane McMahon.
What are your thoughts on Heyman all but confirming a future UFC run for Lesnar? Would you like to see the 'Beast' take on Daniel Bryan? Let us know in the comments below or on Twitter here, and as always, have a spiffing Rusev Day.