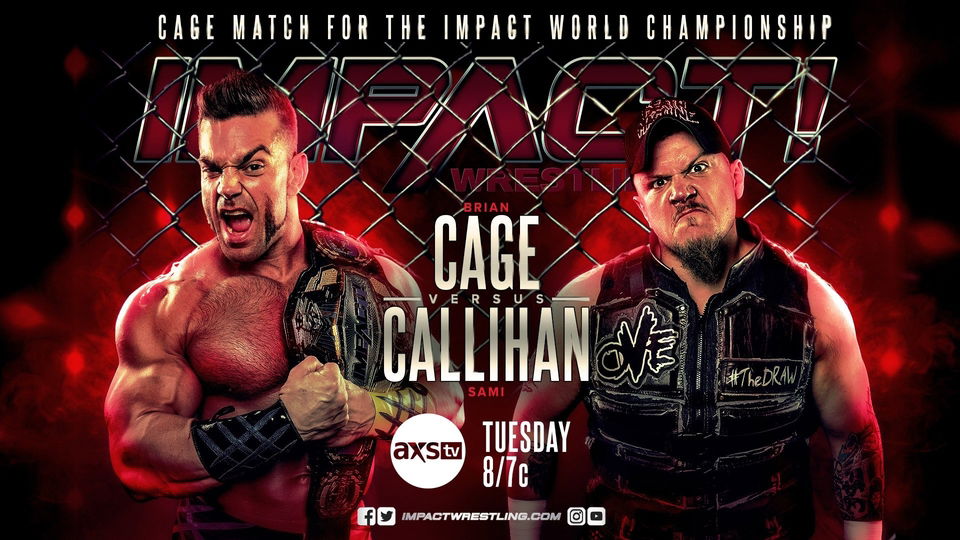 WrestleTalk.com was able to join Impact Wrestling as it held its first live media call for the debut of Impact on AXS next Tuesday.  Scott D'Amore and Taya Valkyrie weighed in on several topics ranging from inter-gender wrestling, Kylie Ray, Joey Ryan, and allowing performers to be themselves.  Here are some snippets from the call:
It was recently announced that Impact Wrestling would be bringing back the TNA name for one night only.  Scott D'Amore had this to say:
"It seemed like the right time…to put out a little teaser about the one night return to our former branding.  We've always made clear.  We don't run from our history.  We embrace it…To go back and be able honor [TNA] for one night on a weekend where you see all types of stars from all generations of wrestling."
D'Amore says the plan is to mix the current roster with stars from the past.  The plan is to host the TNA One Night Only event over WrestleMania weekend.  This event will be one of many events held all over the city to take advantage of the convergence of wrestling fans in one city.
Kylie Rae wanted to be the very best, like no one ever was at #BFG.

Watch the replay on @FiteTV: https://t.co/01dJlu0OK5 pic.twitter.com/dAAxEqk4o4

— IMPACT (@IMPACTWRESTLING) October 25, 2019
D'Amore was also asked about Kylie Ray.  Ray was a surprise entrant in the Call Your Shot Gauntlet at Bound For Glory. D'Amore did not provide an update on her actual status, but seem to indicate Impact was definitely interested in bringing her on.
Taya Valkyrie had a bit of a different response:
"I'm more than happy to humiliate her over and over again…I know that La Wera Loca ain't scared of no Smiley Kylie."
What Does The Move to AXS Mean For Impact?
What can we expect for viewership on AXS on TV?  D'Amore thinks Impact will be very competitive out of the gate.  He contributes this to the fact that AXS is available in 55 million homes and a channel that wrestling fans are familiar with, due to the network hosting NJPW and WOW.
One thing that sets Impact apart from the other major companies on television is the focus on inter-gender wrestling.  D'Amore was very open about the fact that some folks have negative opinions on the idea.  However, Impact has not seen any backlash from promoting matches between men and women.
In fact, one point D'Amore makes is quite interesting:
"Doing what we've done since day one…Anything is possible whether you are a male or a female. That was showing you if you're a female it doesn't mean the Knockouts championship is the only title you can aspire too. You can aspire to anything you want."
We hear about women jumping into the men's bracket, but what about men jumping into the women's division.  Taya feels like this could be an option.
"I do feel that everyone should be able to challenge each other for any title.  I feel like that is something different that we could try doing."
One wrestler who's been known for inter-gender wrestling is Joey Ryan.  Ryan also appeared on the Bound For Glory Gauntlet.  Ryan is obviously known for a certain gimmick that has some wrestling purists upset.  With Impact moving to national television, will we see any limits set on Joey Ryan, who has now signed with the company?
"Joey Ryan is an amazing performer and professional wrestler…Kind of our thing is not trying to limit performers when they come in to Impact Wrestlers.  We want to showcase them for who they are.  Some people out there are going to love and embrace those characters and some are not…We're going to let everyone go out there and be themselves."
Will The Move to AXS Affect The Edginess?
With wrestlers like Joey Ryan and angles that have pushed the envelope, should we expect to continue seeing the edgy storylines once the move to AXS happens? Scott D'Amore had a quick response:
"We certainly consider ourselves TV-14…Of course, we'll stick within the guidelines that are specified for TV-14…We will continue to push beyond those artificial barriers that have been imposed on wrestling products in the past…You're going to see us push the envelope."
Pushing the envelope in the last two years has help get Impact back on track to some degree.  Whether it's Tessa Blanchard going for the X-Division Title, the gang warfare between LAX and The OGz, Sami Callihan and Pentagon sticking spikes into each others heads, The Rascalz' smoking segments, or even recently Ace Austin's adult film segments, Impact is not afraid to take a chance.
https://www.youtube.com/watch?v=DWon6kZGQSY
It's no secret, Impact Wrestling had to take that chance and produce high quality segments to reinvigorate its crowd and draw new fans.  How does Impact continue to build the trust that previous regimes may have lost?
"We knew one of the big things we needed to do was rebuild trust…We've worked hard of the last two years to show when Impact says that they're going to do something we follow through and deliver…We know that every day that we wake up we need to continue to ensure that we deliver in our promises and continue to reward our fans when they invest in our product."
If you're a fan of wrestling in general and haven't been watching Impact since Callis and D'Amore have taken over, then it's time to give it a chance.  When a company understands it must reward its fans that invest in the product, you know you're going to get something you like and are interested in.