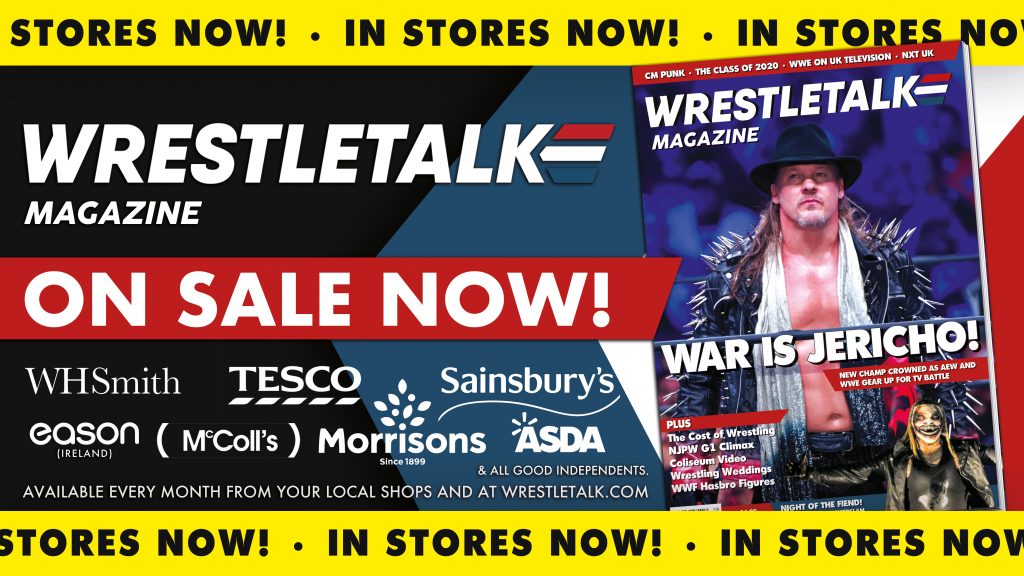 Today is an historic day for WrestleTalk Magazine, with Issue 11 – the first monthly issue of the publication since merging with FSM – available in high street stores across the UK.
Here at WrestleTalk we believe wrestling print media to be a vital part of the wrestling fan experience, bringing to life news and events via columns and features in a way no other medium can.
Please support us in rallying behind the cause to keep wrestling print media alive by buying a copy of Issue 11 and spreading the word however you can.
Fans worldwide can also purchase issues of WrestleTalk Magazine and subscriptions from this link
In Issue 11 you can expect to find:
The Class of 2020 – In a special feature, WrestleTalk Magazine looks at the wrestlers from around the world who could be on the verge of a breakout year in 2020.
Full coverage of AEW All Out from Greg Lambert plus catch-up reviews of AEW Fyter Fest and Fight For The Fallen.
An update on CM Punk's wrestling status
The Wednesday Night War between AEW and NXT
James Dixon reviews WWE SummerSlam, the Night of the Fiend.
Former Power Slam editor Findlay Martin explores the long history of WWE on British television.
Former FSM editor Brian Elliot joins the team with his first column for WrestleTalk Magazine, looking at the disconnect between WWE and its audience.
Former Daily Star wrestling correspondent Patrick Lennon assesses the cost of wrestling for the modern fan.
Did you grow up collecting Hasbro figures? Then you will love James Dixon's piece looking at the golden age of wrestling figures and lamenting how easy collecting has become these days.
Former WOS Wrestling and Defiant Wrestling Champion Rampage Brown speaks to WrestleTalk Magazine in BritChat, first in a new series.
We revisit classic moments and matches from the past, including the legendary rivalry between Steve Austin and the Hart Foundation, a WCW Iron Man clash between Ricky Steamboat and Rick Rude, a look back at the stacked SummerSlam 2005 and a brand new feature revisiting old Coliseum/SilverVision videos.
Regular features return with Hot & Not, Reviews, Around The Circuit, Ask WrestleTalk and 10 For 10, plus some new regulars debut including Matches We Would Like To See Again, Say What?, Don't You Dare Be Sour, Looking At and This Month In History.
Our new and improved television section covers Raw, SmackDown, NXT, NXT UK, MLW and NJPW