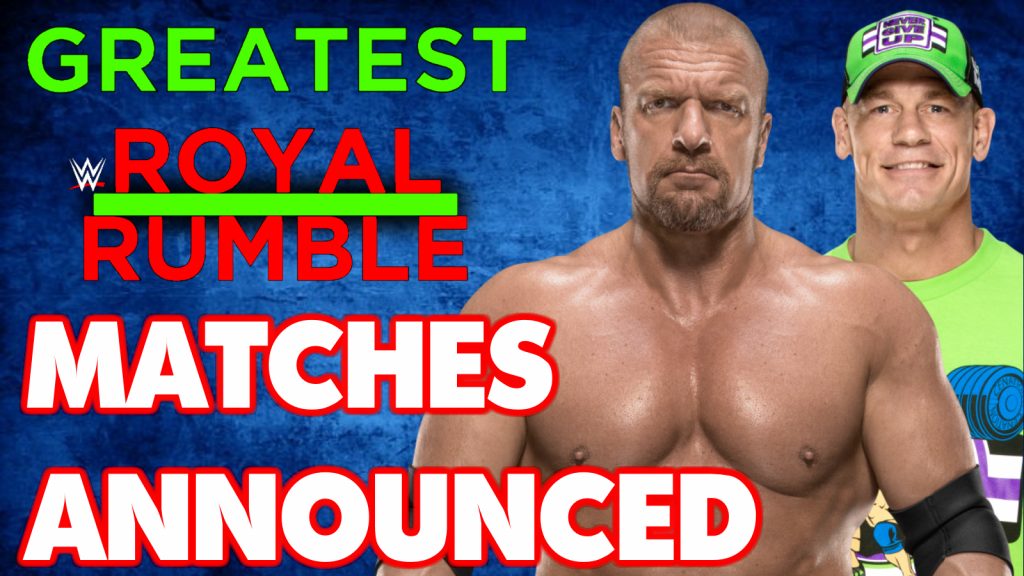 As reported by WrestleZone.com, WWE have released a statement confirming some huge matches to take place at the Greatest Royal Rumble event. These are of course along with the previously announced 50-man Royal Rumble match. The 'prize' for winning the over-the-top-rope battle hasn't yet been announced.
The first match confirmed in the statement is John Cena vs. Triple H.
"For the first time since 2010, John Cena will go head-to-head with Triple H at the Greatest Royal Rumble event at the King Abdullah Sports City Stadium in Jeddah, Saudi Arabia on Friday, April 27 at 7:00 p.m. AST."
The last time Cena and Triple H squared off one-on-one was in February 2010, when Triple H won by disqualification, thanks to a Brogue Kick from then-WWE Champion, Sheamus. (I knew that off the top of my head, honest).
That's not the only big match set to take place on April 27, as WWE's statement also confirms the following Intercontinental Championship match:
"Additionally, the Greatest Royal Rumble event will feature an Intercontinental Championship Ladder Match: Seth Rollins vs. Finn Bálor vs. The Miz vs. Samoa Joe."
What particularly sticks out here is the inclusion of Samoa Joe, who has recently been out of action due to injury. There are rumors circulating suggesting that when he returns, he will chase the WWE Universal Championship, probably being held by Roman Reigns, but his involvement in this match could suggest otherwise. Reigns will challenge WWE Universal Champion Brock Lesnar for the title at WrestleMania 34.
The other three participants, Rollins, Bálor and The Miz, are set to square off in a triple threat match for the WWE Intercontinental Championship at WrestleMania 34, which takes place a couple of weeks before the Greatest Royal Rumble, on April 8.
A third match was also announced in the statement:
"…and a Raw Tag Team Championship Match: The Hardy Boyz vs. Sheamus and Cesaro."
It will be interesting to see whether the inclusion of the Hardy Boyz will tie into Matt's current 'Woken' run, with the return of Jeff Hardy, or the debut of Brother Nero, coming on last Monday's edition of Raw in the Ultimate Deletion. Alternatively, it could just be a one-off special teaming for a one-off special event.
Sheamus and Cesaro are set to defend the WWE Raw Tag Team Championships at WrestleMania 34, against Braun Strowman and a partner who is yet to be announced.
Further names that were also confirmed to be appearing at the Greatest Royal Rumble are as follows:
"Fans will also get to see WWE Superstars Roman Reigns, AJ Styles, Braun Strowman, The New Day, Randy Orton, Bray Wyatt and Shinsuke Nakamura, among others."
The statement also says further details, such as broadcast arrangements, will be coming soon.
Are you looking forward to the Greatest Royal Rumble?  Let us know in the comments below or on Twitter here, and as always, have a spiffing Rusev Day.