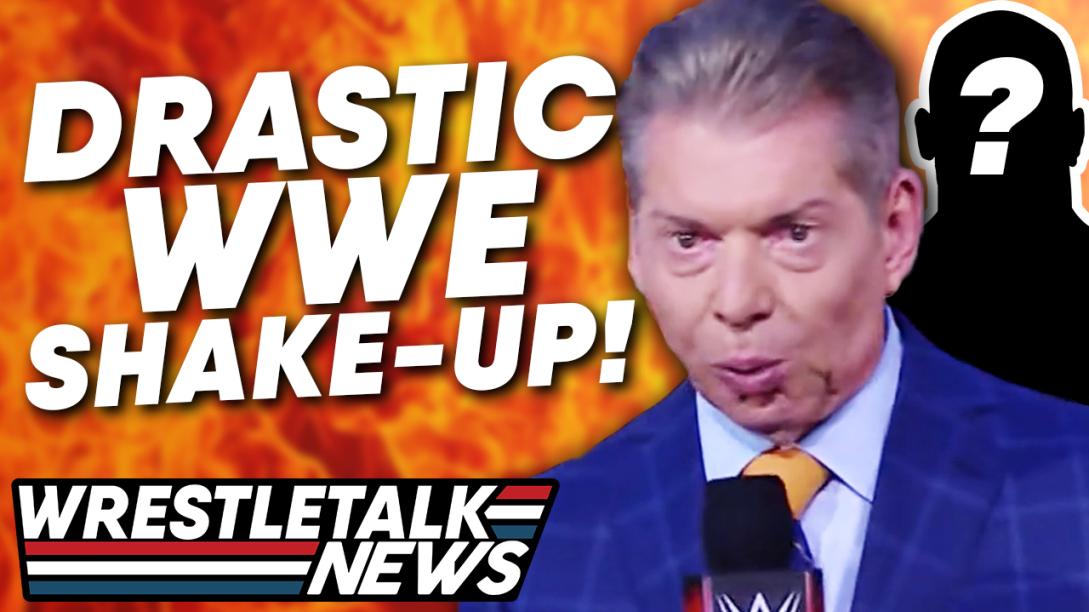 Wrestling fans are the worst, are we? Yes, probably sometimes. But not all the time – like the story of AEW wrestler Cezar Bononi shows.
He created a GoFundMe to help cover his wife's leukaemia treatment expenses, which has already smashed it's $15,000 goal… partly thanks to his AEW boss, Tony Khaaaaan – who Jon Alba has confirmed donated $10,000 of that amount. You can find a link to Bononi's GoFundMe in the description.
Meanwhile, I wonder what's happening in WWE?
Oh yeah, people getting fired, terrible booking, and Eva Marie being pushed as a babyface.
Drastic WWE Changes
And, as usual – major changes to their plans. Ringside News is reporting that nothing is set in stone for Hell in a Cell on June 20th. Not only that, but matches that had previously been decided on are now "changing drastically" as well.
We got one confirmed match on last night's Raw of Rhea Ripley defending her Raw Women's Championship against The OmniFlair. 
However this might have been one of the changed matches, as Asuka beat Flair on Raw the previous week, implying Asuka was originally meant to be involved in some way too. Or WWE just doesn't care about stories making sense. It's probably that one actually.
And that's not WWE's only big shake-up plans…
Major WWE Shakeup Planned?
Last week's SmackDown saw the debut of Rick Boogs, rather randomly as Shinsuke Nakamura's guitar player. Sean Ross Sapp of Fightful Select is reporting more are set to come, writing "there are plans for additional call-ups to Raw and Smackdown, including talent from both NXT and NXT UK" and that "multiple have been planned or at least in the works for a while".
On top of this, "talent in NXT has been speculating among themselves who will be called up in recent weeks". Who do you think is getting called up to the main roster? 
Tell me how you can't wait to see your favourite NXT stars ruined on Raw in the comments down below, because I'll be replying to people for the first 30 minutes after this video goes live FROM OUTTA NOWHERE. I reckon Roderick Strong.
Or maybe even that other hot new up and comer… Edge.
Edge Advertised For SmackDown Return
Both Edge and Sasha Banks are being advertised for the first show with fans back in attendance, the July 16th episode of SmackDown. This would be the first time Edge has been seen since being pinned at WrestleMania, while also technically winning by being on top of Daniel Bryan during the pin?
These returns may be in addition to a rumoured John Cena return, which is also reportedly being discussed within WWE for the same date.
Make WrestleTalk.com Your Homepage
There's loads more news on wrestletalk.com, including New Japan being scared about a mass talent exodus to WWE and AEW, Velveteen Dream releasing a statement on the allegations against him and an update on Keith Lee. You can find a link to those stories in the description and in the pinned comment.
And also, subscribe to us here on WrestleTalk, as it is finally here. My wig. My arm gauntlet thingies. My dress. Even my little bows. Tomorrow I will present the WrestleTalk News dressed up as Maki Itoh as a thank you for helping us pass 800,000 subscribers. 
Subscribe and enable notifications to always on so you get it first.
And now it's time for a review of last night's episode of Raw, in about 5 minutes.
WWE Raw Review
The show opened on Bobby Lashley with his five beautiful sisters, who acted like his own personal Thunderdome section, cheering and booing on command. And… stroking his chest backstage.
Wow, Bobby… Bobby really is close with his family.
This was all a set up for Drew McIntyre to interrupt to demand yet another title match. I adore Drew, but because WWE don't know how to book babyfaces, even I groaned when he came out here. Anecdotally, I don't know anyone who's into Drew still going for the title. And him continuingly demanding a one-on-one rematch for the title is making him come across like a whining heel.
WWE even showed some self-awareness off this trope, where Kofi Kingston – a man who really should have demanded a WWE Championship rematch quite a bit more – pointed that out demanding he get the title shot because, you know, he beat the champ last week. Pretty good grounds, I'd say. But rather than valiantly stepping aside, Drew rather heelishly kept himself in contention.
Definitely not Raw General Manager Adam Pearce booked a No. 1 contenders match between them, which saw McIntyre lean into that heel dynamic, throwing Kofi around. They had a really good, long match – but I never got invested because this ain't my first Monday Night Raw. It was the opening match, and Lashley and MVP were right there at ringside. Lashley caused the double DQ, meaning the last 40 minutes were an utter waste of time.
Pearce booked a rematch for next week, where Lashley will be suspended for 90 days and fined if he gets involved. So Mace and T-Bar are coming back then.
But as repetitive as the men's main event scene is, it has nothing on the women's.
After some stilted acting backstage with Charlotte Flair, Rhea Ripley accepted a beat the clock match against Nikki Cross. All plucky, genuinely affable, underdog babyface Nikki had to do was last two minutes and she'd win – framing Rhea as the bad guy. 
Confusing if she's going up against mega heel Charlotte, but at least she'll get a decisive victo-oh no, wait she just lost when she started beating up Nikki too much.
With everything boring and generally rubbish on this episode, this was the most technically inept booking. The champion losing to a babyface who hasn't been around for half a year in two minutes while she's meant to go up against a strong heel challenger later on… WWE are bad at wrestling.
Asuka and Charlotte, however, are great at wrestling. They have fantastic in-ring chemistry. I can say this with certainty, as I've seen them wrestle 38 times in the last two months. 
Again, the wrestlers are great. It's WWE's creative and booking that drags everything down. 
Charlotte worked over Asuka's knee, and eventually rolled through an Asuka Lock to pin her for the win, after losing last week. 50/50 booking.
A video package for Shelton Benjamin and Cedric Alexander made the year long Hurt Business break up storyline seem like a coherent well told story that hasn't concluded yet. Which is a testament to WWE's editing department, as it was neither well told, and Shelton beat Cedric decisively two weeks ago.
Cedric cut a really well delivered heel promo, and he then won a decent match.
Thankfully, we then got by far the best thing on the show…
I love serious Xavier Woods. It's a side of him you don't often see, just like his opponent here in Riddle. They had a terrific match to further the RKBro storyline, which saw Woods hit two fantastic suplexes, but Riddle won with an RKO from outta nowhere to continue the RKBro vs New Day storyline. This is being expertly built at the perfect pace, although it'll be interesting to see how the men's title picture affects it with Kofi being involved in the Lashley and Drew feud.
After their boring match last week, it appears heels AJ Styles and Omos' first feud as Raw tag team champions really is other heels Elias and Jaxson Ryker. I might just be saying this because it's new, but I actually think I'm less into this than the idea of Nia Jax and Shayna Baszler vs Dana Brooke and Mandy Rose.
Because this one involves AJ being beaten by Jaxson Ryker.
Elias hit AJ behind the referee's back, which was just to set up the latest way to show how tall Omos is. Which he is. That's undeniable and impressive. So, in typical WWE fashion, they now want to focus on something he's not that good at: running.
Omos then slowly chugged after Elias and Ryker up the ramp, with both men easily outpacing him, as Corey screamed 'look at the speed of Omos', and Elias had to slow down so he could be tackled into the tron.
Next came Sheamus vs Humberto Carillo, a match we did see several weeks ago, but it got cut off due to a scary injury to Carillo. Rather than give it actual time to do that over, Sheamus won in five minutes by grabbing the tights in a roll-up.
He was going to keep beating Carillo down until Ricochet made the save. Wow, I beat Sheamus is terrified – two people he's easily beaten clean, multiple times, barely an inconvenience, over the last month.
But WWE save the nugget of corn on the top of the turd for the main event. Because capping off this fundamentally awful wrestling show, Raw was main evented by Natalya and Tamina defending their women's tag titles against Shayna Baszler and Nia Jax. A feud, and match, entirely consumed by how inexplicably funny Vince McMahon seems to find Reginald.
Shayna told Reginald not to come down for the match. He came down a few minutes in for no reason. He distracted Shayna, so Shayna yelled at him for about 30 seconds, making the distraction considerably worse for herself, Reginald walked off, but spooky pyro blinded him on the ramp (likely due to Alexa Bliss and Lily as an extra layer of stuff I don't care about) – leading to Natalya rolling up Shayna to retain.
Baszler then challenged Reginald for a match next week, which I'm sure Vince will find hilarious. 
Rubbish finishes, repetitive matches, neverending storylines. As 76% of you voted on our Poll on a Pole match on the community tab – Riddle hitting a RKO was the only good thing on the show. Personally, I find the booking of Rhea to be a new level of terrible, which is why I'm giving this Raw the lowest possible rating, 1 out of 5.
What are your thoughts on the above story? Let us know in the comments on Twitter or Facebook.