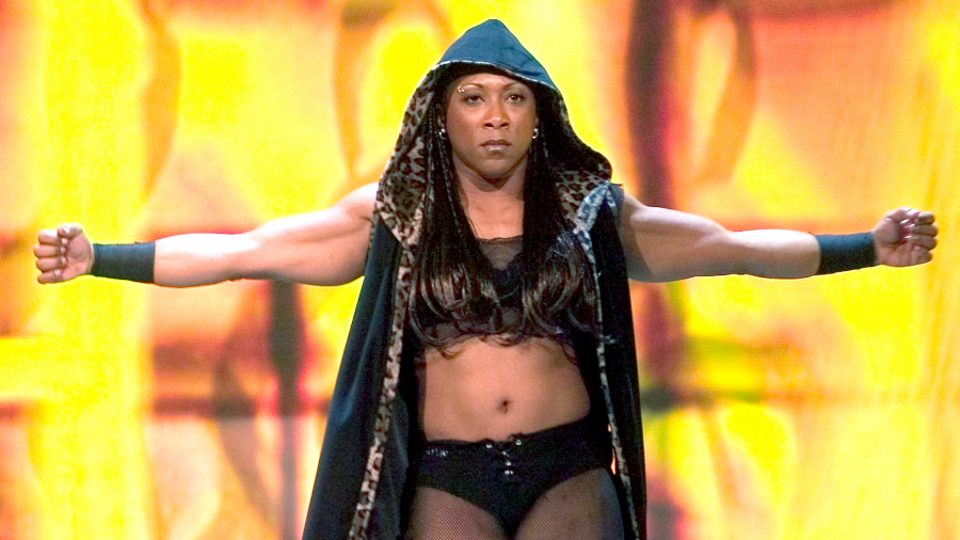 She is a two-time WWE Women's Champion, a contemporary of the likes of Trish Stratus and Lita, and once took on Bubba Ray Dudley for the WWE Hardcore Championship.
Now, one of the most popular and toughest female wrestlers of the early 2000s has given an in-depth interview about her life in the ring.
WWE Hall of Famer Jazz – real name Carlene Moore-Begnaud – recently spoke on Afterbuzz TV's Women's Pro Wrestling Weekly podcast.
In the interview, she spoke about a number of different topics, including her feuds with the legendary Trish Stratus:
"Trish and I had a phenomenal feud. I mean she was the type of person that no matter what I put on her she got her ass back up and we did our thing. She was great at taking that ass whopping."
Jazz was also asked whether she experienced any form of racism in the world of wrestling, to which she replied:
"I wouldn't say I had experienced it. But, honestly with my ability and my way of work; if I were blonde hair and blue-eyed, I would probably still be on TV now."
This isn't the only time in the interview Jazz expressed some serious self-confidence. When asked about today's women in wrestling, she said this:
"Today, would be the perfect time for me to actually bring what I brought to the industry. I don't believe they were ready for what I had to bring to the table. Where women's wrestling is today; it's all about Jazz."
Pretty self-assured stuff.
Jazz also expressed a desire to work for IMPACT Wrestling, saying, the following:
"Because it's a smaller company, there are not 100 girls in the back fighting for a spot and it seems like they are more family-oriented. It reminds me of ECW."
Jazz is currently the NWA Women's Champion and, with NWA working with more independent promotions recently, Jazz turning up in the Impact Zone is something that shouldn't be ruled out.
What do you make of Jazz's comments? Let us know in the comments, on Twitter or on Discord today!