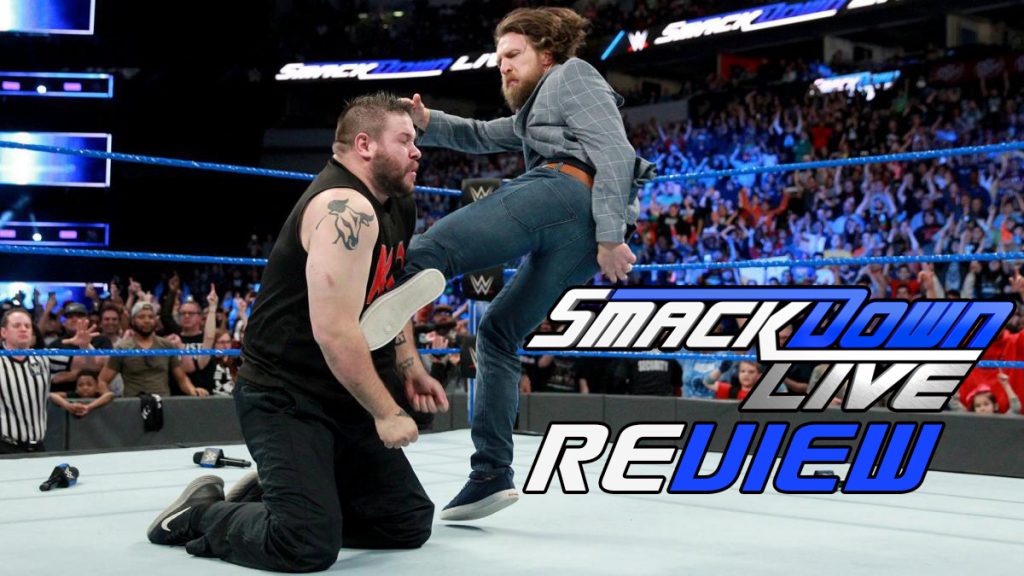 What's the best way to start an episode of Smackdown Live that will get the most attention, I ask myself. A hotly contested WWE Championship Match teasing the possibility of a new champion going into WrestleMania?
A rousing chant of "Rusev Day" whilst copious beach balls are thrown haphazardly about with merry glee all while Aiden English serenades us with one of his many tunes?
A touching and heartfelt speech from a retired star that has just been cleared after two years on the shelf? Yep, I'll go with this last one and so too did WWE as the blue brand kicked off their March 20 edition, strutting ever closer to WrestleMania 34.
Seeing as news of Daniel Bryan's clearance broke just hours before WWE went live, it was only right he kicked off the show and what an opening it was. Who cares about gripping wrestling when you can listen to a grown man talk about the gratitude he has for his family, friends, and fans, whilst clutching a tissue and getting your "there was something in my eye" excuses ready in case someone walks into the room and thinks you're crying at a predetermined sport. Fools!
Just as powerful as his retirement speech, the leader of the 'Yes Movement' literally brought us to tears – what do you mean I'm way too emotional? This is reality damn it – in one of the best promos on WWE television in years. The reaction was heartwarming, the "Thank you Brie" chants that rang out hit the mark perfectly after Bryan went on – and on – about her inspiration, and the moment his audience turned as one and pointed to the WrestleMania sign when he mentioned not knowing where or when he'll wrestle again was just wonderful.
We're not stupid WWE; do they really think we believe that his clearance would have been announced prior to April 8th if they didn't intend to book him on the card? Naughty-naughty! Oh and he also said something about dealing with Kevin Owens and Sami Zayn later in the broadcast, but no cared because this was a magnificent moment which highlighted the original reason we all fell in love with him.
The only small gripe I have with this – keep those rotten tomatoes holstered for a moment – is that WWE shouldn't have announced this prior to Smackdown Live. It should have been kept as a surprise with WWE.Com and their Twitter feed only stating that Daniel Bryan had a 'history making announcement.' But hey, we can't have everything.
Sadly, the rest of the card failed to hit these standards, though a smile was raised when Dolph Ziggler told Daniel Bryan he couldn't wait to beat the returning 'American Dragon', the latter responding by telling him that he can try.
If anyone knows what WWE are doing with Rusev then could you please tell me? Because as far as I can see, the whole 'Rusev Day' gimmick has taken off with everyone but the decision makers and they seem intent on pushing the Bulgarian as a heel. Evidently he's being booked not with logic but shovels as they bury him for having the gall to think for himself. Bad Rusev!
With AJ Styles watching on commentary, Rusev lost to Shinsuke Nakamura in yet another match I do not care about. It was short, there were a few good counters, but it wasn't a patch on their Fastlane encounter and that left me cold too. It's the way WWE book their matches. The lack of surprise kills half of the contests which should be gripping. Or maybe I've just seen everything after nearly three decades as a fan and nothing surprises me anymore.
The real moment of interest came following the bell, when a heelish double team from Rusev and English teased an AJ Styles save which never came to fruition. Nakamura dealt with the duo, making them look weak in the process. I do like the way WWE are slowly booking Styles as a subtle heel though. The face vs face angle isn't going to work this time.
An Asuka video package hypes 'the Empress of Tomorrow'. I don't think there's anyone at this point that believes she's losing unless a certain briefcase wielding 'Staten Island Princess' decides she wants a WrestleMania moment.
Charlotte is confronted by Natalya backstage, they talk, meaningless words are said, and Natalya wants a match later in the show. AGAIN! This highlighted the superficial nature of the division right now as well as both women's inadequate acting and promo skills. It was not nice. Hang on! Shouldn't this have been Carmella as they work towards a possible cash in?
This show is exclusively taking place in the backstage area! What do you mean there's a ring out there somewhere? You wouldn't know it, because AJ Styles meeting his no.1 contender is the third segment to transpire there. It's only a two hour show people! Shinsuke tells AJ that he doesn't need his help, which is handy because he'll be getting less of it in the coming weeks, and then decrees he'll beat him with a knee to the face at WrestleMania. Call me cynical, but I'm not parting with my money on that outcome just yet.
Finally we return to the arena for some decent, edge of the seat action. Oh no wait a minute, calm down everyone it's just Baron Corbin vs Tye Dillinger or as it became known, 'two and a half minutes of pointlessness'. Corbin wins with end of days. If WWE don't do something with Tye quickly then I wouldn't be surprised if we see his 'End of Days'.
Are you ready for Charlotte vs Natalya? Nope, neither was anyone else making the near fifteen minute clash mostly inane. It was good in parts and was never horrible, but they repeated that spot where Natalya rolls to the arena floor whilst in the figure-8 and it became obvious they were struggling for ideas.
Carmella teased yet another cash-in – she'll get there one day – with both women down off of a superplex, but Charlotte came around in time to stop her. The distraction allowed Natalya to snatch the victory via roll-up in a result that did nothing for either competitor. Natalya isn't going to be added to the WrestleMania match so this was pointless. Had Carmella been booked against Charlotte, defeated her with a briefcase shot, teased the cash-in only to be interrupted by Asuka, then that would have made much more sense and set the scene for a dramatic 'Mania backdrop.
We all have a visiting order for the Uso penitentiary! Another good promo from the brothers saw Jimmy and Jey discuss The New Day – no I did not mean for that to rhyme – as well as The Bludgeon Brothers. They have undeniable charisma, especially as heels, which is why every word of this was ate up and the obvious triple threat match for the Smackdown Live Tag Team Championships at WrestleMania will hold more interest than any doubles outing in previous years.
According to the title holders, they're ready to go to war to reach the grandest stage of them all which is handy, because that is what it's going to take to survive the fearsome Harper and Rowan. Add some ladders to this one and we could have a dark horse for show stealer.
Speaking of Rowan and Harper, the latter was in action next against Jimmy Uso and whilst this wasn't a great match, clocking in at a paltry four and a half minutes – bodes well for their allocation on what will be a packed card doesn't it? – it did keep the Bludgeon Brothers image in tact with a somewhat dominant yet competitive victory. The end scene where Jimmy was slammed off of the post then clobbered with a devastating lariat was very nice indeed. I'm looking forward to WrestleMania more than I have done in years.
The triple threat match for the WWE United States Championship was announced prior to Smackdown Live going on air, so by the time Jinder Mahal took to the ring to talk – someone please hide the microphones when he's around – there was nothing really left to announce. I wonder how many of the audience were in the toilets by this point.
Mahal did his usual routine of crowd blaming, sacrifices he made to get here, blah blah blah, before delivering the laugh out loud of the night by saying he gave the WWE Championship glory and made Smackdown the premier show. There just isn't enough time.
Predictably, Roode and Orton were dragged into the affray, they bickered like three old women but it got a lot more interesting when Mahal was out of the question and the current and former champion teased their finishers. That Roode heel turn has to be close now. Still, I can't shake the feeling this may get the kickoff treatment if WWE are willing to relegate Orton to such a spot.
Good news everyone, next week we get Bobby Roode and Randy Orton vs Jinder Mahal and punch bag Singh. What do you mean you're busy?
Naomi and Becky Lynch vs Sarah Logan and Liv Morgan is hardly worth mentioning at two and a half minutes. The faces went over. All four will participate in the Women's Battle Royal. But didn't we kind of know that anyway with such a shallow roster of names?
Finally, we get to then segment the whole show seems to have been working towards. Daniel Bryan addresses Kevin Owens and Sami Zayn's actions from last week. This has got to be good, hasn't it?
As it would turn out, the answer was emphatically…well you know how it goes. Bryan says it has been a big night, with the exception of his opening segment I think someone is telling fibs, then calls out Zayn and Owens who give us some more fantastic banter. If the pair orating they got pulled over for speeding but talked their way out of it because "everything is dumber in Texas" doesn't make you laugh, then there's no hope for you.
A lot great promo work was followed by Daniel Bryan firing the duo before receiving a beating from the 'best friends' of his own in which he managed to get a few good licks including his 'yes' kicks. The ring rust and numbers game was too much for him though and a Superkick and helluva kick take him out before Owens added the full stop with an apron powerbomb.
What a brilliant angle to bring the fans back to life and lead to a rumored and somewhat obvious tag team match at WrestleMania pitting Bryan and Shane against Owens and Zayn. Daniel may have taken a pasting, but god bless him, even when he was selling he still looked happy to be back in the mix. As for Owens and Zayn, they've been one of the best things about WWE since October.
This week's Smackdown Live wasn't great but it served a purpose in building four matches and a possible angle for WrestleMania. AJ Styles is growing more heelish, Carmella is slowly being built for a Women's Championship reign, the tag team division is boiling nicely, and Kevin Owens and Sami Zayn are as wonderful as ever.
For one week though we can forgive the lackluster in-ring output, because what does that really matter when we're still processing such joyous news as Daniel Bryan returning? In the words of Jim Ross, "Business is about to pick up!"