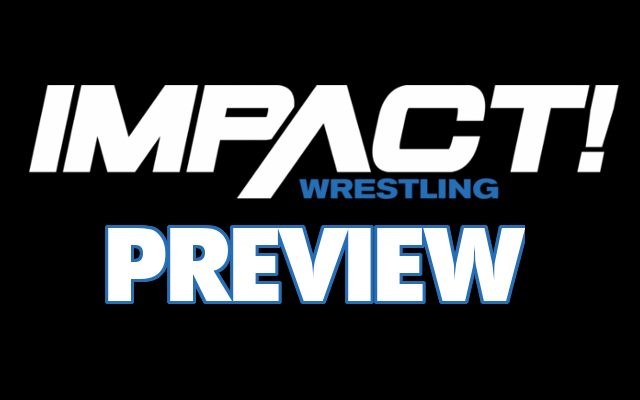 Editor's note: Impact Wrestling is taped in advance in front of a live studio audience. With this in mind, results for some or all of the matches featured on the March 22 episode can be found online. However, the following preview is SPOILER FREE.
It's a rare occurrence that that fans tuning into Impact Wrestling get a variety of content: tonight, we'll see a Knockouts Championship match, a Monster's Ball match, and we will see the fallout from last week's the Feast or Fired match.
So without further ado, let's get previewing:
Feast or Fired: Results
As I explained in last week's review of Impact, I was disappointed that the powers that be held back revealing the results of the Feast or Fired match until this week, an act seemingly done simply for the sake of garnering ratings. However, the tactic worked and fortunately, I've managed to keep myself spoiler free this week.
Although, looking at the landscape, it's not hard to guess at least one of the results considering who participated and where they are now. (Again, spoiler free.)
I sincerely hope the results open the show, however I suspect that Impact will hold off as long as possible to build the tension and drama. Watch out for various pre-taped promos from last week's participants scattered throughout the show – that would probably be the best way to heighten the suspense and keep eyes on the other segments show.
Austin Aries and Alberto El Patron meet face-to-face
https://youtu.be/GI3UsucqWJE
While my heart wants the Feast or Fired results to open this week's episode, my brain suspects that we might get the face-to-face confrontation between Austin Aries and Alberto El Patron first. And after last week's "banana" promo, I honestly don't know what to expect from these two — and that isn't necessarily a bad thing.
Matt Sydal vs Rohit Raju (Hakim Zane)
Following his actions last week's revelation that Josh Mathews is his spirit guide, Matt Sydal will attempt to keep his momentum going by facing off against Rohit Raju. I don't expect this to be a very long or hard fought match but Sydal knows how to put on a good show so expect this to be another strong showing for him. (And hopefully the crowd will be in good spirits and give Josh Mathews a proper greeting when he enters alongside Sydal.)
Allie vs Sienna
TONIGHT at 8pm ET on @PopTV/@fightnet –

@AllieImpact makes her first defense of the Knockouts Championship as she faces former two time champion @Sienna.

Last time Allie didn't have a chance to make a single defense of her title, will history repeat itself? #IMPACTonPop pic.twitter.com/qdfsB0UzQW

— IMPACT (@IMPACTWRESTLING) March 22, 2018
While many may not pay a lot of attention to the Knockouts of Impact, tonight's title match between Allie and Sienna has the potential to steal the show. And while it might not match the brilliant work that we saw last week from Valkyrie and Rosemary, anything can happen in the world of professional wrestling.
Monster's Ball
And in what will hopefully be the main event of the night, Abyss faces off against Kongo Kong in the return of the "Monster's Ball" match.
For those out of the Impact loop, the Monsters Ball match is a hardcore, anything goes, match up where the use of weapons is encouraged. In the past this match involved some stipulations around the wrestlers being locked away for 24-hours, however this rule has gone unmentioned since 2007. As the match must end in the ring, by pin or submission, it is effectively a street fight. The fight will be the 49th Monster's Ball match in Impact Wrestling history, and all of but two have featured Abyss as one of the participants – with the others being Knockouts matches.
https://www.youtube.com/watch?v=bOlGzRTWy4o
Tonight, expect Jimmy Jacobs and Father James Mitchell to play a role in this (probably about) 15 minute sampling of Impact Wrestling greatness. And based on previous affairs, viewer discretion is advised in regards to allowing any young children to watch the fight.
https://youtu.be/LVCUE2YTGbE
Conclusion
Taking everything into account, it actually looks like this show will feature a bit more wrestling than they did last week. While the highlights should be the Feast or Fired results and the Monster's Ball match, expect the Knockouts to possibly run away with the show like they did last week.
TONIGHT at 8pm ET on @PopTV/@fightnet –

Monster's Ball returns as @TherealAbyss faces @RealKongoKong

@AllieImpact defends against @Sienna @findevan faces @HakimZane @AustinAries and @PrideOfMexico go face to face

Feast or Fired cases are revealed! #IMPACTonPop pic.twitter.com/tfRNi7DZGp

— IMPACT (@IMPACTWRESTLING) March 22, 2018
Let us know what you think is going to be tonight's best match in the comments below. And stay tuned to WrestleTalk for our Impact review tomorrow.