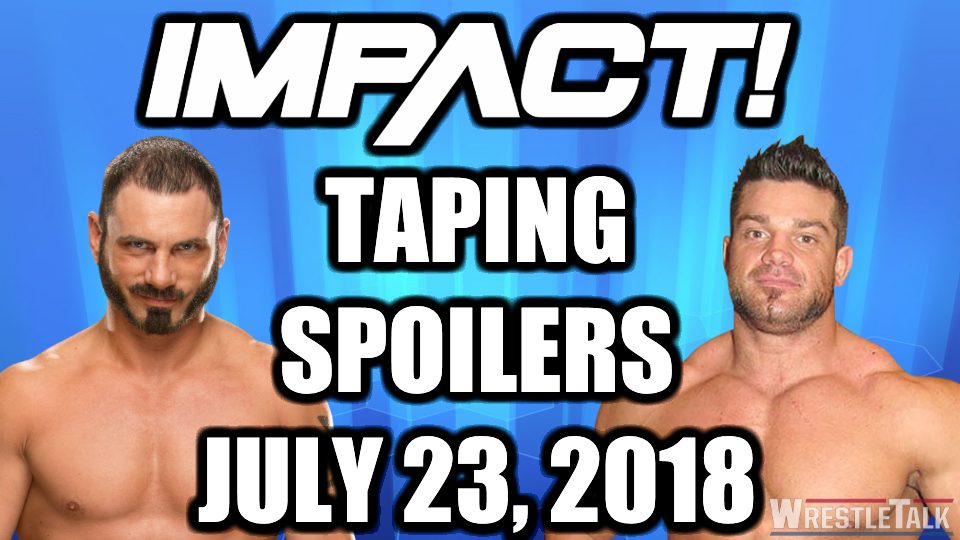 Impact Wrestling recently held television tapings at the Rebel Complex in Toronto.
The following segments and matches were filmed during the event:
Xplosion Matches
Kongo Kong defeated Stone Rockwell
Killer Kross defeated Josh Alexander
https://www.youtube.com/watch?v=ulyVhxtAyyA
Impact Results
The OGz defeat two local workers
The OGz come out with the Tag Team Championships.  The belts were still spray painted from Slammiversary. King cuts a promo talking about how LAX is dead.  LAX comes out an attacks the OGz.  Ortiz tries to use an axe during the attack but is stopped by referees.
"The Bone Soldier" Taiji Ishimori defeats Petey Williams.  After the match, the two men shake hands but are attacked by the Desi Hit Squad.
Austin Aries is out to cut a promo, putting over Slammiversary and all the talent in the back.  He then issues an open challenge.  Eddie Edwards explodes out of the crowd to attack Aries with his kendo stick.  He gives Aries a double arm DDT and then poses with the title.
Scarlett Bordeaux is interviewed backstage.  She says she wants to be part of the revolution.
Johnny Impact defeats Trevor Lee w/ Caleb Konley.  This is said to be a solid match between the two competitors, in spite of lots of interference from Konley.  Impact gets on the mic after the match and says while he wants to be Impact World Champion, he has unfinished business with Kongo Kong.
Tessa Blanchard defeats Rebel in a short match.
Gamma Singh introduces the Desi Hit Squad who beat KM and Fallah Bahh.  After the loss, Bahh and KM tease internal tension but hug it out after the crowd encourages them to do so.
Brian Cage defeats Matt Sydal in a rematch for the X Division Title.
Allie and Kiera Hogan defeat Su Yung and an Undead Bride. After the match, Tessa Blanchard attacks Allie.
Austin Aries defeats Dustin from the Battle Arts Academy.  Aries enters the match by eating a banana and wearing street clothes.  Anthony Carelli (WWE's Santino Marella) throws in the towel to stop the match.  Aries continues by locking in the Last Chancery.  Carelli confronts Aries and kicks Austin in the crotch.  A Double makes his way up the ramp.  Out comes Eddie Edwards to attack Aries with the Kendo stick again.
Eli Drake and Trevor Lee w/ Caleb Konley defeat Grado and Joe Hendry w/ Katarina.  Grado and Hendry have some miscommunication allowing Drake to hit the Gravy Train for the win.
Pentagon Jr. and Fenix defeat OVe (Dave and Jake Crist) w/ Sami Callihan.  Sami Callihan was wearing a cast and sling selling the arm injury from Slammiversary.  This is said to be an excellent match with Fenix and Pentagon hitting the double foot stomp/spike piledriver for the win.
Related Content:
Impact Wrestler Suffers Injury
Are you excited about the direction of Impact Wrestling coming out of Slammiversary?  Let us know in the comments below or on Twitter here. You can also join us on Discord to chat with Oli, Luke, the magazine team, the website writers and each other here