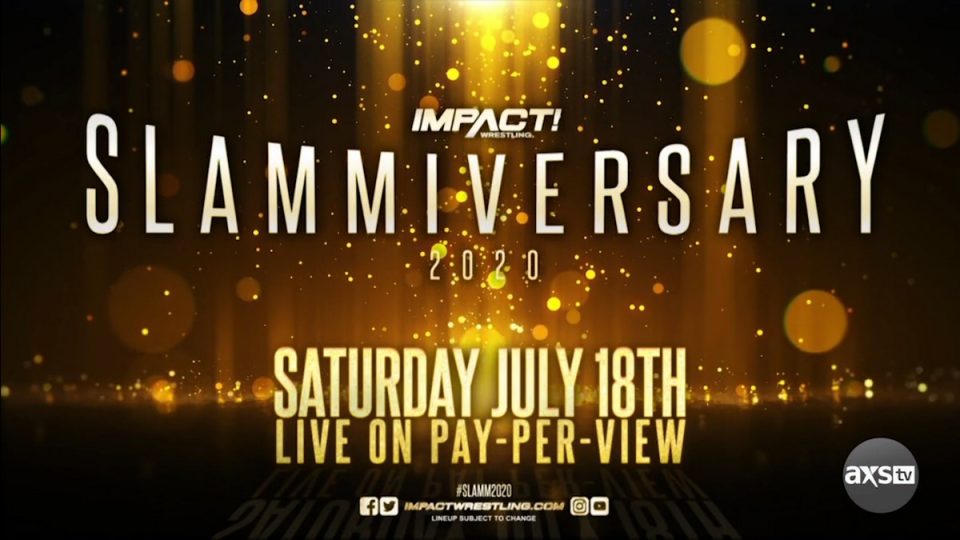 IMPACT Wrestling has been teasing lots and lots of things for Slammiversary. We've had EC3 vignettes.
Michael Elgin has been talking to someone from Canada. Trey Miquel has been attacked. Rhino's got a partner and that partner has kids.
Well, tonight, might have been the biggest teaser yet. D'Lo Brown was shown talking to someone and said he wants to get the band back together.
The last time TNA got the Band back together, we actually got a faction called The Band featuring Scott Hall, Kevin Nash, X-Pac and Eric Young. This was clearly an NWO rehash but without the permission to use the name.
Why did @dlobrown75 have an Aces and 8s vest on the back of his chair? #IMPACTonAXSTV pic.twitter.com/RYhZPJYJVU

— IMPACT (@IMPACTWRESTLING) June 24, 2020
Well, TNA/IMPACT had another faction reminiscent of the NWO. It was the Aces and Eights. In the video, D'Lo gets up from his chair and reveals an Aces and Eights vest on the back of his chair.  Yes, D'Lo was in a biker gang at one time.
So, who could we see joining D'Lo in IMPACT? Well, there were a lot of members of Aces and Eights. Bully Ray, Devon, Ken Anderson, Mike Knox, Wes Briscoe, Garrett Bischoff, Doc/Luke Gallows, D'Lo Brown, and Taz.
IMPACT has alluded that a former World Champ is returning at Slammiversary as well. Of that list, Ken Anderson and Bully Ray were IMPACT world champions.
Ken Anderson was supposed to team with D'Lo at the TNA Reunion show that was postponed. Anderson seems like a likely possibility with NWA being on hiatus.
25!!!!! MINS!!!!!! @IMPACTWRESTLING #IMPACTonAXSTV https://t.co/fIeEP2KdTi

— KYLIE RAE (@IamKylieRae) June 23, 2020
Bully Ray could be a potential candidate. He's been with ROH though and his official contract status with the company is unknown.
However, it's possible that IMPACT could be bring in multiple surprises for the night. We could see the return of someone like EC3 or Eric Young to fill the role of former champ and the Aces and Eights reunion could be someone else.
Who could that someone else be? Well, Don Callis is in charge of IMPACT Wrestling and he has ties back to NJPW. Luke Gallows was a big part of NJPW while Callis was there on commentary. Could we see Gallows and Anderson arrive in IMPACT at Slammiversary?
Anderson did recently post a tweet with the date: July 18, 2020. We also know Anderson, Gallows, and even AJ Styles were close to coming to IMPACT before switching to WWE at the last minute.
July 18, 2020 https://t.co/QeF8FNIecF

— The Machine Gun AKA Chad 2 Badd (@MachineGunKA) June 22, 2020
Rumors were circulating last year at this time that Anderson was strongly considering a move to IMPACT to reunite with Callis when his contract was coming to an end.
While Aces and Eights flamed out towards the end of their run with the much-criticized reveal of Devon as VP and Bully as President, it was pretty intriguing in the beginning. Could Anderson and Gallows make a splash by signing with IMPACT.
I guess we'll know on July 18.