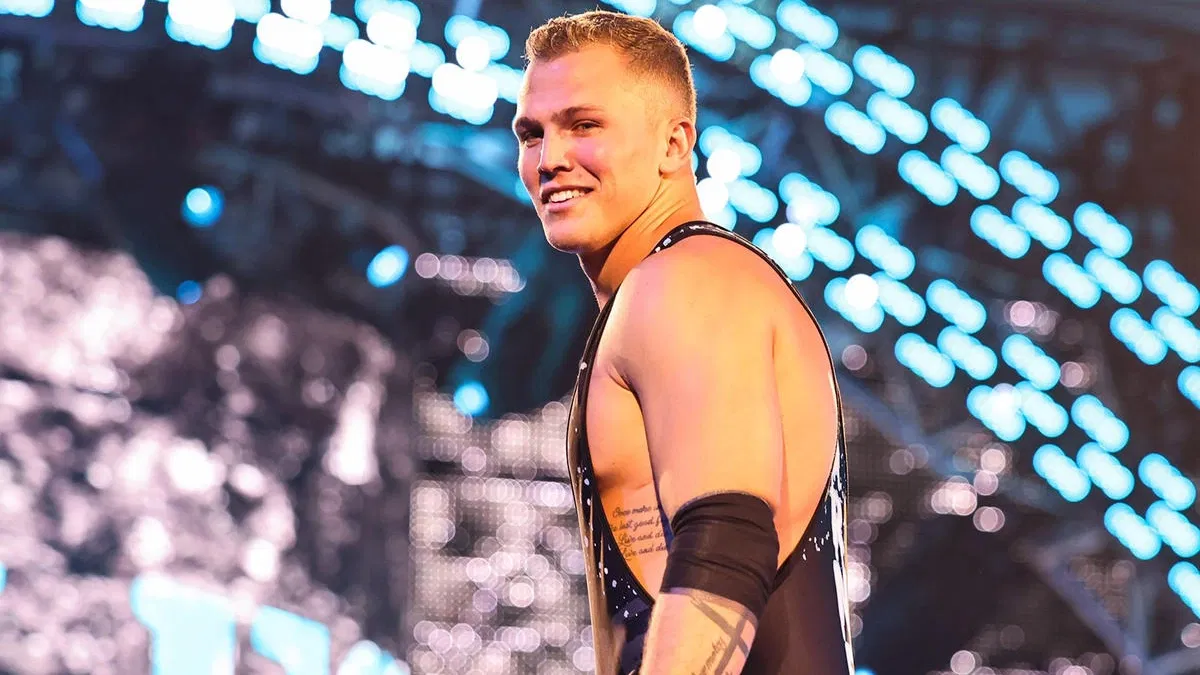 When Myles Borne was signed to a developmental deal by WWE in March 2022, people were fast to point out that he looked a LOT like a young Randy Orton, but it turns out there's actually something much more special about him than that.
Up until the September 23, 2022 episode of NXT Level Up, we'd never heard Borne speak, despite him having competed in six matches on the show earlier that year prior to his seventh on September 23.
On that September 23 edition of Level Up, Borne actually had a backstage interview ahead of his match against Andre Chase, and people who saw/heard it would have noticed he was speaking with some kind of impediment.
His interview prompted some research and it turns out Borne, real name David Bostian, was born with a condition called "persistent pulmonary hypertension of the newborn (PPHN)" – as stated in an article by Wilmington Star-News from about 10 years ago when Bostian was only 14.
PPHN is a condition in which blood doesn't flow correctly to the lungs meaning blood can't pick up oxygen and carry it to the rest of the body. Bostian flatlined twice on a five-minute flight to hospital and his parents were told he only had a 20% chance to live.
PPHN is treatable, but one of the side effects of the treatment is hearing impairment. The treatment ended up making Bostian deaf.
Amazingly, because Bostian couldn't hear, he had innately learned to lip-read at two years old, which was discovered during some hearing tests with a speech therapist. His mother Bobbi said:
"That was amazing to me. Dr (Sherif) Botros was in tears and we were all in tears because he had been reading lips so well at such a young age."
Bostian was soon given hearing aids and used an FM transistor in school. The idea of the transistor is to block out background noise and allow the hearing-impaired person to focus on one particular person who's talking.
Bostian started his amateur wrestling career unable to hear his coach's instructions, but eventually, after his parents appealed a rule that athletes couldn't have metal gear in their headgear while wrestling, he was able to start wearing a transistor so he could hear his coach – not perfectly of course.
Interestingly, one of his coaches said:
"His hearing impairment almost helps him in a way because he's a visual learner and wrestling is a visual sport. You demonstrate something and they learn it, and he is a better visual learner than most people because of that."
Speaking with Wilmington Star-News – and remember this is from about 10 years ago when he was 14 – Bostian credited one-legged wrestler Anthony Robles, who won the 2010-11 NCAA championship, as an inspiration. Bostian said:
"When I was little, I used to make excuses about wrestling and feel bad for myself, and when I saw him I was like, 'He can't walk or really hold onto his opponent at all', and he's out there wrestling and wins the title. That just inspired me to work even harder because if he doesn't make excuses I shouldn't either."
Fast forward many years and Bostian was officially signed by WWE on March 18, 2022. He was given the ring name Myles Borne and, as of this writing on September 24, has had seven matches on Level Up this year, losing all of them, and has yet to debut on NXT TV.
UPDATE: Borne picked up his first win on the October 7, 2022 episode of Level Up against Guru Raaj. He then followed up with a win over Dante Chen on the October 14 episode, and then a win over Ikemen Jiro on October 21.
He also made his first appearance on NXT TV proper on October 18, appearing as one of the many NXT talents attending a backstage party hosted by Brooks Jensen, Josh Briggs and Fallon Henley.
Borne was back in action on the November 4 episode of Level Up, where his three-match winning streak came to an end against Hank Walker, who he'd known since they'd wrestled in their school days many years ago.
On December 27, Borne made his official NXT TV debut as a participant in Drew Gulak's invitational challenge along with Luca Crusifino and Tavion Heights, showcasing his amateur background and almost getting the better of Gulak, eventually succumbing to the Gu-Lock.
On March 21, 2023, Borne had his first ever match on NXT TV in a losing effort against Eddy Thorpe. He was also beaten by Noam Dar on NXT TV on April 18.
On August 8, 2023, Borne was established on NXT TV as a pupil of Drew Gulak and Charlie Dempsey, who treated him rather disrespectfully, telling him off and sending him away from ringside because he forgot to bring them some water.
Borne has since fully established himself as a heel alongside Gulak, Dempsey and Damon Kemp.
It's always awesome to see people with different backgrounds and stories succeed in wrestling, and we wish Bostian/Borne all the best with his career.
You can read the full article referenced earlier from Wilmington Star-News here.
Check out WrestleShop.com for all your favorite WrestleTalk merch, the WrestleTalk Magazine, wrestling shirts for grown-ups, and more!