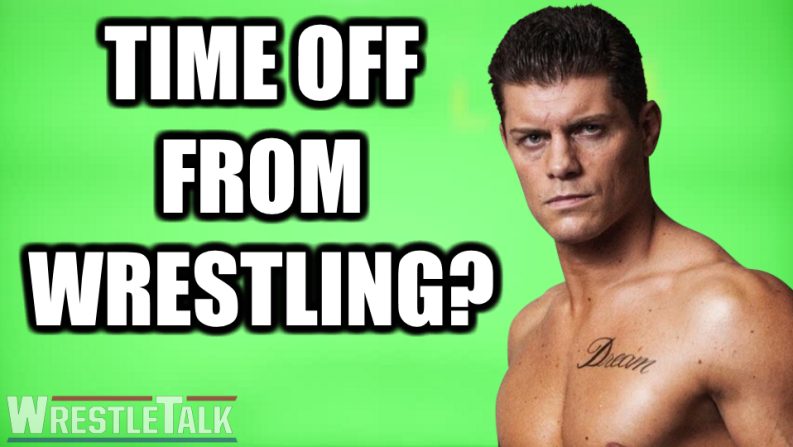 For much of 2018 he was kayfabe the most hated man in wrestling. Main-eventing both ROH's Supercard of HonorXII and this past Saturday's NJPW G1 Climax Special, 'The American Nightmare' Cody was easily New Japan's top foreign heel. Perhaps its top heel, period. Heading into his loss to Kenny Omega on Saturday, Cody approached the ring (quite literally) like royalty.
Now, Cody, sans his blonde hair, tweeted out the following news about his future plans in wrestling:
A breathtaking evening with @njpw1972

I'm taking a lil' time off from wrestling to heal my body & explore another very fun project. Thank you all. Let's meet at @ALL_IN_2018 pic.twitter.com/nqobprDJW3

— Cody Rhodes (@CodyRhodes) July 8, 2018
As WrestleTalk previously reported, Cody revealed at a press conference that his look had changed because he had been offered a movie role. The film may be the 'fun project' he refers to, but one can never tell.
At the same time, it is unclear how long Cody will be out of action to lick his wounds. He has suffered an accumulation of injuries, sporting a shiner under his eye, and participating in a brutal superplex from the top of a ladder on Saturday night.
However much time he needs to heal, we wish him the best with it. His tweet indicates that he could be out until All In on September 1. But as its promoter—he kind of has to be there, doesn't he?
When Cody returns, he may be a different man. After his hard-hitting title bout with Omega at the G1 Climax Special, his vendetta with the IWGP Heavyweight Champion looks to be out of his system. Has it been replaced with mutual respect? Remember, he aided Omega and the rest of Bullet Club when they were attacked by the Guerrillas of Destiny and their father Haku. (Yes, that happened).
In any event, we look forward to his safe return.
How long will Cody be away, and what might he be up to? Comment below, or come talk to us on Twitter and Discord where you can hang out with Oli, Luke, and the rest of your favorite WrestleTalke writers.