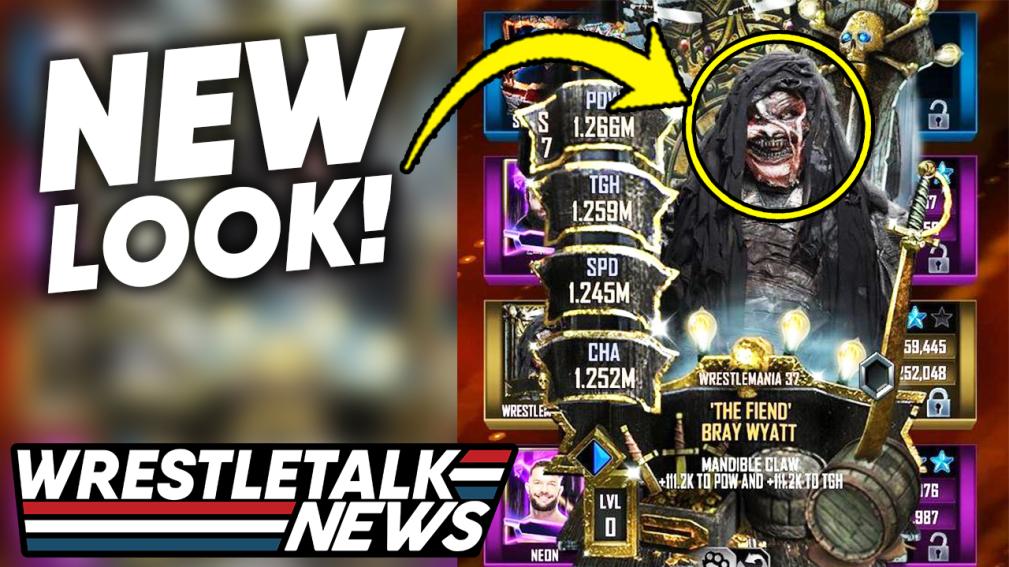 There's been many versions of Bray Wyatt over the years. Husky Harris Bray Wyatt. Bray Wyatt Bray Wyatt. The Fiend Bray Wyatt. Mr Rogers Bray Wyatt. And, most recently, after being burned alive by Randy Orton, Crispy Fried Fiend Bray Wyatt.
One day, all these versions of Bray Wyatt are going to have a super meta Firefly Funhouse battle royal and I'm there for it.
But going by an update to the WWE Supercard game, we might be getting yet another new version of the Fiend for WrestleMania… The Fiend wearing a towel on its head – in what I'm now calling The Phenomenal Fiend.
He better come out doing AJ's towel on head entrance.
This is, of course, very different from the towel-less crispy Fiend we've seen since its return at Fastlane last month, and it could be a reference to one of the many versions of Bray Wyatt we never actually got to see: crossdressing Sister Abigail Bray Wyatt from his 2017 TLC match against Pumpkin King Demon Finn Balor, which was scrapped due to Wyatt falling sick. 
Maybe… maybe it's good we didn't see that match.
Much of the Fiend's gimmick is based around Bray exorcising WWE's bad booking demons from his career, so a reference to one of the most mocked certainly fits. Especially with the inclusion of the Sister Abigail-like character of Alexa Bliss. 
It would also be a good way to cover The Fiend's layers of make-up coming apart while actually wrestling. Which is still better than the old red lighting.
There's been a lot of reported WWE plans for The Fiend vs Randy Orton over the last several weeks, which often implies nobody actually knows what's happening. Least of all WWE. There have been rumours from Bliss also getting a Fiend-like mask in an idea that was originally meant to debut at the Royal Rumble, all the way to the Fiend possibly just squashing Orton in minutes, like his SummerSlam 2019 debut against Finn Balor.
But it seems the match will actually at least partly take place in front of fans, rather than being a fully cinematic Firefly Funhouse match, as Vince McMahon wants a big Fiend live entrance as a WrestleMania spectacle. 
What do you think is going to happen with the Fiend and Orton at Mania? Let me know in the comments down below because I'll be replying from outta nowhere also with a towel on my head.
Speaking of things from outta nowhere!
Lars Sullivan Wrestling Return
Lars Sullivan has announced his first post-WWE appearance after being released by the company back in January. Lars told Fightful he was done with wrestling after suffering crippling anxiety before WWE TV tapings, which was eventually what led to his release, having no showed multiple episodes.
But it seems the last few months might have softened his thoughts on wrestling again, as he'll be appearing at The Wrestling Universe Store in Queens, New York on Saturday 8th May for a signing session. While it's not an in-ring return, it is wrestling related. And as the world opens up more and more thanks to the vaccine rollout, Lars will be a very in-demand name for indie promotions wanting a former WWE star name. 
Sullivan appears to be aware of that, as he's relaunched his Instagram with the new handle @larz_sully, which has multiple posts of him working out, with a bio that describes him as 'Pro Wrestler' along with an email address for bookings.
Vince McMahon Not Scared Of AEW
In what will surely go down as one of the craziest things to happen in wrestling this year, the WWE Network announced last Friday that current top AEW star Chris Jericho will appear on the the special post-WrestleMania Night Two episode of the Broken Skull Sessions, being interviewed by Stone Cold Steve Austin.
Break the Forbidden Wall down.
Stone Cold revealed in an interview that he and Jericho came up with the idea, and Vince was totally fine with it when they pitched it to him. And CM Punk believes that shows McMahon doesn't actually see AEW as a threat.
Speaking to TMZ Sports, Punk said: "I think it shows Vince McMahon isn't afraid of AEW at all. If he was, he wouldn't allow that to happen."
Punk did go onto say that even though he doesn't think Vince fears AEW, don't expect Austin to ask Jericho about how much better the AEW locker room is than WWE's, or the NXT ratings war, or Big Show and Christian Cage jumping ship – saying it'll "probably be a feel good interview where they talk about Jericho's past at WWE. I'm sure they'll mention AEW, but they won't get into the hard questions that I think people are interested in." And he should know, after changing the culture with WWE Backstage.
Punk interestingly also had some criticism for AEW for allowing Jericho to do it, which is a take I haven't actually seen yet, but it does make sense:
"There is also something to be said about keeping your guys special and the only place you can see this superstar is on my television show, but it's a new age and both companies need all the eyeballs they can get at the moment."
And that's not the only criticism AEW has received recently. As Jericho himself has revealed their own TV network wasn't best pleased with them last December.
AEW Heat With TNT?
Speaking on Talk is Jericho, Y2J described TNT's reaction to AEW's big Sting debut surprise on the Winter is Coming episode as "don't do that again… We don't want surprises, we want to take advantage of the ratings."
Jericho said that's why Big Show Paul Wight's signing was announced on social media ahead of their TV episode, and Christian Cage's pay-per-view debut was teased on the go-home show.
Tony Khan has since given his side of the story to PWInsider, though, saying he should know, as he's the one who actually had that conversation.
"I want to make it clear, TNT never said don't do surprises, they thought that was great, and they got a huge reaction to Sting… There's a balance between announcing things in advance [and] telling fans in advance when something's coming, or surprises that came out of nowhere."
Which might be why AEW have announced that Mike Tyson will be making his return to Dynamite tonight after first appearing in a brawl segment with Chris Jericho last May – with big competition against NXT Stand and Deliver Night One on the USA Network. Which you can watch our live reactions to with Chopper and Tempest on the WrestleTalk Podcast channel!
Do you think Vince is scared of AEW? Let me know in the comments, where I'll be asking if McMahon does fear Tony Khan, then why isn't he inducting Kenny Omega in last night's Hall of Fame?
The AEW World Champion tweeted during last night's ceremony:
"Wait, you mean to tell me I was snubbed again this year? Geez Louise, what's a guy gotta do around here?"
It's a travesty. Speaking of last night's Hall of Fame…
Seeeeeegway!
WWE Hall Of Fame 2020/21 Ceremony
Last night saw the combined 2020/2021 WWE Hall of Fame ceremony, which saw the 2020 class of JBL, the British Bulldog, Jushin 'Thunder' Liger, William Shatner, the Bella Twins and the NWO be inducted, along with the 2021 class of Rob Van Dam, Molly Holly, The Great Khali, Ozzy Osbourne, Eric Bischoff and Kane go in.
Nikki Bella thanked her former fiance John Cena in her speech "for teaching me a lot about this business and truly helping me find my Fearless side." Cena actually gave her induction speech, you just couldn't see him.
While JBL took a rare sincere note, wanting to say something to all those backstage he's allegedly upset over the years – alluding to his alleged bullying and harassment of Mauro Ranallo, the Blue Meanie and current AEW ring announcer Justin Roberts – and apologise FOR ABSOLUTELY NOTHING YOU GOD DAMN SNOWFLAKES. 
It was actually a really good promo.
Titus O'Neil and longtime WWE employee Rich Hering received the Warrior Award, which is "presented to an individual who has exhibited unwavering strength and perseverance". While Titus was a bit of a meme in the early days of our QuizzleMania show, and he's kind of most known these days for falling over, it's important to remember he's an incredible human being. Here's a personal story about Titus from Reddit user Rbarton812:
"Titus drives people from his church to their cancer treatment appointments, when they don't have other means of a ride. That's where he met my mother. He's sat and spoke to her multiple times, remembering topics they spoke about previously, even if there was months in between meeting. He even remembers to ask about her son that grew up wanting to be a wrestler."
In a business full of carnies and egomaniacs, thank you Titus for existing. 
Lowest WWE Raw Rating Of The Year
Unfortunately Monday's Raw, which was the go-home episode to WWE's biggest show of the year, WrestleMania, tied its lowest rating of 2021 with last week's 1.7 million.
Which means, somehow, all the people – me included – who watched last Monday's terrible episode where they broke up the Hurt Business and drafted over King Corbin, just tuned in again. What the hell is wrong with us?
Original WrestleMania 37 Plan
The show saw all the Raw and SmackDown women standing in a row ahead of the Fatal Four Way Tag match for Night One, where the winning team will face champions Nia Jax and Shayna Baszler for night two. But apparently that wasn't always the plan according to WrestleVotes, who have tweeted:
"Original idea prior to the Women's Tag Team Turmoil match being decided on was to have the annual Women's Battle Royal where the final 2 would be "winners" & form a tag team the next night. Much like the WM 15 Battle Royal that Test & D'Lo won, then lost later to Owen & Jarrett."
I'd put good money on it being a singles champion and their No. 1 contender because 'how will they coexist?'
And the WWE pay-per-view schedule post WrestleMania has been reported by PWInsider, with Money in the Bank taking place on May 16th, while Backlash is scheduled for 20th June.
That will all be a part of the next season of WrestleLeague – our fantasy predictions league for WrestleTalk Patreons where you can compete against me, Luke, Laurie, Adam, Pete and all your fellow Patreons for multishow supremacy! And for a prize of £100 worth of vouchers for WrestleShop.com. 
What are your thoughts on the above story? Let us know in the comments on Twitter or Facebook.