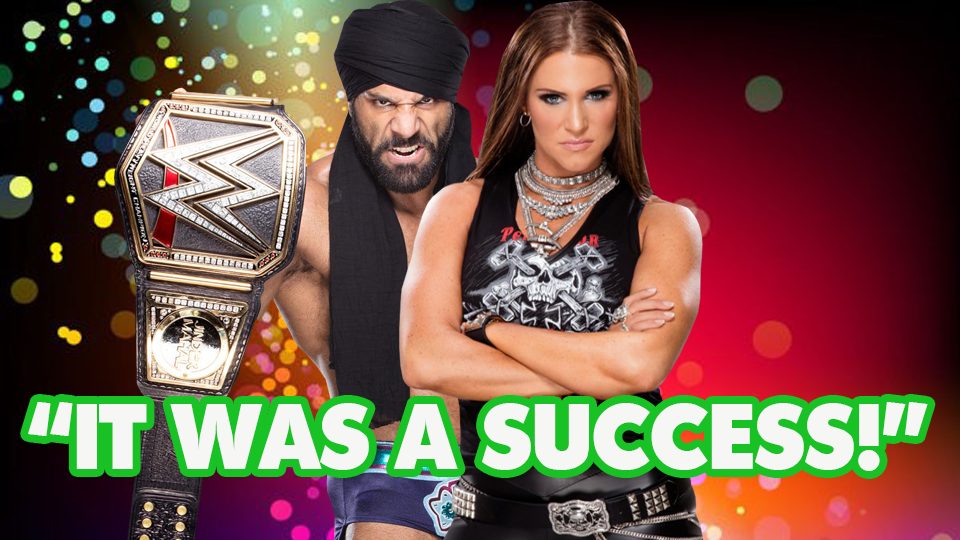 Stephanie McMahon has come out in public and made an extraordinary claim about Jinder Mahal's WWE Championship reign, branding it a success. Whilst the rest of us receive therapy for the six months he was on top of the SmackDown Live mountain, the heir to Vince McMahon's throne alarmingly believes that the period was a triumph.
https://www.youtube.com/watch?v=Tba_FbTv1n0
In an interview with the Times of India, WWE's Chief Brand Officer had this to say on Mahal's run with their top title and WWE's expansion into India:
"I think his championship run was incredibly interesting and successful to our global audience and not just to India. If he became a bit of a hero in India as a result, well that is awesome too. Jinder of course has played the antagonist here in the States; I think he was received as a homecoming hero when he performed live in India. Whenever there is a local star there is significance to the audience. Our audience is so much bigger. It's global, so we have to entertain everyone."
What Stephanie is basically saying here, is that the Jinder experiment was a success in India, but that just simply isn't true. If WWE believed their decision to promote a jobber to main event status was an accomplishment, they would have kept the WWE Championship on him and allowed him to enter the country as the conquering hero. Instead, he dropped the gold AJ Styles and then lost to Triple H when WWE toured the country where his reign was a supposed success.
In actual fact, Jinder Mahal as WWE Champion was a disaster. His matches were monotonous, his promos were tedious, and deep down the company know it was a debacle. But what else did we expect them to say? They've never been one to admit their mistakes.
Jinder Mahal will challenge Randy Orton, Rusev, and Bobby Roode for the WWE United States Championship at WrestleMania 34 on April 8. On the same show, Stephanie McMahon will team with Triple H to battle Ronda Rousey and Triple H.