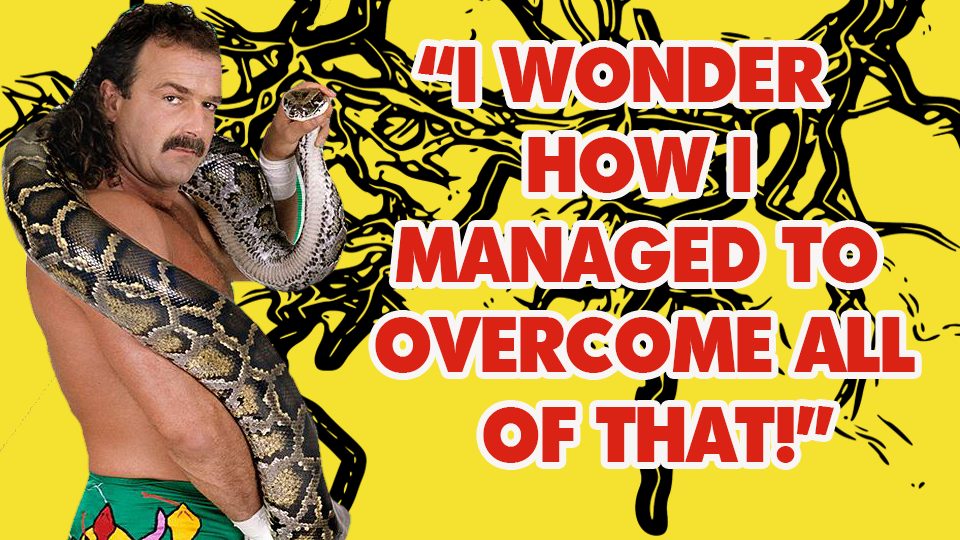 The word legend is often thrown around meaninglessly. When describing Jake 'The Snake' Roberts, the statement is well and truly justified. The master of the DDT is one of wrestling's true greats, a marvel on the microphone – his WrestleMania VI promo still stands as one of the finest of all time – and one of the most superior psychological talents to lace up a pair of boots.
In his career, Roberts has overcome much adversity including drug and alcohol addiction – his Netflix documentary is an amazing journey for any professional wrestling enthusiast – and in 2018 seems to be finally free of the demons that once plagued him. He may never have held gold in WWE, but Jake does have a rightful place in the Hall of Fame and one day hopes to walk that aisle one last time as a competitor in the Royal Rumble. How great would it be to see him as one of the 50 men on April 27?
Recently, Jake Roberts appeared on the Prime Time with Sean Mooney podcast where he undertook an in-depth interview about his life, career, regrets, and addiction. It was a heartfelt and insightful interview and we have some of the highlights.
Whilst in conversation, the subject of Roberts' father, Aurelian 'Grizzly' Smith, cropped up. The relationship between the pair has always been fraught with tension stemming from claims of abuse Jake has made about his father and step-mother. On this occasion, the inquiry stayed on the subject of the industry with Mooney asking his guest how being the son of a professional wrestler hindered his humble beginnings in the ring:
"It was ultimately about anger. I was upset with my father. For me, to be in a locker room where there are crude jokes being made, but are being thrown at me because of my father. That blistered me. It made me feel so empty inside, and so full of shame. Shame is such a dangerous thing to deal with. I had a tough time in the locker room because sometimes wrestlers have this hard-edge to them. There were a lot of things being said and done, and as I look back I wondered how I was able to overcome all of that."
It says something about the man in question that after everything he's faced in his life so far, it's those early days shaking off the reputation of his father that he doesn't know how he overcame. The story of Jake Roberts and Aurelian Smith is a dark and tragic one, explored in the terrific 'Beyond the Mat' and 'The Resurrection of Jake 'The Snake' Roberts' documentaries.
https://www.youtube.com/watch?v=aVxrTz4mGLY
After he'd talked about the struggles he faced as the son of a wrestler, Jake spoke out on regrets, if he could have done more with his career, and being grateful for what he managed to accomplish:
"The way I was able to be was because of the wrestling. It would consume my mind, heart and soul, it was 24/7 wrestling. I couldn't trust anything else in life to be fair, because I never knew what was going to come to me next. Just to be able to focus on wrestling and have a great career, sometimes I think about how I could have accomplished so much more. Maybe I could have, but I feel that I did a hell of a lot. I had a pretty good career; rang some bells, and all of that. I am just so grateful for what I did do, and so grateful to have found the right woman to have children with and that my children do not have alcohol of drug issues. I am so grateful for that. My oldest daughter heads the largest rehab in the world."
Finally, Roberts was questioned about the moment he decided to join Vince McMahon's WWF and leave behind his life in Mid-South Wrestling where he reigned as their Louisiana Heavyweight, North American Heavyweight, and Television Champion. The crux of the quiz was about whether, at the time, Roberts thought he'd made the correct choice:
"I gave my notice to Mid-South, and they accepted it. Vince McMahon had tried to hire me before when I was in Georgia Championship Wrestling. I wanted to stay true to the NWA, so I didn't go. Few years later I gave my notice after being screwed over again by Bill Watts. I picked up the phone and called New York and asked to speak with Vince McMahon. They said that Vince McMahon wasn't going to be around for a few more weeks, and I was thinking, 'Oh my God, I just gave my notice, so what am I going to do?' I let my wife know that I couldn't get a hold of him, and of course she didn't want to hear that. As soon as I was going to head to the gym she said that Vince McMahon was on the phone, which I didn't believe her. I went to the phone and he had told me to get on the airplane and fly up there, which was what I did. I sat down with him and we had a decent conversation, and that was that."
There are very few legends I love more than Jake 'The Snake', which is why there was a tear in the eye when he was inducted into the WWE Hall of Fame in 2014, and it's heartwarming to see him doing so well after enduring so much. He is one of wrestling's true greats and arguably its greatest survivor. I wish him nothing but joy for the rest of his days.