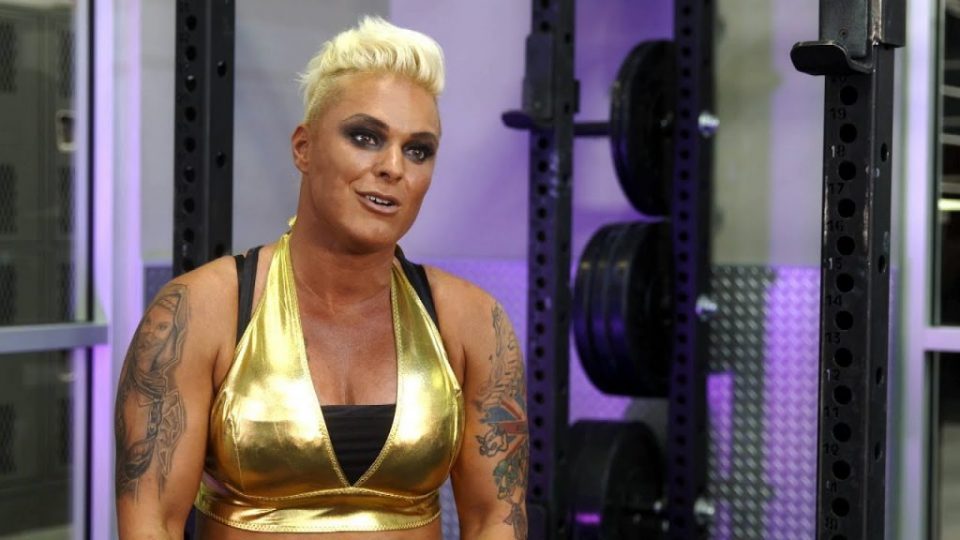 Jazzy Gabert made her departure from WWE recently and graciously provided WrestleTalk with an exclusive interview. Now, she has discussed the topic further, while also claiming that other talent made racist remarks towards her.
Jazzy Gabert did the following interview with German podcast GF Der Talk. You can listen to the full interview at the provided link. Meanwhile, the translation and transcript have been provided by WrestleTalk's own Dan Schachtmeier.
Tim: "Many people wondered why you, on you own terms, said: 'No, I don't want this anymore!'
Many saw it that you, in a way, threw a dream away, that others would have liked to have. Were you surprised about the negative comments towards you, when you said you were leaving WWE?"

Jazzy: "This is a big topic. I've read a lot of comments on this. I knew before there will be positive and negative comments. I am angry about those people that think they know everything. Those who just don't know why I stopped. Some put this on my neck and I can assure you, my neck is 100% fine. I have no health issues. And there are some that say, I left because of my injuries. Just let me tell you, aside from the neck injury, I have never had any kind of injury in my 18 years of doing this. It has nothing to do with my injury, that my career didn't turn out the way it might should have."

Tim: "Please tell us then, Jazzy. Why did you decide, this is not for you?"

Jazzy: "Well. Let's say it this way, there are multiple reasons for it. One of them was being in pain. All of my wrestling life I had pain. My lower back, my neck. You have muscle soreness and then 2018 I had this operation. And immediately after I stopped training, I stopped having pain."

Tim: "How long were you unable to train?"

Jazzy: "Well, to be honest, I did not even want to train at the time. I did not train for half a year."

Tim: "Did this do something to you mentally as well?"

Jazzy: "Absolutely. For wrestling I was constantly trying to gain muscles, you know. And I looked like a freak. But I wanted this for wrestling. My dream was to go to WWE. But then I went to projects like 'Take Me Out' and other non-wrestling productions and I noticed how people were treating me. They said: 'She looks like a pitbull' or 'Woah, she is going to destroy anything'. I did not like that. Well in 2019 I got my contract and I was like 'yeah, now I can train again, I am going to be even more jacked…'"

Tim: "How can you imagine training in the UK performance center?"

Jazzy: "Well, we trained once a month, or six weeks, however you wanna put it. We had to arrive one day earlier and then we had like two hours of training in the gym, two hours of training in the ring. Then one hour of promo training or they made us watch our own matches, where the trainers told us what was right and what was wrong. So overall it was very cool, if you look at it this way…but…well…I might give out too much information here, but I did not even like it collegially. The girls weren't really nice to me. I don't care about that, because I am not in the business to make friends, but when the money isn't right…you know….the people think you make like 50,000 euros per year…but that wasn't it – not even close.

And you have to pay for own insurance and taxes and living in England isn't that cheap either when you are living there for those 10 days. You have to pay for your own food on the road, not very cheap. Also, I did not like the storyline, I didn't like being a bodyguard, I was like 'What the hell?'. After a while I learned, in the conversations with creative, that they did have had plans for Jinny, but no plans for me. And then I thought, 'My peers are awful to me, I feel bad, they make racist jokes toward me…' so I thought, 'I don't wanna do this to me anymore.'

Then my body started hurting again. So, I asked myself if this all is really worth it. All these reasons together. I don't wanna sit here in NXT UK, doing nothing, because the people there have no ideas for me, plus not getting little money, while missing out on certain things. This year I would have to miss out on Udo Lindenberg. His tour goes over three months, but in between these three months I had to go to NXT UK three times. But Udo would have said, 'we need you here on the entire tour. You can't just leave.'"

Tim: "I heard about salaries out of the music business before. I think you would not have earned quite ask much with the NXT UK work as you would have with the gigs"

Jazzy: "I can tell you that in 3 months with that, I would have made just as much money and in one your with NXT UK and you have 3 months of fun compared to a job where you go and you don't really like it."

Tim: "How did you get the release from WWE?"

Jazzy: "Well, my first contract that offered to me was 3 years, but it was rejected, the contract I get then was one year. So, this way the contract negotiations came around at the time anyway. So then personally met with the talent coach, Canyon Ceman. You might know him from the German WWE tryout. He was there, because multiple contracts were running out at the same time, to he had to do multiple negotiations that day. And then he said, if I want, we can continue just like that. But I said: 'Wait a moment'."

Tim: "So the same contract, same salary?"

Jazzy: "Yes. So, then I asked for a raise. He said, 'no, currently not'. I then asked to go to America. This was also denied. I then asked if I could do some tv projects. He then asked if they would be on the same channel as the WWE product. Well, WWE is airing (in Germany) on ProSieben MAXX, but things like 'Take Me Out' are airing on RTL (in Germany). So, I said my future projects are not on the same channel as WWE. Then I asked for the 3 months Udo-Tour. He replied that this would be difficult.

Well and then I thought, honestly it was a very tough decision. I cried a lot of tears, honestly. But then I got one comment after another from the other girls and I thought, it is just not worth it anymore. The pain, the financial loss. Just to chase a dream? And the chances were just too small. Just take a look for a second. Who is in charge there? The PROGRESS people, the wXw people. And it is not secret, that they are not behind me. You know what I mean? So, I did not see my chances that high."
What do you think of Jazzy Gabert in NXT UK? Let us know on Twitter!