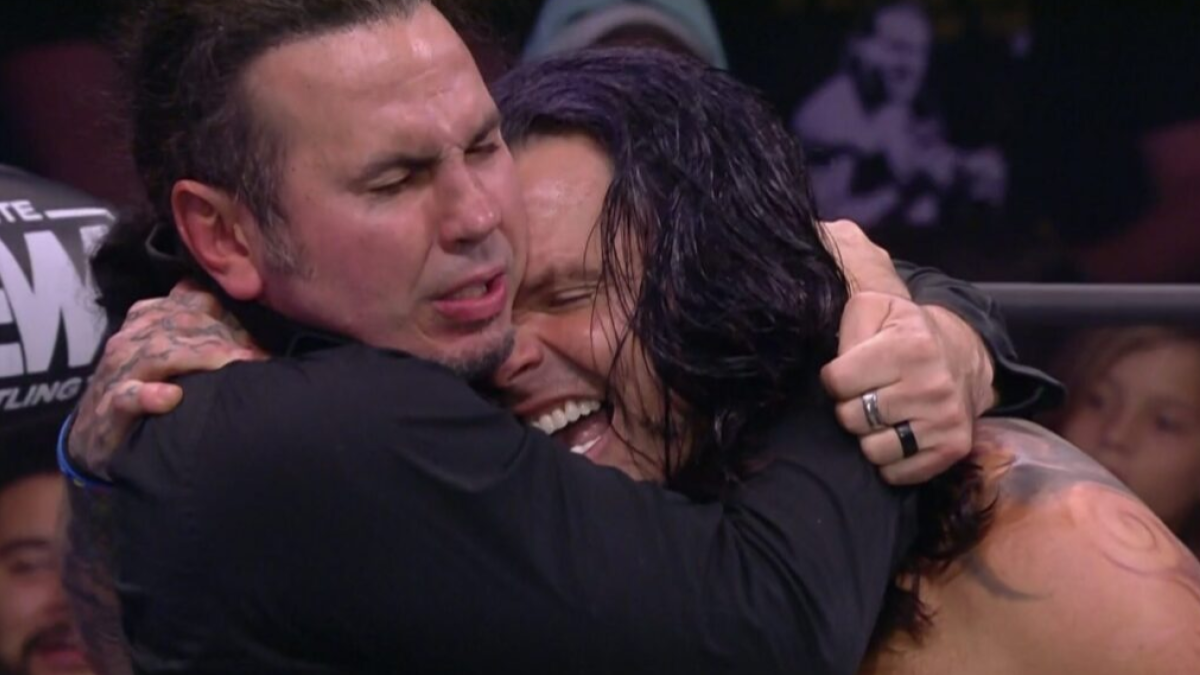 Jeff Hardy has reflected on his emotional reunion with his brother, Matt Hardy, during his AEW debut.
After saving Matt Hardy from a beatdown on the March 9 edition of Dynamite, Jeff embraced his brother middle of the ring.
On the latest edition of the Extreme Life of Matt Hardy podcast, Jeff noted that he didn't realise how emotional he was in the moment until he rewatched the segment.
Matt also commented on Jeff's debut, noting that the moment meant the world to him, after the duo's struggles in 2021.
Jeff and Matt said:
Jeff: It was awesome and that's one of the big things. I have seen that music (Hardy Boyz music) on so many reality shows, so it's in the library (not copyrighted). I think that made it so much better, and Sting and Darby Allin going out before me was another good swerve, and it made people think he's not gonna be here tonight.

"That pay off was incredible and that music made it so, so good. I wish I could've enjoyed it more because it was a run in save, but it's all good. I have plenty more to come and I can store that energy for the people who are happy to see me.

"I didn't realise in the moment, I didn't realise how emotional that was. Looking back and seeing Matt's face and I am on his chest and I wore boots without laces and it wasn't that comfortable. I did that first Swanton in an AEW ring and the hug and that picture is gonna be legendary moving forward because that was real man, and Jim Ross is one of the best commentators to ever do it, and he covered it so well. Yeah, it was real and it felt good.

Matt: I think after all the trials and tribulations we've been through and even once I left WWE my contract was up, his got extended, we have been through a lot together. Years ago, I went through my struggles and Jeff had been through his.

"This last year in 2021 we both lost our dad which was a big deal to us so for us to be back together as brothers and as a team and just like to be in one place and be healthy was super important to me. And as we spoke about earlier on, tomorrow isn't guaranteed to anyone.

"I appreciate every day with my brother and my kids and my family and it means the world to me. I treat every day like it's the last day. I never wanna be a guy that would pass away one day and didn't feel like I likved every day to the maximum. 

"So, in that moment it's like we're there, we're both together and healthy and happy. We are back on the same page and that means something very special to me, it really really does. It was real genuine emotion and there's a picture of Jeff and he's smiling so big and I feel like you (Jeff), we did it, we got through it together and I'm just so happy the day is over.

If you use this transcription or any portion of it please credit WrestleTalk.com and link to this page.
The Hardy Boyz teamed up for the first time in AEW on Dynamite: St Patrick's Day Slam, defeating Private Party in tag-team action.
To make sure you stay updated with all the latest wrestling news, add WrestleTalk.com to your Google Discover feed and follow us on Twitter!