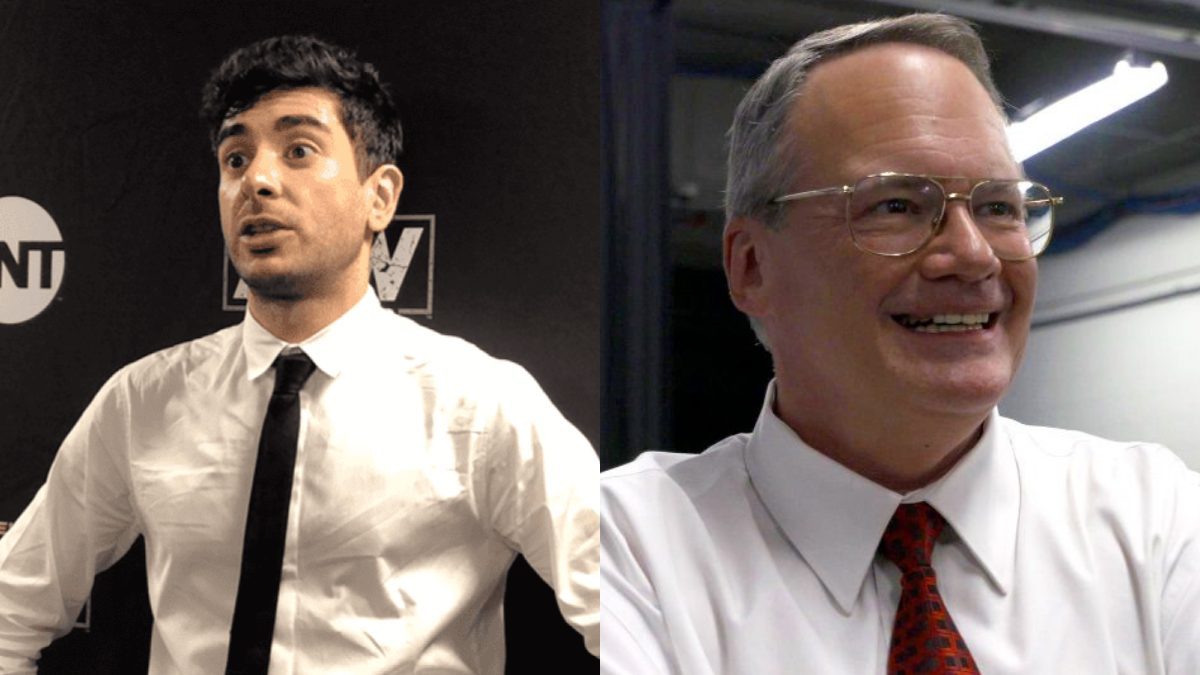 Jim Cornette has said that Tony Khan gave him the best birthday present he received this year with the best AEW Dynamite show ever.
Cornette turned 60 on September 17, two days after the latest episode of Dynamite.
Reviewing the show on the Jim Cornette Experience podcast, Cornette called it the best episode that has ever aired and was complimentary throughout.
He had very high praise for the opening of the show, praising the way it felt big-time thanks to the big crowd, Jim Ross on commentary, the general production, the entrance of CM Punk with Cult of Personality, and then followed by Adam Cole vs Frankie Kazarian.
Cornette spoke highly of the opening match and made it clear that he was a big fan of it, but did admit disappointment at the announcement that Cole would be teaming with the Young Bucks – whose style he has criticised ferociously – against Christian Cage and Jurassic Express on Rampage this coming Friday.
The next thing on the show was a promo package from the Lucha Brothers, and Cornette's main comment about this segment was confusion at the fact the Butcher and the Blade were the #1 contenders after Butcher had been out injured for months and only just returned.
He didn't seem to be too impressed with the Fuego Del Sol – or as Jim Cornette called him, 'Fake Luchador Midget' – promo with Sammy Guevara which saw Fuego put his car on the line against Miro's TNT Title for Rampage.
Despite Rampage airing on Friday and the podcast airing on Sunday, Cornette hadn't watched Rampage so he didn't comment on those matches.
Next up was MJF, who Cornette is known to be a massive fan of, with the promo on Brian Pillman, which he said was a good segment, but his one critique was the slowness of the Pillman Jr vs Wardlow confrontation, saying it should have been more urgent instead of them staring at each other for so long. But Cornette did say, overall, the segment was a "great piece of business".
Jim Cornette also went on to praise the short Pillman Jr interview with Jim Ross that followed the MJF segment, and how it wasn't a scripted interview like you'd see in WWE.
Next on the show was Dante Martin & Matt Sydal vs FTR, the latter of whom Cornette is also a big fan of. Cornette had nothing but good things to say about FTR's work during the match, and praised CM Punk for calling them the best team in the world on commentary.
Cornette even praised Martin, saying that even though "he's green and he needs a physique", he's got great athletic talent. 45 minutes in at this point, this was a "great show so far" according to Cornette.
Up next was Malakai Black, and Cornette praised the announcers for laying out (not saying anything) during his entrance to help set the mood. In previous weeks, he had been critical of the announcers talking over the entrance.
He wasn't a fan of the way "d-list TV star" Rosario Dawson jumped the rail to confront Black with no security trying to stop her. When talking about Cody Rhodes coming to save Dawson and fight Black, Cornette reminded Tony Khan to be careful of wrestlers accidentally hitting fans in the crowd during brawls, because one day it could end up in a lawsuit.
He also didn't like the brawl in general, adding "I said this was the best TV show they've ever done, I didn't say it was perfect from start to finish".
The next things on the show were a promo package for Anna Jay vs The Bunny, and then a segment with Dark Order arguing, to which Cornette said: "We went from basically network television quality s**t that you could have seen in the Attitude Era or in any popular period of pro-wrestling with stars, and a segment later we're doing cable access s**t with these clowns".
Next up was the Dan Lambert/Chris Jericho segment, and Cornette joked that this was Jericho's way of latching onto him and his AEW criticism, since what Lambert says on-screen is so similar to what Cornette says in reality.
Cornette said the segment wasn't bad, but he did find it funny how Jericho and Hager would think they'd have a chance at fighting everyone in the ring (including Junior Dos Santos, Andrei Arlovski and Paige VanZant).
He wasn't high on the Jade Cargill vs Leyla Hirsch match, but did say he would have aired it on OVW TV back in the day – but the difference is that OVW was local TV, not national TV which is what the match did air on.
Cornette specifically said the announcing on this show was better than usual, with Punk on as a guest commentator, Jim Ross motivated, Excalibur "is not even as rotten as he used to be as long as you just listen to him, but every time you see the mask it's ridiculous and unnecessary". Cornette accused Excalibur of being "selfish" for wearing the mask and continuing his previous wrestling gimmick, instead of taking off the mask and using a normal name to add professionalism to the broadcast.
However, Cornette said he loved the next segment, which was Team Taz attacking CM Punk. He complimented everyone for being serious in the segment and getting to the point instead of taking too long, and added that he "can't wait" for Hobbs vs Punk.
Next was Shawn Spears w/Tully Blanchard vs Darby Allin w/Sting, and Allin is someone who has had his work complimented by Cornette a lot. However, "we went back to the amateur hour" with this match according to Cornette, because he thought the match wasn't led well by Spears. "It wasn't a good match that made sense, but it wasn't funny or extra fake, so it wasn't as bad as a lot of these are, but it was just an indie match" is how Cornette wrapped up his thoughts.
FTR then appeared after the match for an attack, and Blanchard wiped Sting's facepaint off his face with a towel. According to Cornette, "the angle was so good it made up for the match being sub-standard". However, he also added that they should have done the facepaint-wiping to Sting and Allin together after the match, instead of Spears doing it to Allin during the match and then Sting separately after.
Next was the Bryan Danielson/Kenny Omega confrontation, and Cornette mentioned how Danielson's entrance felt big-time in the same way Punk and Cole opening the show did.
Cornette went on to say that Don Callis' promo would have been a great promo if he wasn't standing next to Kenny Omega. Omega is someone Cornette has been highly critical of much like the Young Bucks.
He did have some more advice directly for Tony Khan, which was to pick three people per show who are allowed to swear, and keep it to that, so as not to overdo it.
In summary of the segment, Cornette said: "With anybody else but (Omega), this would have been fantastic, and even with him in it, he didn't botch it up too bad". He also praised the way AEW subtly made this a non-title match.
The main event of the show was Jon Moxley & Eddie Kingston vs 2point0, and when 2point0 and Daniel Garcia attacked Moxley and Kingston at ringside to start the match, Jim Cornette said he wrote these exact words in his notes:
"You know what, this is overall the best, most professional TV show that AEW has ever done, so f**k it, I'm gonna act like the last 12 minutes of this show didn't happen, and not watch the rest of this Moxley-ridden horses**t, and we'll just say it was typical Moxley, and I will leave the programme by giving it two thumbs up."
He then closed by saying he enjoyed the show, and for the majority of it, it felt big-time with everything coming together – the building, the announcers, the fans, the in-ring talent, the star power, and the production.
He went on to say that he could see Dynamite beating Raw in viewers at some point in the next few months.
If you use any quotes included in this story please credit WrestleTalk.com for the transcription and link back to this page.