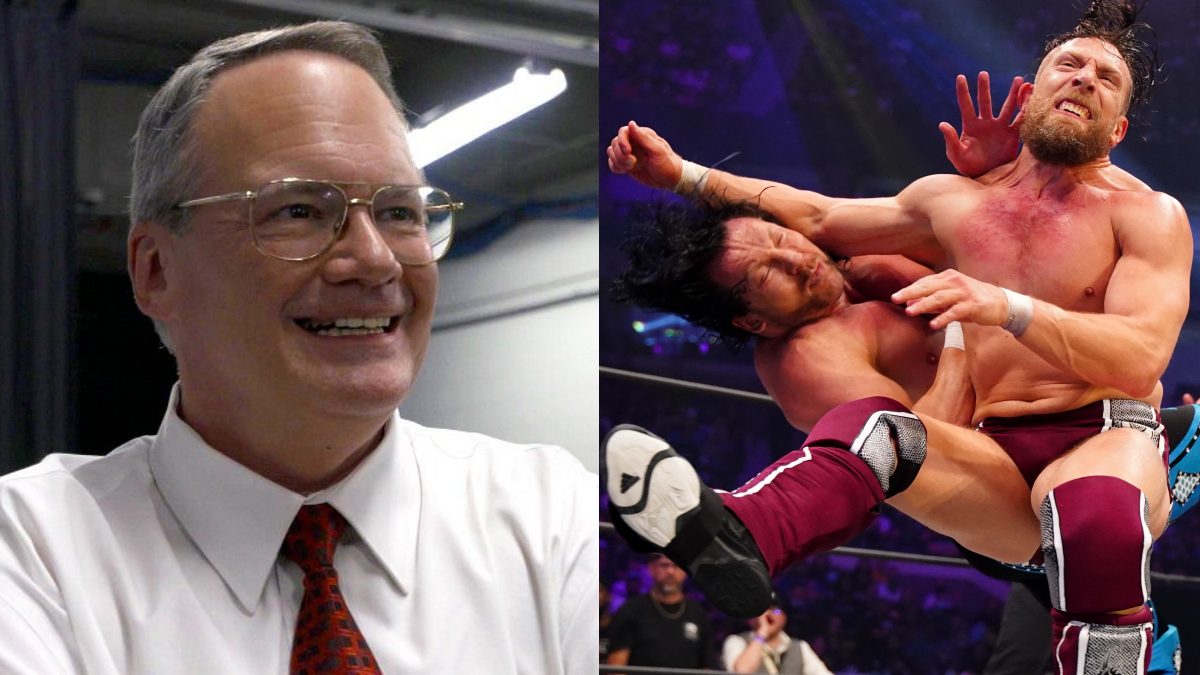 One week after he called the September 15 Dynamite AEW's best show ever, Jim Cornette has done it again this week for Dynamite 'Grand Slam'.
Once again during the Jim Cornette Experience podcast, Cornette praised the big-time production of the show, with the stadium full of fans, the voice of Jim Ross, and the overall presentation making the show feel like a big deal.
The show of course opened with Bryan Danielson vs Kenny Omega, and it's no secret that Omega is someone Cornette is not the biggest fan of.
To add context for those who don't know, Cornette takes issue with Omega because of the times Omega wrestled blow-up dolls, children, and basically all the wacky stipulation matches he had in Japan.
However, Cornette called the match with Danielson the best match Omega has had in his life.
He did give most of the praise to Danielson for leading the match, but pointed out that, despite all the stuff he dislikes Omega for, he is still athletic and capable of performing great moves.
In review of the match, Jim Cornette said:
"The fingerpointing and the skipping and the prancing was minimised, and the awkward extra movement that he has and the gesticulating that comes from him being self-trained – and normally it looks like you've gotten either a gymnast or a ballet dancer and you're trying to get him to do wrestling moves – but this was all minimised here because of the way that they did it.

"And he's a good athlete so he can do the moves and he can be led and he can be made better by a guy with Danielson's talent. It's just they haven't been doing it, they haven't had a guy with Danielson's talent.

"And this style of match plays to (Omega's) strengths, because it's modern-style with moves. He's rotten in a fight because he can't punch and kick, and you don't believe he's mad. And he can't have a WALTER/Ilja style match because he can't really wrestle as a shoot, and you don't get the idea of a badass tough guy in any respect from him. But this kind of match, where it's the more modern-style match and they do the moves but they don't really actually get evil and fight with each other, this is believable with him.

"The crowd's going apes**t, they're hitting each other with everything. And (Danielson) got (Omega) all the way through the match without doing anything really particularly stupid. And like I said it was the best match I've ever seen (Omega) in. Danielson's tremendous."

If you use this transcription or any portion of it please credit WrestleTalk.com and link to this page.
Cornette did advise AEW to be careful with time limit draws and make sure the audience is more aware. A 30 minute time-limit was mentioned at the start, but then the time wasn't mentioned again on commentary until 45 seconds left, and Justin Roberts' announcements in the arena didn't come through well on TV.
He added:
"Overall, as I said, Danielson was great, (Omega) hung with him, they eliminated all the stupid s**t, they didn't overbook it, they didn't bury the referee, the match made sense, and everybody loved it.

"Danielson paid for himself in that one segment, to me. Because it not only gave their biggest crowd ever and their biggest TV show ever the best 30 minutes of the show ever, but also it showed that, yeah, the other dips**t (Omega) can do it if he's got somebody to do it with that can lead him and not let him engage in his worst instincts. So bravo, bravo."

If you use this transcription or any portion of it please credit WrestleTalk.com and link to this page.
Wrestling historian Brian Last did joke that Cornette was still so hesitant to outright praise Omega, saying: "He could cure cancer and you'd give credit to the patient".
Next up on the show was CM Punk, and again Cornette praise the big-time feel of things, saying: "This is a big-time wrestling show. We've been watching SmackDown, we've seen clips from Raw, both those shows look like a game show on Nickelodeon next to this".
Cornette was again high on Punk's promo and the psychology of what he was saying and how he said it, in that he got the fans on his side before getting to the issue at hand, which was the imminent Powerhouse Hobbs match.
Next was MJF vs Brian Pillman Jr, two men Cornette has been quite a big fan of.
One of the things Cornette mentioned about this one was that Pillman was a bit too happy-go-lucky and should have shown more animosity and aggression after all the stuff MJF did and said in the build to this match.
He was complimentary of the match overall though, notably the professionalism of it.
After that match was the Chris Jericho and Jake Hager interview with Alex Marvez, and Cornette did criticise this for Marvez's performance, which is something he has pointed out pretty much every week for the staged/unrealistic nature of his interview pitches.
Next was Cody Rhodes vs Malakai Black, and Cornette opened by somewhat jokingly complaining about Brandi Rhodes being back on TV since it was a big show.
This was yet another match Jim Cornette liked overall, but he pointed out the finish was messy, largely due to Arn Anderson accidentally falling off the apron before he was supposed to get knocked off, as well as the mist finish being a bit of a mishap.
Cornette and Last then had an in-depth chat about how Rhodes has basically turned himself into a heel, and is the opposite of his father Dusty. Dusty wasn't the best worker but was always hugely popular, while Rhodes is a great worker but can't do anything to make himself popular right now.
The next match, FTR vs Darby Allin and Sting, is a match Cornette called a clinic and encourages any aspiring wrestlers – especially tag wrestlers – to watch.
He said Sting came across really well for his age, but FTR led the way and them being so good was why Sting was able to do so well. He summarised:
"From a professional standpoint, this match was f**king incredible. I have not seen a performance by a heel tag team that good in so long, that they could make a 62-year-old man that's had three matches in the last f**king 15 years (not exactly accurate but you get his point) look better than he has in ages. But, by the same token, the fans watching this saw FTR, the best tag team in the world, get beat pretty much single-handedly by a 62-year-old man. So how about a segment now where FTR have matches with senior citizens, paraplegics, people in body casts, contest winners, and make them look like the best wrestlers in the world too? Is this what their new job is?"

If you use this transcription or any portion of it please credit WrestleTalk.com and link to this page.
So yeah, he wasn't happy about FTR losing, but he loved the actual match itself. After spending several minutes upset about the way FTR has been booked, Cornette did make sure to say:
"This show, this particular television programme, was f**king fabulous. And still good. And we are all the way down to the main event of this two-hour programme without – besides Alex Marvez's presence – no Dark Order, no Marko Stunt, no Hardy Family Office, no Private Party, no Jack Evans, no f**king folderol, no Butcher and the Blade and the Baker and the Bunny and the Candlestick Maker."

If you use this transcription or any portion of it please credit WrestleTalk.com and link to this page.
Last on the show was the main event, with Britt Baker defending the AEW Women's World Championship against Ruby Soho.
"They worked their asses off, it wasn't silly or phony, I can't penalise them for having to follow Bryan Danielson, CM Punk, MJF, Sting and FTR. But it was a good match. Nothing outstanding, I don't know that Mildred Burke is rolling over in her grave."
In summary of the show, he said:
"This show was the best TV show they've ever done top to bottom with one of the best matches they've ever had, and a variety of other great performances from the usual suspects that we knew were going to be great when given the chance."

If you use this transcription or any portion of it please credit WrestleTalk.com and link to this page.
Jim Cornette went onto talk about his bafflement at how it took so long for the show to get so good in his eyes.
But yeah, that's two weeks in a row that Cornette has said that week's Dynamite was AEW's best show ever. A lot of people will probably read more into that than they should, but it at least shows AEW has changed in a big way recently.
To make sure you stay updated with all the latest wrestling news, add WrestleTalk.com to your Google Discover feed and follow us on Twitter!