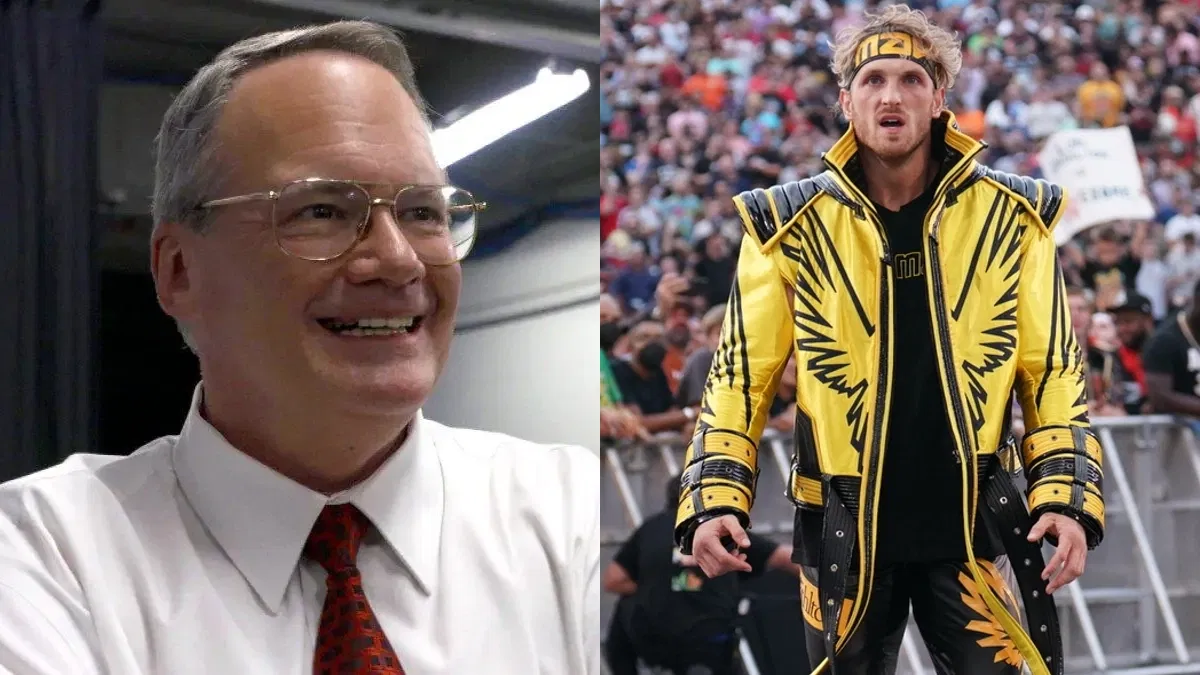 The outspoken Jim Cornette has given his thoughts on Logan Paul's performance at SummerSlam in what was Paul's first ever singles match.
Paul picked up the win over The Miz and won WWE fans over in a big way with his impressive outing, which notably included a great looking frog splash from the top rope onto Miz through the announce table.
Speaking about the match and Paul on Jim Cornette's Drive Thru, Cornette said:
"Have you noticed that the celebrities and folks from other sports on SummerSlam were more accomplished professional wrestlers than half the roster in AEW?

"Logan Paul, he looks better physically than Miz, and I've been hard on Miz but I'll give credit to him here. Because Logan Paul is taking this seriously, he's obviously working hard and has obviously trained hard and he does moves well, but he's still green. And Miz is putting up with a lot to put him where he needs to be, to put up with the stiffness – I'm not talking about a stiff potato punch, I'm talking about a stiff… when you want to take an arm it's like a table leg. You wanna turn a guy, he doesn't know instinctively or intuitively which way to go or how to flow with it so you're having to move him around. So herky-jerky body movements. That's what Miz is putting up with and he shepherded this (match) obviously in the ring.

"But Logan Paul, he gets it, and he seems to get selling. He wasn't just going down and laying there with his face down, he was screaming in pain or he was looking up with facials. Obviously he's not Jack Briscoe after two matches, but excellent job, and great potential to do more, to get better, if he's gonna be around for a while with this contract."

If you use this transcription or any portion of it please credit WrestleTalk.com and link to this page.
Speaking about the splash specifically, Cornette added:
"I hate s**t like this because it's the same thing that Shane (McMahon) used to do and the same thing that Cactus (Jack) had to do on a lot of big shows – what are we gonna do to top it? But, Goddamn it was beautiful. Frog splash off the top rope through the announcers' desk with Miz on top of it. And he hit him right. Again, kudos to Miz for laying there while this guy that's had a match-and-a-half in his life comes from 20 feet in the air and blasts you through a table.

"(The fans) weren't liking him much on TV the last few weeks, ol' Logan, but that effort and execution had to get over with people, and it did with me. Except for the splash that was (just) a spot and then they're just continuing on… it was so f**king good."

If you use this transcription or any portion of it please credit WrestleTalk.com and link to this page.
SummerSlam also notably included Pat McAfee taking on Happy Corbin, with Cornette also impressed by McAfee's performance.
If you're in the UK but didn't manage to get tickets to Clash at the Castle on September 3, WrestleTalk is hosting a watch party at The Joiner on Worship in Shoreditch, London, and we'd love for you to join us! Click here for more details.