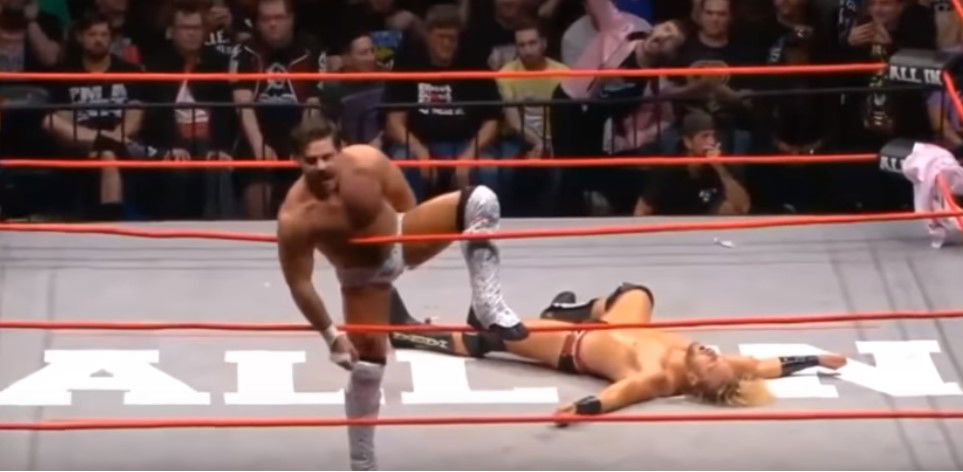 Joey Ryan has built his career as a sleazy scumbag that the fans have grown to love. A California native, Ryan has spent his time perfecting his craft since his debut back in 2000. Ryan's star began to rise after his short stint in Impact Wrestling back in 2012-2013 and he's become one of the hottest wrestling acts on the indie circuit.
So does Joey Ryan have interest in going to the WWE? According to Ryan who spoke to WSVN-TV entertainment reporter Chris Van Vliet, not at the moment. He knows the standard rate given to guys in NXT, and makes well above that at this point in his career on the indies.
"I know the standard NXT rate that they give most newcomers and I make well beyond that. But I know people who have signed on from the indies who were doing well and they get a better rate because they are more valued.

"It's weird because pretty much in every business, the goal and the dream is to be your own boss, set your own schedule, be successful on your own terms. In wrestling, a lot of wrestling fans want you to give all that up and sign your future to someone else's hands and have a boss and have a schedule that you're required to keep.

"So it's kind of weird that in just about any other business, the dream is to do what I'm doing now but in wrestling everyone thinks you're not successful until you have a boss which is kind of bizarre. But that's the way it is and I'm pretty confident and really enjoy what I'm doing."
This isn't the first time Ryan has expressed no interest in going to the WWE. Late last year in a series of tweets, the controversial wrestler explained to the fans why he simply has no interest in joining the company, citing the politics in the WWE, lower pay to their wrestlers, and wanting to be a pioneer and change the course of wrestling.
https://www.youtube.com/watch?v=HBKRE8z_pA8
Check out the tweets below:
I'm 37 with 17 years in wrestling and 0 cancellations due to injury. Also, the WWE rate of injury is way higher than anywhere I've wrestled. https://t.co/huumM3LzRs

— Joey Ryan (@JoeyRyanOnline) October 27, 2017

I'd rather be a pioneer & change the course of business. The precedent some of us are setting on indies won't be fully appreciated for years https://t.co/eClua8ouDI

— Joey Ryan (@JoeyRyanOnline) October 27, 2017

On the indies, you bet on yourself. In WWE, you're betting on a person in a position of power liking you. https://t.co/Oyyt0E9AJi

— Joey Ryan (@JoeyRyanOnline) October 27, 2017

Of course they show the most profit in history when their wrestlers are getting paid the lowest ever. https://t.co/cOYMNx9AEJ

— Joey Ryan (@JoeyRyanOnline) October 28, 2017
Let us know your comments below or on Twitter. You can also join us on Discord to chat with other like-minded fans, Oli Davis, Luke Owen and the WrestleTalk staff!